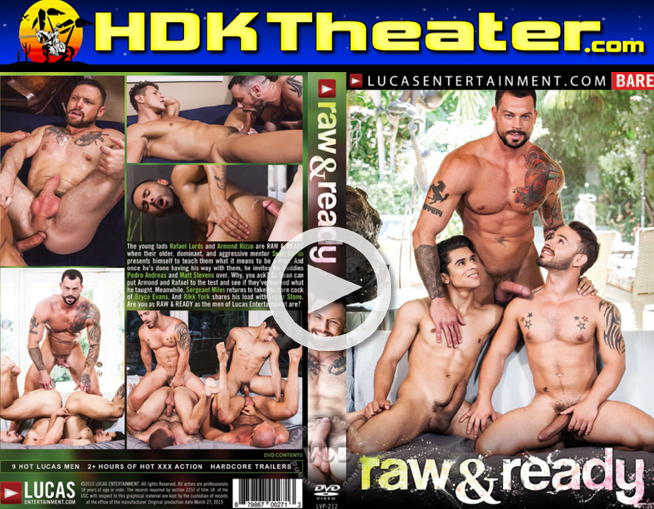 Watch the Full Length Movie at – www.HDKTheater.com
Studio: Lucas Entertainment
Director: Michael Lucas
Approximate Running Time: 02:51:19
Description:
The young lads Rafael Lords and Armond Rizzo are "Raw & Ready" when their older, dominant, and aggressive mentor Sean Duran presents himself to teach them what it means to be a man. And once he's done having his way with them, he invites his buddies Pedro Andreas and Matt Stevens over. Why, you ask? So Sean can put Armond and Rafael to the test and see if they've learned what he taught. Meanwhile, Sergeant Miles returns to take the bare cock of Bryce Evans. And Rikk York shares his load with Logan Stone.
The young lads Rafael Lord and Armond Rizzo are going at it again — bless the libido of youth — in Sean Duran's summertime home. They're his guests, and they cannot keep their hands off each other. They strip and throw each other around sucking dick, kissing, and licking hole. Rafael even gets Armond on his back and throws some pumps in him. All the while Sean Duran catches on and watches through the back sliding glass door. The action is hot, and Sean starts chubbing up in his Speedo. Sean invites himself in on the action where he takes turns getting his dick sucked and fucking the guys in their asses bareback! Sean Duran showed his boy toys Armond Rizzo and Rafael Lords through demonstration how to properly have bareback sex. Now it's their turn to show off all of the new skills they have acquired. Sean invites two buddies over — Pedro Andreas and Matt Stevens. These hulking muscle daddies are usually on top, but not this time around. Sean's boys are ready to fuck… I just hope Matt and Pedro are prepared. These guys might be small, but they can deliver a pounding without a problem.
Sergeant Miles returns to perform for the Lucas Entertainment camera, and he once again demonstrates how much he likes sucking cock. Sergeant has a major oral fixation as he showed off with Sebastian Young, and Bryce Evans is the lucky recipient of all of that pent-up energy this time: all he has to do is kick back and let Sergeant do the rest. But pay attention to when Sergeant Miles lets Bryce Evans get a turn at sucking his dick: Sergeant shows off his hot military body, and the cum-gutter display is mouth-watering — check it out at 6:00. And remember how it was mentioned that Sergeant is completely versatile? Well, he proves that again here: this guy can take a dick just as good as he can give one.
Pay attention now, all you fans of ass-to-mouth. There's an incredible fellatio shot in this scene at 29:30. It's after Logan Stone gets done pounding Rikk York in Sean Duran's summertime getaway. Logan creams in Rikk's ass and pulls out — this prompts Rikk to drop to his knees and gently nurse on Logan's cock, making sure not a single drop of his raw load is wasted. That's just a taste of what these two lean hunks bring to this sexual encounter.