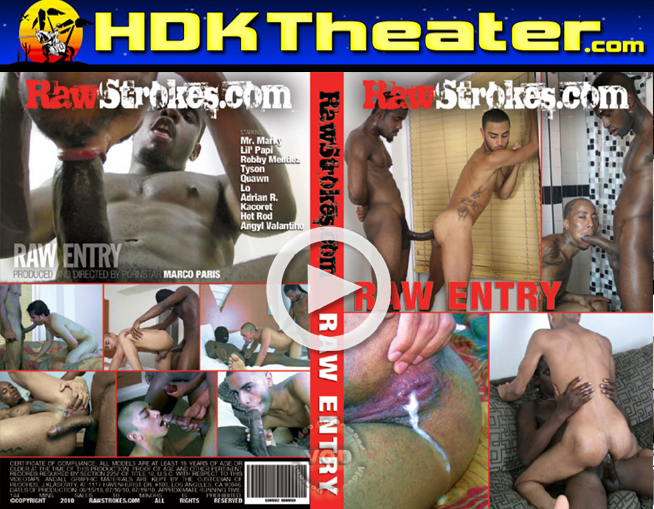 Watch the Full Length Movie at – www.HDKTheater.Com
Studio: Raw Strokes Productions
Director: Marco Paris
Approximate Running Time: 02:26:09
Description:
Marco Paris is serving up another five hot interracial bareback scenes in his new release called Raw Entry. You will find new tops and bottoms making their rawstrokes.com debuts.
The first scene starts with one of the best tops you will ever meet, a real fuck machine-big load shooter, Mr. Marky. Yes, you will remember him for sure!!! This top dude is all about sex. He fucks our adorable sexy bottom Lil' Papi like you would expect from a great top. If you are a fan of internal cumshots, watch this one… seriously, if this doesnt make you cum then nothing can. You have not seen so much cum from one, even extra large dick, oozing out of a bottom's ass. If there was an Oscar for internal cumshots, Mr. Marky would win it.
The second scene is a popular 3some….and yes, who would be a better bottom for two monster dicks (Tyson and Quawn) than our popular Robby Mendez? These two tops keep fucking him and taking turns on Robby's sweet lil ass with no mercy… damn this is very hot 3some. These tops just keep going until Robby is totally worn out and they shoot their loads on Robby's cute face and mouth, and Robby, as a good bottom should do, licks and swallows their seed.
The third scene is with 12′ inch top Lo and this straight dude knows how to use all twelve inches. The poor bottom guy who barely take this huge dick, Adrian R. begs for some mercy as Lo fucks him like there's no tomorrow, and we are sure his ass is feeling it. Adrian begs Lo to slow up because he's so huge. But Lo doesn't care, he just wants to fuck that ass really good until he shoots his big load on Adrian's ass. Then he slides that monster cock right back in so the bottom's inside gets some seeding too…definitely hot!
Scene four is all about Kacorot, one of the biggest and thickest dicks you will ever see and our amazing bottom Lil' Papi. As he is sucking on that monster dick you will just wonder… how's he gonna fit it in that cute lil butt? Well, it fits, but it stretches that lil hole to the max. Karocot fucks him in various position on the sofa and on the floor and finally shoots his load all over his mouth, and Lil Papi as a good little bottom tastes his seed, of course.
The fifth scene is between two tattooed guys, top Hot Rod (whose monster dick you know from previous videos) and our new bottom guy Angyl Valantino. These guys really make love in front of our camera. Damn! They kiss, they fuck very passionately and they don't want to stop!!! This scene just keeps going and going as they enjoy it so much, and I'm sure you can tell that too! Rod's huge tool fucks Angyl in many positions, but only after Angyl chokes on his dick giving him some fine blow job. Watch Rod seeding Angyl at the end as he starts cumming while he's still in his ass. Then he pulls out and cums more outside and puts it back in Angyl's totally fucked hole…another great fuck only rawstrokes.com will deliver to you!
Enjoy our Raw Entry as you enter the hottest barebacking videos with amazingly huge dicks only from Raw Strokes Productions.