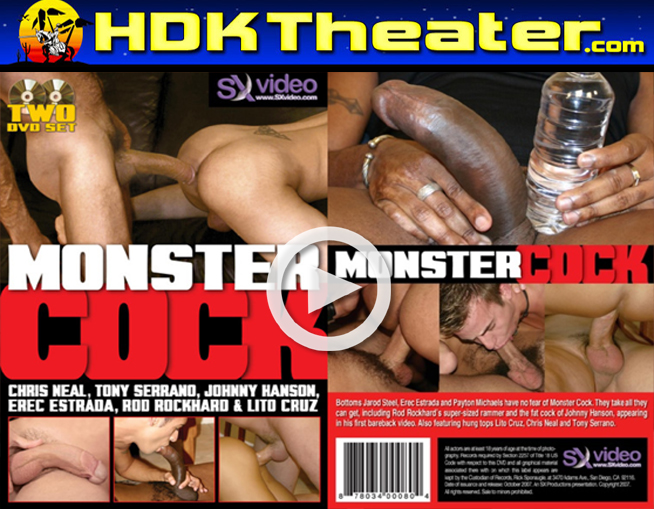 Watch the Full Length Movie at – www.HDKTheater.Com
Studio: SX Video
Series: Monster Cock
Approximate Running Time: 01:36:24
Description:
There's no need to be afraid of these monsters. They are ass teasers and pleasers.
SCENE ONE: The first scenes features Chris Neal and Tony Serrano using their big dicks to fuck some sense into Jarod Steel. Seeing how much Jarod enjoys being topped, Tony offers his ass to Chris for more of the same.
SCENE TWO: Johnny Hanson makes his bareback debut in Scene 2. Cute, little Payton Michaels (who has a nice-sized poker himself) likes big dick and wastes no time getting his mouth around Johnny's fat monster. Next, he sits on it to get used to the size and then they are off in a fucking frenzy.
SCENE THREE: Lito Cruz and Erec Estrada show off their uncut whoppers in the third scene. Lito does some extended rimming to get Erec ready to receive cock and then gives it. He shoots a big, load deep in Erec's hole to finish.
SCENE FOUR: Payton, not satisfied with the ass ripping he got from Johnny, returns in Scene 4 to take the biggest monster cock of his life. Rod Rockhard's uncut, curved beast enjoys all the attention it gets. Payton takes it like a champ, flipping between pleasure and pain.