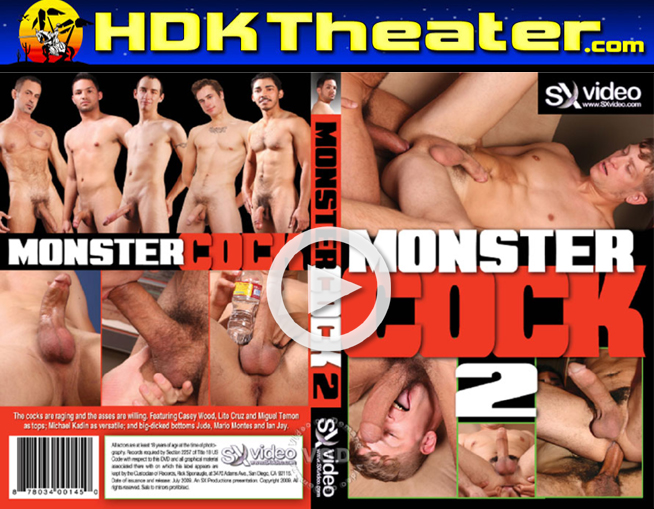 Watch the Full Length Movie at – www.HDKTheater.Com
Studio: SX Video
Series: Monster Cock
Director: Ben Baird
Approximate Running Time: 01:38:42
Description:
The cocks are raging and the asses are willing. Featuring Casey Wood, Lito Cruz and Miguel Temon as tops; Michael Kadin as versatile; and big-dicked bottoms Jude, Mario Montes and Ian Jay.Scene one opens with fresh-faced Ian Jay taking on Lito Cruz's ten-inch whopper. The two trade blow jobs to start and then Lito lunches on Ian's smooth asshole, alternating between sticking in his tongue and cock. Then while fucking, he pulls his cock out to stick it in Ian's mouth. Ian even gets two loads up his butt – Lito's and his own. Watch to find out how.
Wow – a true 11×8 cock in action is the star of Scene Two. As Michael Kadin says: 'That was the biggest cock I have ever seen." He gets more than just to see it. He licks and sucks it as much as he can fit in his mouth. Then it takes several tries in various positions for his ass to open so Casey Wood can get that big boy inside. There is no acting here. Michael really feels the pain to get the pleasure.
What happens when two Latino studs collide? Miguel Temon and Mario Montes both have big, fat cocks and want to get off in Scene Three.
Mario loves servicing gay-for-pay Miguel's uncut monster. He deep throats it for a bit to get a feel for its size. Miguel fucks him hard and leaves a juicy load inside.
Finally, Scene Four has two young studs with big dicks and cute butts. Who gets to top? After a bit of sixty-nine Michael Kadin takes control of Jude's ass with some quality rimming and finger play. He knows his cock is fat and he needs to open Jude up. Jude's ass takes it until shooting time and then he flips to get a mouthful of cum.