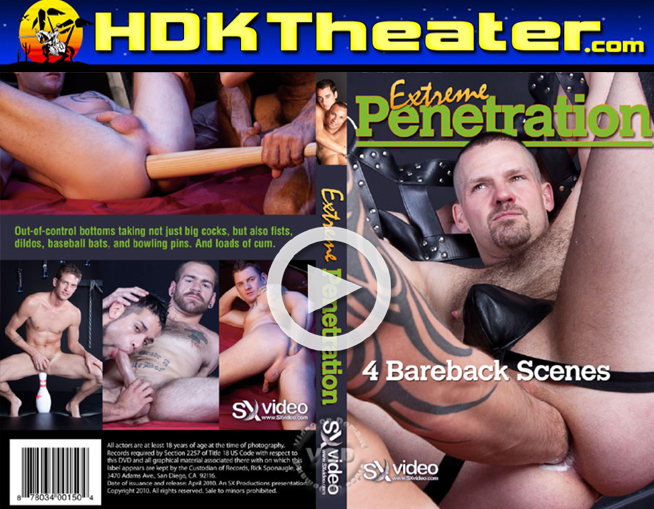 Watch the Full Length Movie at – www.HDKTheater.Com
Studio: SX Video
Director: Ben Baird
Approximate Running Time: 02:11:10
Description:
How much can one asshole take? Find out in these four scenes that literally stretch the boundaries of bareback butt play.
Scene 1 features sweet faced Ian Jay offering his tender hole to Jake Cruz, Dorian Black and Jude. The four start out with some heavy making out and dick sucking. Each top gets his chance to fuck Ian. It is not enough though. A bowling pin is next. Then loads of cum.
Andre Barclay and Tommy Rawlins bring a new definition to "hot" when they get together in Scene 2. Tommy services Andre's beautiful cock to get it really hard and ready for his asshole. After warming things up inside Tommy, Andre brings out the super sized dildo for some double penetration. Then comes the sling and a handballing that includes amazing punching action.
In Scene 3 super bottom Drew Peter's ass take a licking and keeps on ticking. Top Lito Cruz slams it to Drew's pucker. First a tongue, then a cock, a fist, a baseball bat and, later, a load of cum. Drew also does his famous self-handballing and expands it to self-punch handballing.
Christian Rock's long cock fits well in Frank Young's mouth and then asshole. Frank also gets double fucked several times with a cock/dildo combination. Next a water bottle gets used. Finally, a handballing sends Frank over the edge.