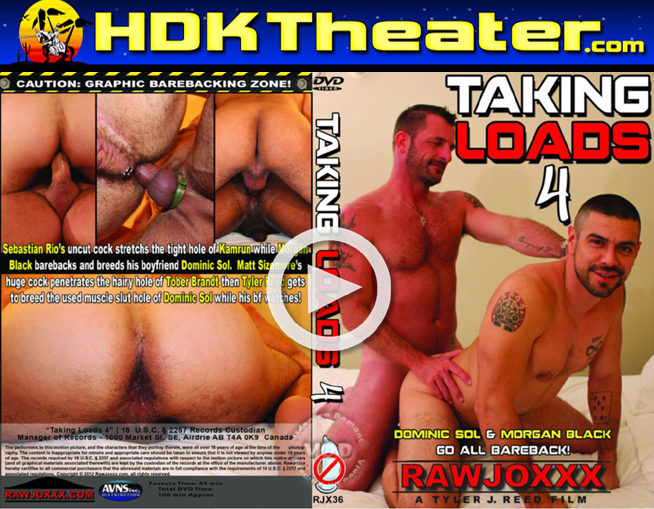 Watch the Full Length Movie at – www.HDKTheater.Com
Studio: RawJoxxx
Series: Taking Loads
Approximate Running Time: 01:49:41
Description:
Sebastian Rio and his thick juicy 8 inch man meat couldn't wait to get into Kamrun's tight black ass. But Kamrun had some serious cock sucking to do to get it rock fucking hard so Seb could slide that meat into his tight hole. Seb also wanted to shove his face deep in that black hole and almost suffocate while tongued that black hole. Putting Kamrun on all fours Seb came in from behind and slides his uncut Latin cock deep in that hole the pushed Kamrun onto his stomach so he could get real deep with his bareback cock. Kamrun couldn't resist and let him finish with a nice juicy load!
Dominic Sol couldn't wait to do this scene with his real life boyfriend Morgan Black. He was craving his daddy's cock and went straight to servicing it when we walked into the hotel room. Morgan let his boy deep throat his rod and get it ready for his sweet slutty boy hole. Which was nice and bubbly and a hairy hole too. Morgan shoved his face and rubbed his beard into that ass and made his boy Dominic moan and beg for raw cock. Dominic put his legs up and watched Morgan's cock go in his hole bareback and moaned as it stretched his slut hole open. He just let Morgan fuck his ass any way he wanted and took it like a good boy. For his reward he got a nice juicy load in his ass.
He who has the biggest dick does the fucking. Well hands down it was Matt Sizemore. Mind you Tober Brandt didn't complain one bit! He gladly got on his knees and starting deep throating that fucker and gagging but he took it all. Matt loved watching his fat 9″ cock go into that manly face while Tober's hairy ass begged for some bareback action. Matt threw Tober on his stomach so he could lick that hairy hole and get it all wet and juicy so he could just slide his daddy cock into his hole bareback right down to the base and make Tober squirm cause it was so thick at the base and it fucking stretched his hairy hole wide!
Beef on muscle bottom boy. That is what happened when Dominic Sol and Tyler Reed ended up in bed together. After some hot intense kissing and making out Dominic got his lips wrapped around Tyler's fat rod and starting deep throating it the best he could. In the process he rips Tyler's favorite underwear and gets him pissed off. Tyler didn't waste time to give Dominic his punishment and started power fucking that big ass with all his weight on top of this muscle slut boy. Dominic wanted it hard and rough anyways so he took it like he takes all cocks – hard, rough and bareback. Tyler finished him off with a nice juicy load in that slut hole!