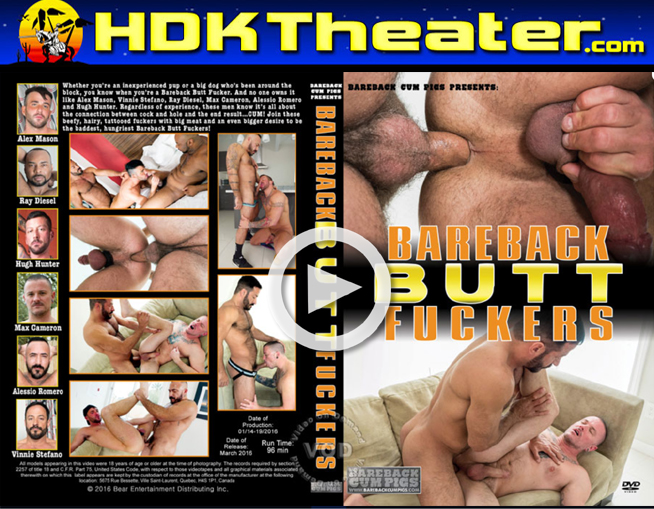 Watch the Full Length Movie at – www.HDKTheater.Com
Studio: Bareback Cum Pigs
Approximate Running Time: 01:46:04
Description:
Whether you're an inexperienced pup or a big dog who's been around the block, you know when you're a Bareback Butt Fucker. And no one owns it like Alex Mason, Vinnie Stefano, Ray Diesel, Max Cameron, Alessio Romero and Hugh Hunter. Regardless of experience, these men know it's all about the connection between cock and hole and the end result…CUM! Join these beefy, hairy, tattooed fuckers with big meat and an even bigger desire to be the baddest, hungriest Bareback Butt Fuckers!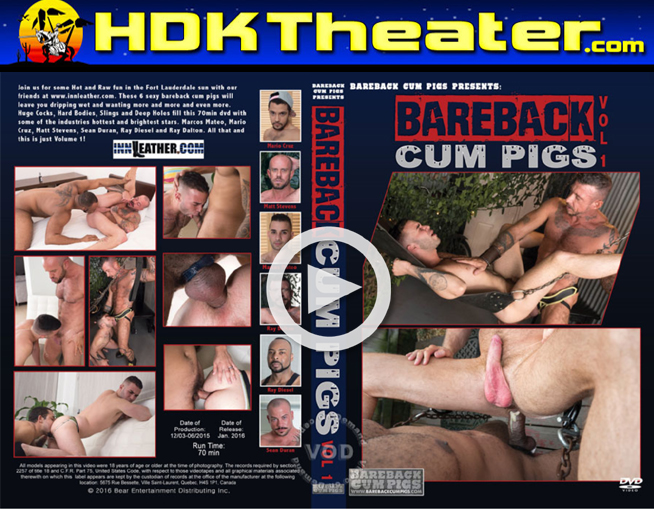 Watch the Full Length Movie at – www.HDKTheater.Com
Studio: Bareback Cum Pigs
Series: Bareback Cum Pigs
Approximate Running Time: 01:10:26
Description:
Join us for some Hot and Raw fun in the Fort Lauderdale sun. These 6 sexy bareback cum pigs will leave you dripping wet and wanting more and more and even more. Huge Cocks, Hard Bodies, Slings and Deep Holes fill this 70min dvd with some of the industries hottest and brightest stars. Marcos Mateo, Mario Cruz, Matt Stevens, Sean Duran, Ray Diesel and Ray Dalton. All that and this is just volume 1!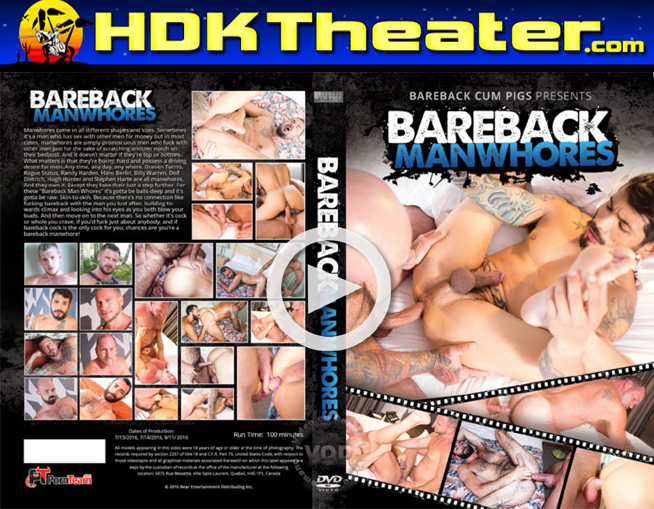 Watch the Full Length Movie at – www.HDKTheater.Com
Studio: Bareback Cum Pigs
Approximate Running Time: 01:40:02
Description:
Manwhores come in all different shapes and sizes. Sometimes it's a man who has sex with other men for money but in most cases, manwhores are simply promiscuous men who fuck with other men just for the sake of scratching another notch on their bedpost. And it doesn't matter if they're top or bottom. What matters is that they're horny, hard and possess a driving desire for men. Any time, any day, any where. Draven Torres, Rogue Status, Randy Harden, Hans Berlin, Billy Warren, Dolf Dietrich, Hugh Hunter and Stephen Harte are all manwhores. And they own it. Except they take their lust a step further. For these "Bareback Man Whores" it's gotta be balls-deep and it's gotta be raw. Skin-to-skin. Because there's no connection like fucking bareback with the man you lust after, building towards climax and looking into his eyes as you both blow your loads. And then move on to the next man. So whether it's cock or whole you crave, if you'd fuck just about anybody, and if bareback cock is the only cock for you, chances are you're a bareback manwhore!
Watch the Full Length Movie at – www.HDKTheater.Com
Description:
Pounding deep within the heart of every man is the desire to make a raw connection, get off and drop a load. Whether you're a top who needs to seed, a bottom who needs that protein, or an orgy hound in search of a group that lives to feed, swap, or collect DNA, you'll find what you need to unload in this bareback fuck tape. Featuring Marco Bolt, Nixon Steele, Tommy De Luca, Ray Dalton, Alex Mason, Wolvypup, Bryan Knight, Anthony Grey and Donte Oxun, these Bareback Jizz Sluts know it's all about cock in hole, spurting seed and the worship of cum.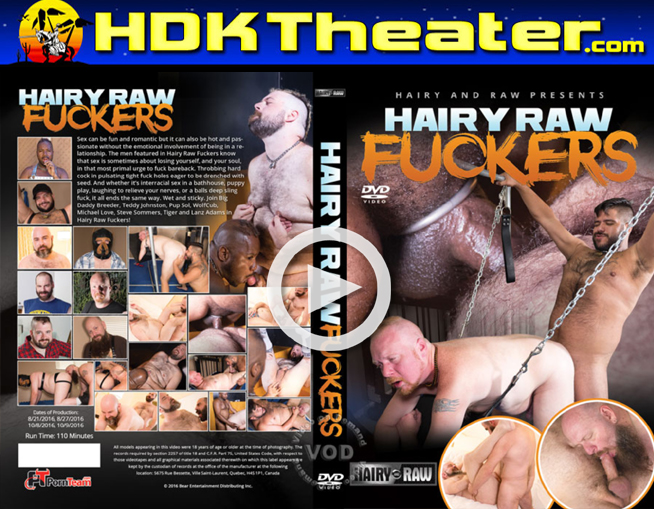 Watch the Full Length Movie at – www.HDKTheater.Com
Studio: Hairy And Raw
Approximate Running Time: 01:50:55
Description:
Sex can be fun and romantic but it can also be hot and passionate without the emotional involvement of being in a relationship. The men featured in Hairy Raw Fuckers know that sex is sometimes about losing yourself. And your soul, in that most primal urge to fuck bareback. Throbbing hard cock in pulsating tight fuck holes eager to be drenched with seed. And whether it's interracial sex in a Bathhouse, puppy play, laughing to relieve your nerves, or a balls deep sling fuck, it all ends the same way. Wet and sticky. Join Big Daddy Breeder, Teddy Johnston, Pup Sol, WoldCub, michael love, steve sommers , Tiger and Lanz Adams in Hairy Raw Fuckers!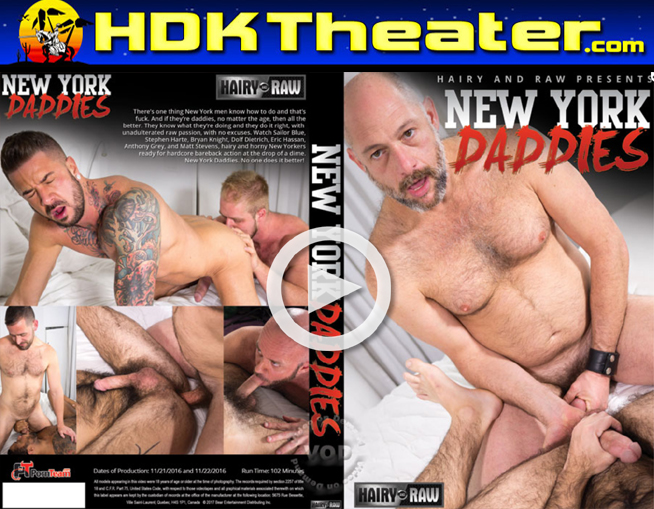 Watch the Full Length Movie at – www.HDKTheater.Com
Studio: Hairy And Raw
Approximate Running Time: 01:42:55
Description:
There's one thing New York men know how to do and that's fuck. And if they're daddies, no matter the age, then all the better. They know what they're doing and they do it right, with unadulterated raw passion, with no excuses. Watch Sailor Blue, Stephen Harte, Bryan Knight, Dolf Dietrich, Eric Hassan, Anthony Grey, and Matt Stevens, hairy and horny New Yorkers ready for hardcore bareback action at the drop of a dime. New York Daddies. No one does it better!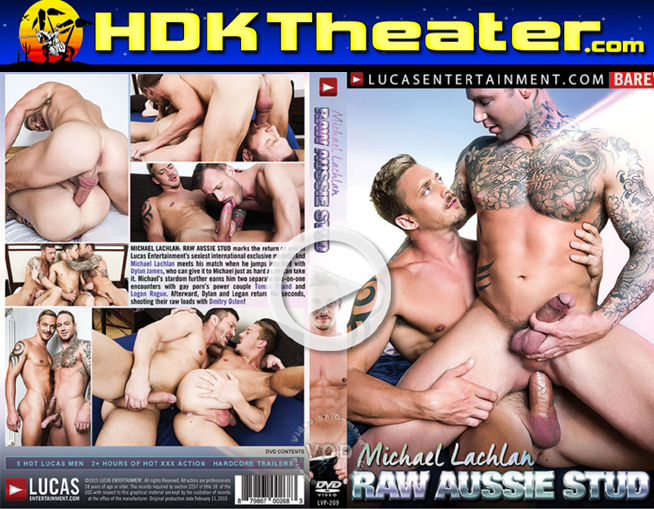 Watch the Full Length Movie at – www.HDKTheater.Com
Studio: Lucas Entertainment
Approximate Running Time: 02:29:56
Description:
"Michael Lachlan: Raw Aussie Stud" marks the return of one of Lucas Entertainment's sexiest international exclusive models! And Michael Lachlan meets his match when he jumps into bed with Dylan James, who can give it to Michael just as hard as he can take it. Michael's stardom further earns him two separate one-on-one encounters with gay porn's power couple Tomas Brand and Logan Rogue. Afterward, Dylan and Logan return for seconds — shooting their raw loads with Dmitry Osten!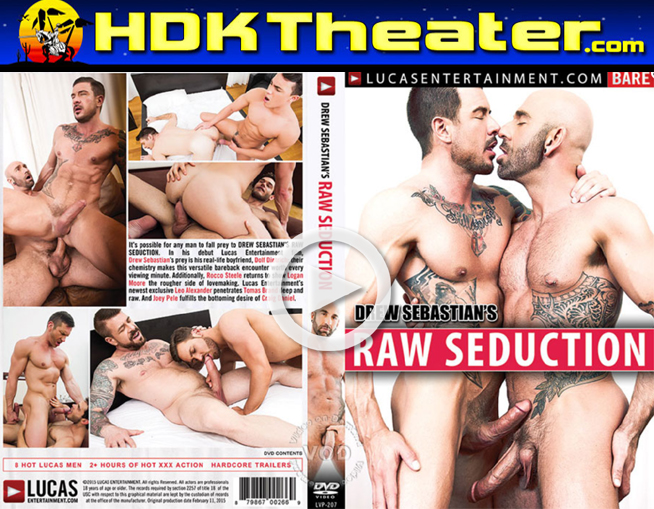 Watch the Full Length Movie at – www.HDKTheater.Com
Studio: Lucas Entertainment
Approximate Running Time: 02:28:30
Description:
It's possible for any man to fall prey to "Drew Sebastian's Raw Seduction." In his debut Lucas Entertainment film, Drew Sebastian seduces is his real-life boyfriend, Dolf Dietrich: their chemistry makes this versatile bareback encounter worth every viewing minute. Additionally, Rocco Steele returns to show Logan Moore the rougher side of lovemaking. Lucas Entertainment's newest exclusive Leo Alexander penetrates Tomas Brand deep and raw. And Joey Pele fulfills the bottoming desire of Craig Daniel.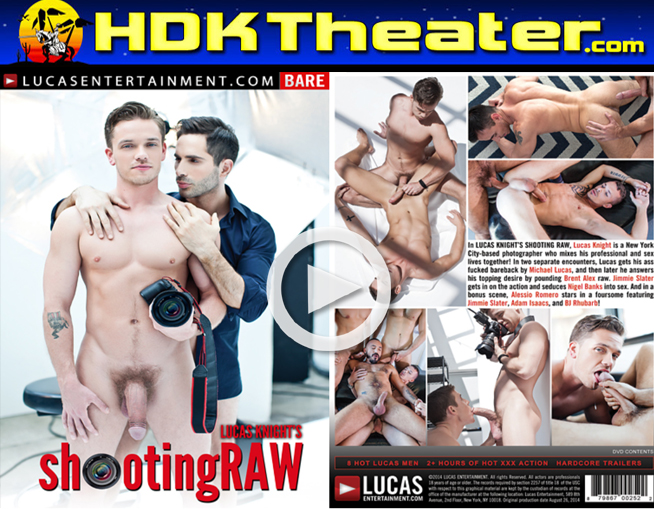 Watch the Full Length Movie at – www.HDKTheater.Com
Studio: Lucas Entertainment
Approximate Running Time: 02:37:43
Description:
In this explosive FIVE SCENE collection from Lucas Entertainment, embark on the wild adventures of a New York City photographer and his shameless mix of business and pleasure! In two separate encounters, Lucas gets his ass fucked bareback by Michael Lucas, and then later he answers his topping desire by pounding Brent Alex raw. Jimmie Slater gets in on the action and seduces Nigel Banks into sex. And in a bonus scene, Alessio Romero stars in a foursome featuring Jimmie Slater, Adam Isaacs, and BJ Rhubarb!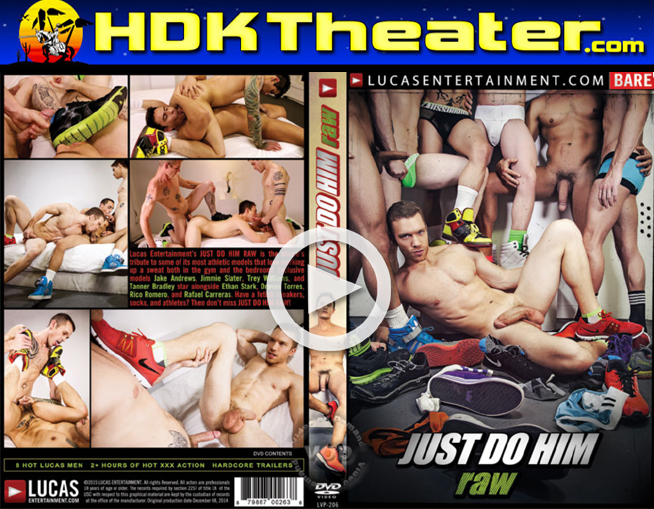 Watch the Full Length Movie at – www.HDKTheater.Com
Studio: Lucas Entertainment
Director: Jake Steel
Approximate Running Time: 02:28:33
Description:
Lucas Entertainment's "Just Do Him Raw" is the studio's tribute to some of its most athletic models that love working up a sweat both in the gym and the bedroom! Exclusive models Jake Andrews, Jimmie Slater, Trey Williams, and Tanner Bradley star alongside Ethan Stark, Draven Torres, Rico Romero, and Rafael Carreras. Have a footwear and athlete fetish? Then don't miss "Just Do Him Raw"! Tanner Bradley rides Trey Williams' cock bareback… I always found Tanner Bradley exceptionally cute since his first scene. Even cuter are the statements he's made in the past about being a top, but he always winds up on the bottom. What can I say — he looks great taking cock. Because of this Tanner was paired up with Trey Williams in his first scene. Trey is a handsome blonde guy with a swimmer's build and a big fat cock between his legs. He's a fan of having guys ride him, and if you check out 13:25 you'll see just that! Ethan Stark joins Trey Williams and Tanner Bradley in a raw threesome! If two wasn't enough, Ethan Stark certainly rounds out this sexual encounter among athletic young men (and might I add, I love the band tattoos on Ethan's bicep and the paw on his cum-gutters). I just hope Tanner can handle another cock so quickly, because he's getting pig-roasted in this scene, and Ethan is a top who enjoys taking his time fucking. But Tanner looks great between two guys — check out 14:05 is you don't believe me! I've been a fan of Jimmie Slater ever since his first scene: this kid's body is ripped, he has an amazing cock, and most importantly he knows how to use it. If you don't follow him on Twitter, you're doing yourself a disservice. Here he and Draven Torres hook up after a work out, and you really get to see Jimmie and Draven at their best: fucking ass bareback until they blow their loads! Talk about a strong roster of hot worked-out men: Ethan Stark makes a second appearance (much to my enjoyment) along with the always handsome Jake Andrews and sexy young Latin Rico Romero. Attention everyone who has a wrestling fetish: you get to see Jake and Ethan go at it in singlets. One of my favorite spots in the scene is when Jake and Ethan are taking turns sucking on Rico's uncut cock. It's a great lead-in for the fucking that follows! Draven Torres might have been flip fucking with Jimmie Slater earlier on, but now he's in the hands of Rafael Carreras, and he takes complete control of Draven. Let's not forget that Rafael has a huge 10-inch uncut Cuban cock, and he shows Draven who is in charge with it!