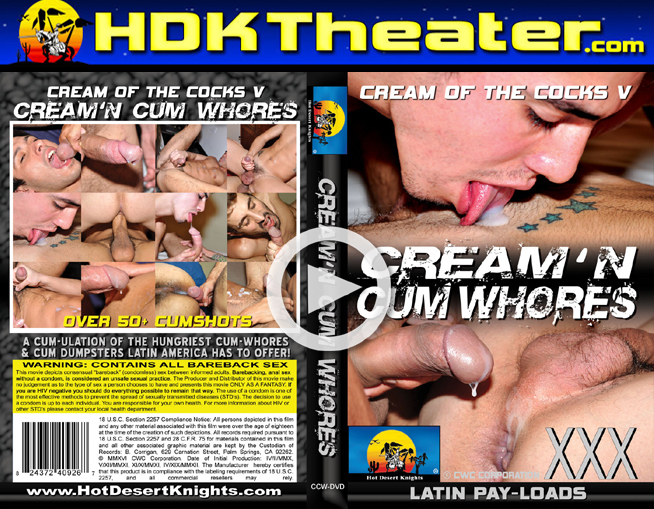 Watch the Full Length Movie at – www.HDKTheater.com
Studio: Hot Desert Knights
Series: Cream of the Cocks
Director: Abel N. Willing
Approximate Running Time: 01:47:09
Description:
This film is loaded with hot hungry holes being filled with hot creamy Latin jizz. A CUM-ULATION of young Latin cum whores and cum dumping studs, who are intent on squirting one hot load after the next down eager hungry mouths and in juicy tight young cunts. If you're a true lover of Latin hunks with massive dicks and with balls bursting with cum, then "Cream of the Cocks V – CREAM'N CUM WHORES" will surely pop your cherry. Cute hot Latin America guys with big throbbing cocks and ball's ready to bust, doing what comes natural. Cum let us take you on a trip to Latin American and a city like Buenos Aires with hot horny uncut studs, eager and willing to please each and every twitching cum begging hungry hole. If you like cute Latin studs feeding each other their hot white milky cum, and giving it or taking it raw, and enjoy one load after the next pumping out of big huge throbbing cocks, then CREAM'N CUM WHORES will surely bust your nuts! Pace yourself and follow along as you watch one hot discharge of splattering cum explode and squirt on to the screen, one after the other. This is one largest collections of explosive cum splattering LATIN PAY-LOADS you'll ever see.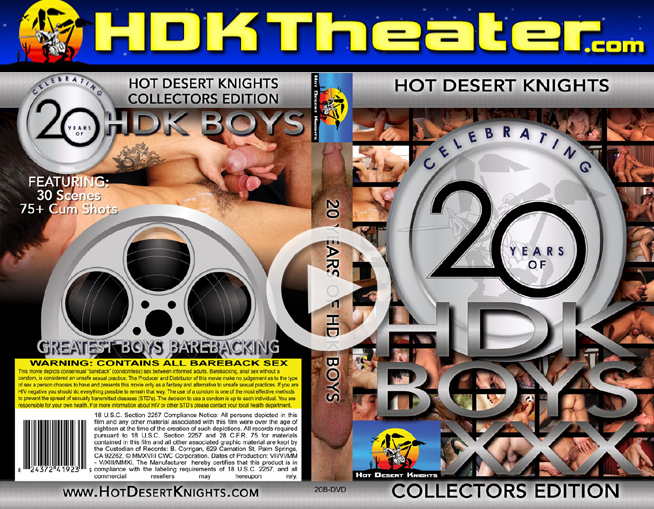 Watch the Full Length Movie at – www.HDKTheater.com
Studio: Hot Desert Knights
Director: Wade Lincoln
Approximate Running Time: 02:01:07
Description:
Hot Desert Knights is proud to celebrate "20 Years of HDK BOYS". Real hardcore men doing what men do best – Raw, Hot, Sweaty, Bareback Sex. To celebrate HDK's 20th Anniversary making bareback movies This is the 2nd in a set of 3 special collectors editions, each dedicated to a specific genre: HDK MEN, HDK BOYS & HDK This edition is a special collector's edition of our greatest bareback moments from the past two decades featuring nothing but hardcore bareback fucking & the boys who tok the loads . This special collector's edition features 30 of the best re-mastered and re-edited action scenes from 28 different HDK movies, packed with over 70 of your favorite HDK porn stars. Sit back and enjoy as you experience everything from Duo's to 3-Ways to 4-Ways and Orgies, all caught on film during the last 20 years. Watch while your cock fills with cum as we take you thru 20 years of HDK's most popular scenes. Go get your favorite lube, turn on the DVD, sit back, relax, lube it up and take your time stroking. This DVD is filled with over 80 cum shots and so much hot, raw, animal sex and so many hung, horny men; you'll be shooting load after load for days! A special thanks to all of our fans for making Hot Desert Knights a long time leader of bareback films. Most of all, thanks for your support over the past 20 Years! ..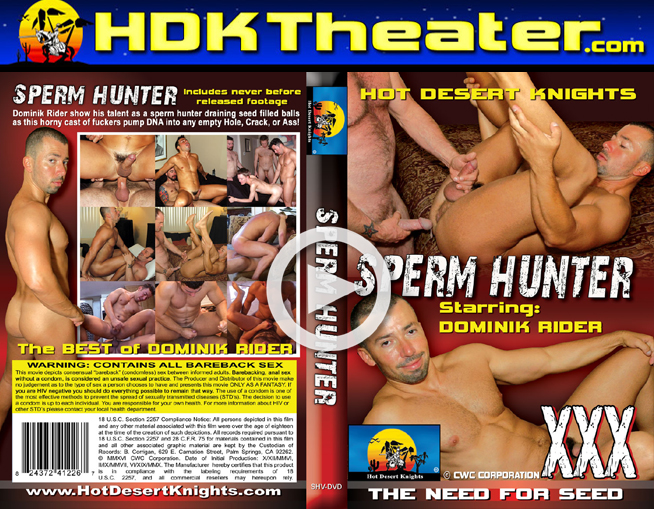 Watch the Full Length Movie at – www.HDKTheater.com
Studio: Hot Desert Knights
Approximate Running Time: 01:44:12
Description:
Watch as this hot Latin American stud serves up his ass for a severe ass fucking and gets one hot load after the next of hot man-cum pumped deep into his gut. Cum let us take you on a trip through Dominik's hottest and stickiest encounters, as he gets fucked and pounded in the bedroom in never before seen action, to fucking on the living room floor, to the couch, to the TV den and even on the kitchen counter. There's no place this sex addict hasn't been seeded. And to top it all, we even threw in one of HDK's most famous gang-bangs, as Dominik shows he's also an amazing ass fucking top too. Sit back, lube up and get ready for one hot cum splattering, hole creaming load after the next as he shows he's one of the best SPERM HUNTERS in the business. This is one hot collection of explosive ball busting LATIN PAY-LOADS you'll ever see.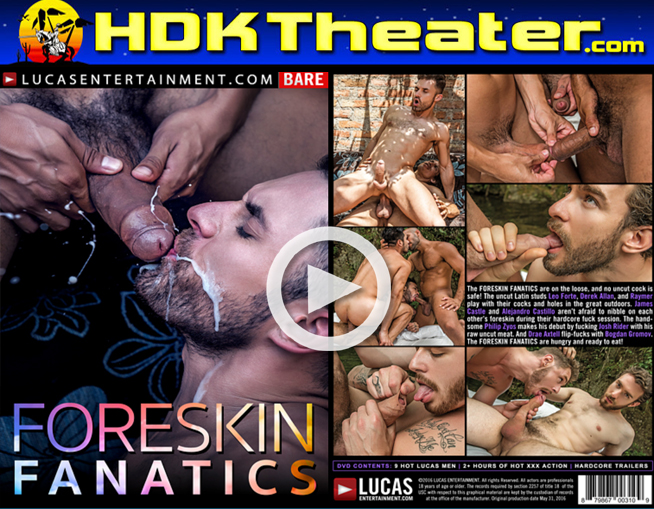 Watch the Full Length Movie at – www.HDKTheater.com
Description:
The "Foreskin Fanatics" are on the loose, and no uncut cock at Lucas Entertainment is safe! The uncut Latin studs Leo Forte, Derek Allan, and Raymer play with their cocks and holes in the great outdoors. James Castle and Alejandro Castillo aren't afraid to nibble on each other's foreskin during their hardcore fuck session. The handsome Philip Zyos makes his debut by fucking Josh Rider with his raw uncut meat. And Drae Axtell flip-fucks with Bogdan Gromov. The "Foreskin Fanatics" are hungry and ready to eat!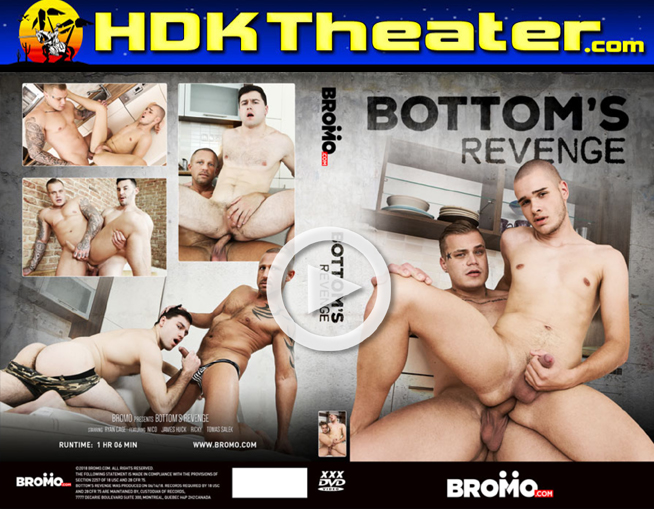 Watch the Full Length Movie at – www.HDKTheater.com
Studio: Bromo.com
Approximate Running Time: 01:05:31
Date Added: 2018-08-15
Description:
Ryan Cage knows just what Nico needs for breakfast – his hot cum. The European hunk pounds Nico's ass mercilessly in the kitchen until he shoots his creamy load all over his bottom's hungry ass. The harsh top gets an unexpected surprise at the end – a face full of Nico's cum!
Athletic beau Ryan Cage is ready to get his muscular ass pounded and he can't think of anyone better for the job then hunky James Huck. He spreads those cheeks wide so James can stick his wet and willing tongue inside his hole before going to work on that ass! Licking and fingering Ryan's ass until he's ready to slide his big, raw cock all the way into his anal passage, James knows just what a horny stud like Ryan wants and he's not going to stop until the blonde-haired lad is covered in cum.
Tomas Salek is no snack: he's a full meal and nothing can stop Ricky from plunging in face first. Top-notch rimming gets Tomas ready for a raw hole wrecking. Ricky doesn't hold back as he brings Tomas to a full stomach glazing climax!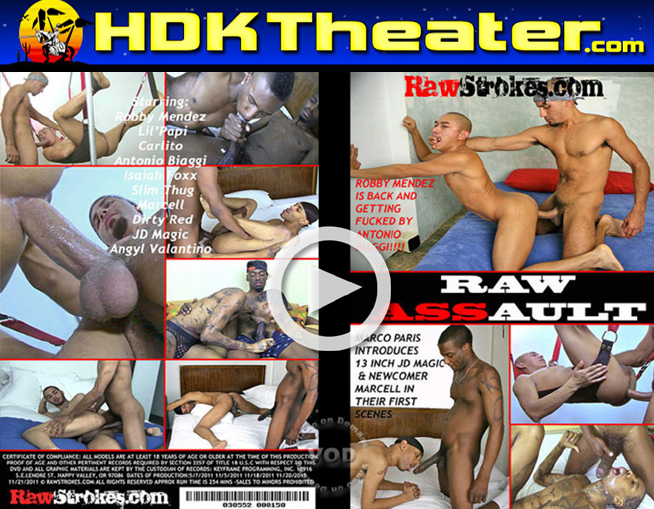 Watch the Full Length Movie at – www.HDKTheater.com
Studio: Raw Strokes Productions
Director: Marco Paris
Approximate Running Time: 01:37:30
Description:
When these thugs aren't busy slinging on the corner…they're busy slinging long, hard, black raw dick behind closed doors! Robby Mendez is back and getting fucked by Antonio Biaggi! Carlito gets his ass reamed and his face glazed by newcomer JD Magic. Marcell is another newcomer to the biz, but that doesn't stop him from fucking Isaiah's bubble butt until they both splooge their spunk! Slim Thug gives the tatted up Angyl an anal reaming and facial glazing he won't soon forget!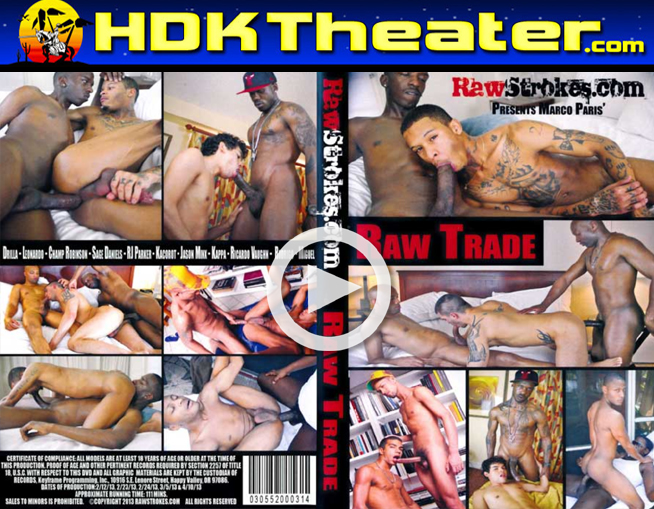 Watch the Full Length Movie at – www.HDKTheater.com
Studio: Raw Strokes Productions
Director: Marco Paris
Approximate Running Time: 01:51:39
Description:
Black and Latino men getting really nasty… Marco Paris brings you a shocking, hot look at real raw face and ass stuffing, with oozing cum so these bottoms get max pleasure. From hot one on one fucking to spicy interracial threesome, these men sure know how to fuck and cum, surely you'll be getting all the pleasure too!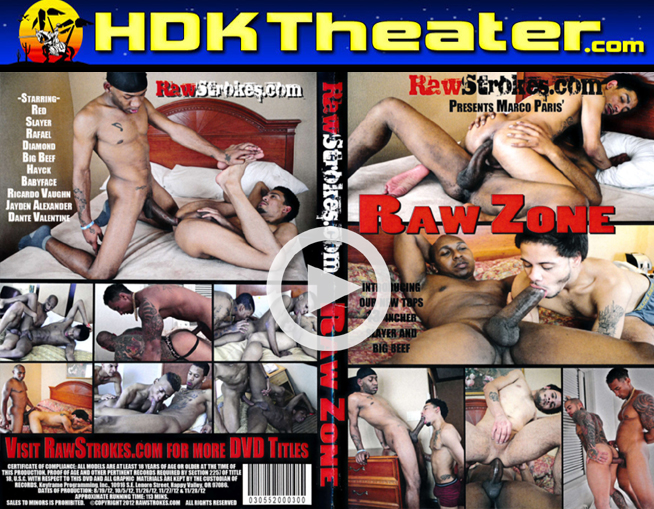 Watch the Full Length Movie at – www.HDKTheater.com
Studio: Raw Strokes Productions
Approximate Running Time: 01:53:49
Description:
Our movie Raw Zone brings you amazing sex between 13-incher Slayer and sexy bottom Kannon. Watch bottom guy having amazing sex full of internal orgasms as Slayer rams his weapon inside that irresistible ass. Watch Kannon to take all this huge dick and like a good slutty bottom boy does, get seeded nicely at the end by our new dream top Slayer. Our tattooed bottom from Brazil, Rafael getting fucked by hot muscle dude Hayck. He fucks him with his thick dick, and at the end shoots his babies in his mouth so he can taste his seed. Babyface gets his ass torn up by one of the biggest, thickest dicks you've seen. Big Beef is introduced on RawStrokes and watch our Babyface take it all. Big Beef would push every bottom's limits, no doubt about that. Watch him seed Babyface with his breeding weapon at the end…So hot! Threesome with two tops Ricardo Vaughn and Red and their whore bottom lil' Diamond. Watch sexy tattooed Ricardo and Red take turns on Diamond as they claim him their personal whore boy. Poor Diamond's ass is destroyed by our two hung tops at the end and Ricardo and Red shoot their load in bottom's mouth on on his ass. New bottom Dante Valentine, a young smooth sexy boy with his hot lil ass waiting to be stretched by Jayden and seeded for the first time. Jayden surely doesn't hesitate to slide his thick raw dick inside that smooth bare hole and make him feel every inch of his dick. Five hot scenes for you to enjoy. Watch some of the biggest dicks in porn stretching our slutty bottoms.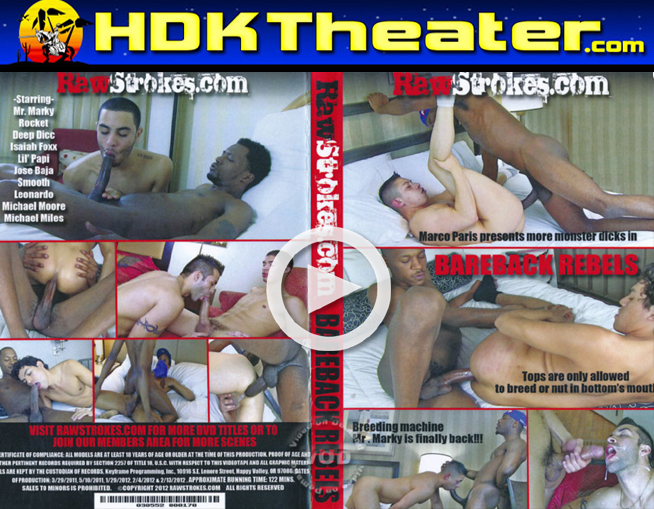 Watch the Full Length Movie at – www.HDKTheater.com
Studio: Raw Strokes Productions
Approximate Running Time: 02:02:11
Description:
These extremely well-hung tops are in the mood for nice, tight hole…and they're breaking all the rules and pounding it raw! Featuring Mr. Marky, Deep Dick, Smooth and more, watch as these sexy hornballs whip out their massive monster cocks to fuck wet mouths and bouncy bubble butts—completely condom-free and hardcore! As if that wasn't hot enough, watch these studs go out with a bang with explosive creampies and facials!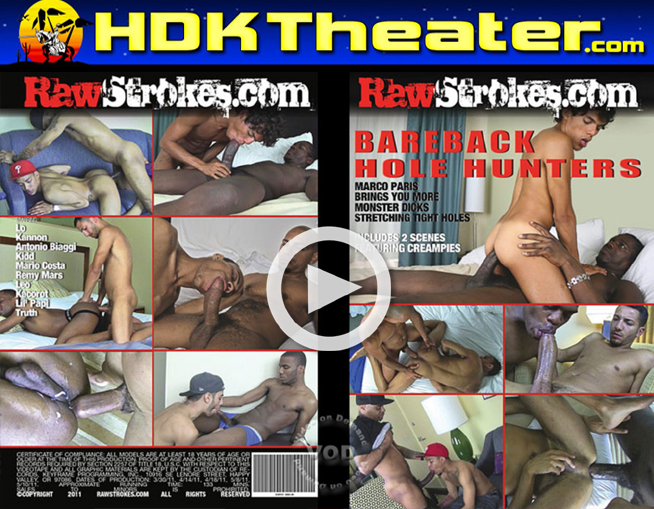 Watch the Full Length Movie at – www.HDKTheater.com
Studio: Raw Strokes Productions
Director: Marco Paris
Approximate Running Time: 02:13:08
Description:
The first scene of BAREBACK HOLE HUNTERS features Lo and Kannon. Watch this top with his huge 12 inch dick stretching beautiful Kannon's ass to the max. And what would be better ending for this sizzling scene than a creampie? Lo dumps his load inside that hot ass and Kannon pushes it out so we can see Lo's big load oozing out… Scene two is with one of Rawstrokes best and most popular porn stars, super hot, and hung Latin guy Antonio Biaggi and the well known Kidd. Antonio fuck the hell out of Kidd and dumps his seed in bottom's ass and we can see his throbbing dick pumping his load inside Kidd's guts as he squirts few times. Kidd pushes it out then. Hot as hell. Scene three stars amazing bottom Remy Mars and gorgeous Mario Costa, who exclusively fucks raw only for us. Watch his 11 incher taking care of that lil bubble ass and squirts huge load all over Remy at the end, sliding it back inside Remy's ass as some of his seed is still dripping from that huge dick. In scene four, new discovery Leo, and monster dick top Kacorot put on quite a show! Kacorot's dick is one of the thickest you'll ever see and is considered as a weapon for any bottom. Leo tries to take it all but the poor boy didn't expect such a monster in Kacorot's pants. Leo got scared when he saw it first time fully hard but still willing to take it as a pro saying after the shoot that this was definitely the biggest he has ever had. Finally, in scene 5, it's all about popular bottom, Lil' Papi, and one new hot tops, Truth. Chemistry between these two is great and Truth fucks him really good with his 9.5 inch dick. Impressive!