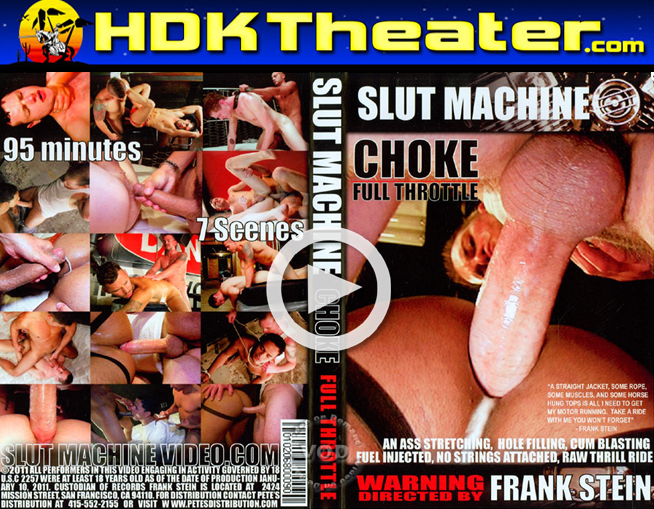 Watch the Full Length Movie at – www.HDKTheater.com
Studio: Slut Machine
Director: Frank Stein
Approximate Running Time: 01:29:16
Description:
It's an ass stretching, hole filling, cum blasting, fuel injected, no strings attached, raw thrill ride! I got a little crazy with this one. A straight jacket, some rope, some muscles and some horse-hung tops is all I need to get my motor running. Take a ride with me you won't forget! Hung raw fuck new comer Antonio Biaggi sadistically enjoys the rough ride alongside veteran ass mechanics Chase Coxxx, Jacob Slader and others. This is raw fuck action at its primal best!
Scene 1: I found a dirty old straight jacket at a thrift store and knew exactly what to do with it. Noah, had told me he fantasizes about being tied up and totally helpless while big dicked studs pound his ass. So I brought in Antonio Biaggi and Chase Coxxx to tag team his little brown hole. These boys take him from both ends before unloading in his hole. Beautiful white streams of cum.
Scene 2: I was surprised at how rough these boys wanted to play. Muscle stud Justin Jameson slams Blue Baily around so hard I had to stop the scene to see if he was alright. But he loved it and begged for more slapping and choking and finally a nice cum load up his ass to get him off.
Scene 3: Jacob Slader loves to fill a small little asshole with his nice thick fuck piston. And he likes to ram it in with spit until he hears his bottoms scream. You could see where this was going when the scene opens with Jacob targeting Noah's throat, gagging him and choking him until he could barely breath. All while Noah is tied up to a bed frame. I'm telling you Noah's tight little ass lips were barely a match for this military daddy's meat.
Scene 4: You would think these two boys were vanilla. But to my surprise they are anything but. These two smash and wrestle each other to the floor and against the walls in one of the hottest contests of domination I've seen. They are young,rock hard and ready to fill each others holes. After Tyler dominates Blue and blasts his load in his ass he's surprised as Blue turns the tables and slams him until he shoots his load in his ass too. Hot.
Scene 5: Jacob Slader has only one thing on his mind. He's like a bull in a pen waiting to be let out. And he goes straight for any hole in site. Zel Miller get's it in his throat and up his ass like he's never got it before.
Scene 6: Antonio Biaggi wants more. And I'm happy to line up the young studs for him to plow through. Blue Baily can't get enough cock so he's the perfect match for Antonio. Antonio grabs his belt and rides Blue like a bucking bronco before unloading in his ass.
Scene 7: Justin Jameson is back and this time with everyone's favorite cum whore Sage Daniels. Justin teases Sage's hole until he can't hold back himself and fills it with his juice.