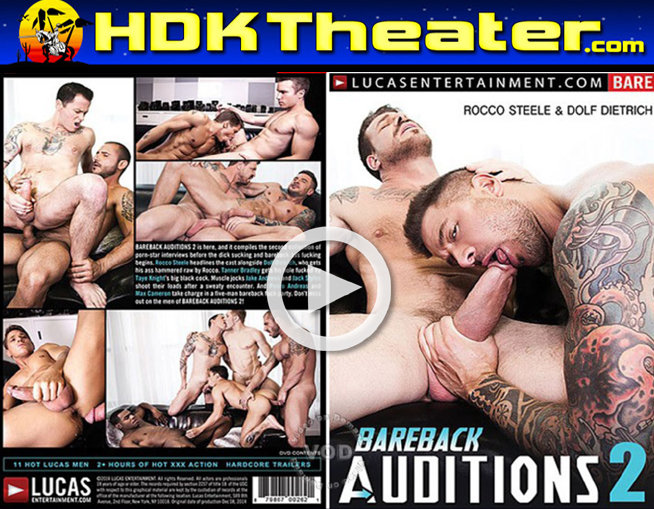 Watch the Full Length Movie at – www.HDKTheater.Com
Studio: Lucas Entertainment
Series: Bareback Auditions (Lucas)
Approximate Running Time: 03:11:35
Description:
"Bareback Auditions 2" is here, and it compiles the second collection of porn-star interviews before the dick sucking and bareback ass fucking begins. Rocco Steele headlines the cast alongside Dolf Dietrich, who gets his ass hammered raw by Rocco. Tanner Bradley gets his hole fucked by Taye Knight's big black cock. Muscle jocks Jake Andrews and Jack Styles shoot their loads after a sweaty encounter. And Pedro Andreas and Max Cameron take charge in a five-man bareback fuck party. Don't miss out on the men of "Bareback Auditions 2"!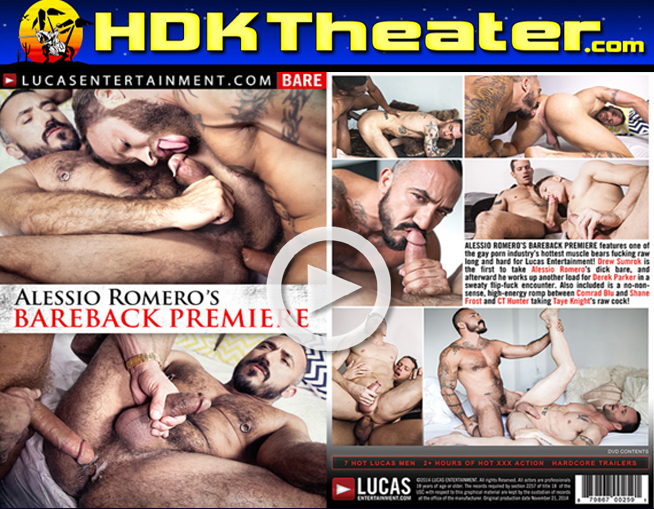 Watch the Full Length Movie at – www.HDKTheater.Com
Studio: Lucas Entertainment
Approximate Running Time: 01:56:32
Description:
Alessio Romero's Bareback Premiere" features one of the gay porn industry's hottest muscle bears fucking raw long and hard for Lucas Entertainment! Drew Sumrok is the first to take Alessio's dick bare, and afterward he works up another load for Derek Parker in a sweaty flip-fuck encounter. Also included is a no-nonsense, high-energy romp between Comrad Blu and Shane Frost and CT Hunter taking Taye Knight's raw cock!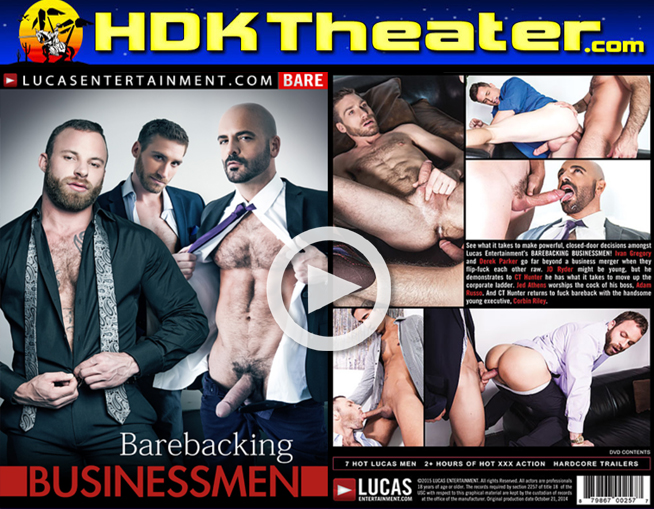 Watch the Full Length Movie at – www.HDKTheater.Com
Studio: Lucas Entertainment
Series: Gentlemen
Approximate Running Time: 02:04:53
Description:
These businessmen among Lucas Entertainment are ready to make you an offer you can't refuse! They are offering to take you behind closed doors to make executive decisions that will make your cock stand up and pay attention in four ass reaming, barebacking, hardcore scenes! Ivan Gregory and Derek Parker go far beyond a business merger when they flip-fuck each other raw. JD Ryder might be young, but he demonstrates to CT Hunter he has what it takes to move up the corporate ladder. Jed Athens worships the cock of his boss, Adam Russo. And CT Hunter returns to fuck bareback with the handsome young executive, Corbin Riley.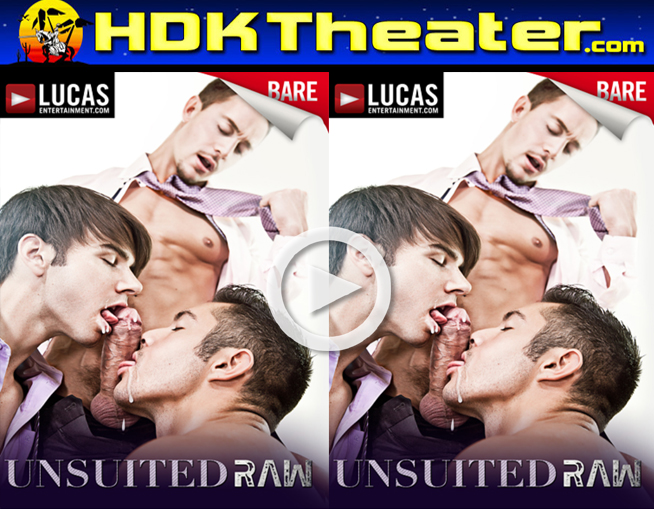 Watch the Full Length Movie at – www.HDKTheater.Com
Studio: Lucas Entertainment
Series: Gentlemen
Director: Adam Killian
Approximate Running Time: 02:01:18
Description:
The Gentlemen of Lucas Entertainment go bareback in "Unsuited Raw" and express their sexual appetites without restriction! Morgan Black can't leave work at the office and always brings it to the bedroom — luckily, Shane Frost has a major suit fetish. Michael Lachlan invites Addison Graham and Seth Treston back to his apartment for a coffee break, but all they wind up drinking is cum. The next morning, Michael Lachlan calls Sebastian Rossi over to his apartment before the office to fix his plumbing, which turns into a hardcore bareback flip-fuck. And Seth Treston returns to take his business meeting with Michael Lucas to the next level by taking Michael's load up his ass!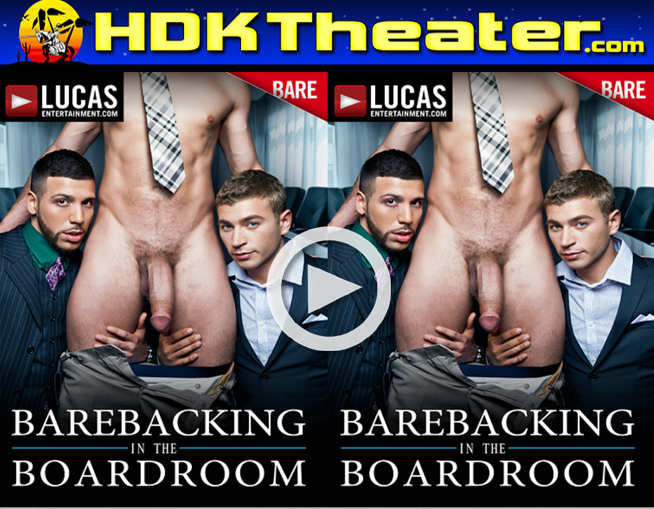 Watch the Full Length Movie at – www.HDKTheater.Com
Studio: Lucas Entertainment
Series: Gentlemen
Director: Allen Simmons, Adam Killian
Approximate Running Time: 02:04:46
Description:
You know the business meeting just got real when there's full-on "Barebacking in the Boardroom" to consummate a corporate deal! Just ask Lucas Knight, FX Rios, Alexander Greene, and Michael Lucas: all four of these blockbuster porn stars take raw fucking in suits to the next level. And don't forget about Nova Rubio, Drew Sumrok, and Jed Athens: they show the sex-charged hijinks that happen when three hot men are fighting for the same job. Meanwhile, Derek Parker is in charge of an office full of cum-dripping double penetration and bareback ass-fucking with his subordinates Marcus Isaacs, BJ Rhubarb, Nigel Banks, and Comrad Blu!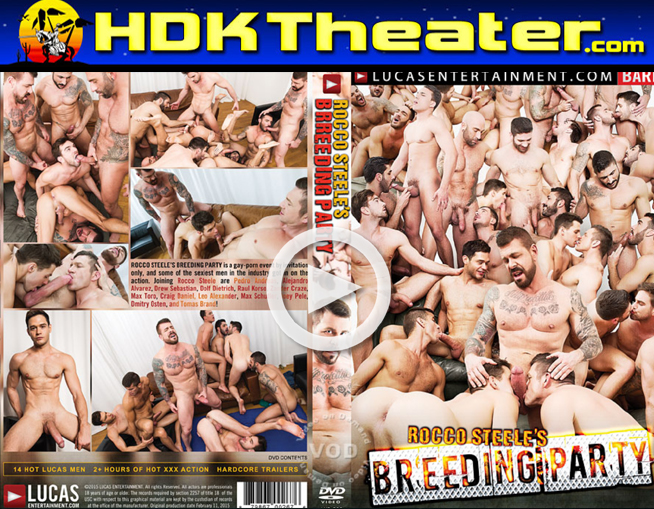 Watch the Full Length Movie at – www.HDKTheater.Com
Studio: Lucas Entertainment
Director: Michael Lucas
Approximate Running Time: 02:48:25
Description:
Rocco Steele's Breeding Party" is a gay-porn event by invitation only, and some of the sexiest men in the industry got in on the action. Joining Rocco Steele are Pedro Andreas, Alejandro Alvarez, Drew Sebastian, Dolf Dietrich, Raul Korso, Zander Craze, Max Toro, Craig Daniel, Leo Alexander, Max Schutler, Joey Pele, Dmitry Osten, and Tomas Brand!
Watch the Full Length Movie at – www.HDKTheater.Com
Studio: Next Door Studios
Approximate Running Time: 02:14:06
Description:
These sexy chiseled hunks are horny, cum-filled and ready for some hot and heavy action…deep, hard and condom-free! These FIVE explosive scenes from Next Door Studios will leave you salivating for more! When the 2 officers Diesel White & Damian West catch the french-Canadian Johnny Diesel in the back alley trying to make a little extra cash, one of them says "You know how we handle it at the station…". After exchanging roles at fucking Johnny's ass they both bust a load all over him. A lot more fun than having to fill out some paper work, right? Enjoy!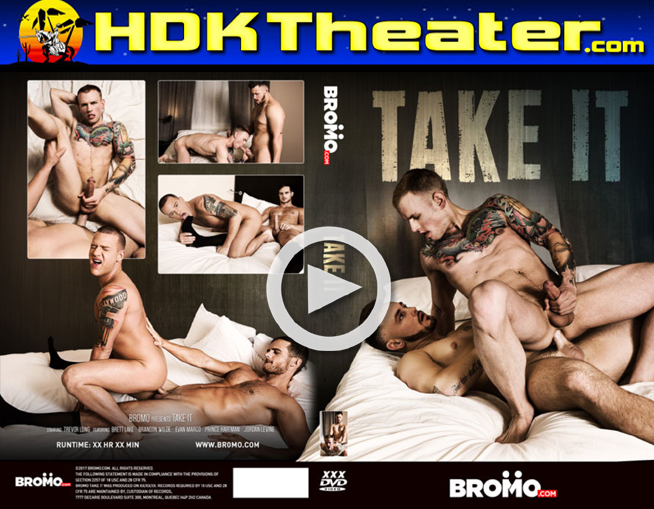 Watch the Full Length Movie at – www.HDKTheater.com
Studio: Bromo.com
Approximate Running Time: 01:04:47
Description:
Raw Capture: Jordan Levine catches Pierce Hartman robbing his apartment, and decides not to involve the authorities. Instead, Pierce willingly becomes Jordan's plaything. His only purpose is to please Jordan and being at his beck and call, sucking his dick, and taking his massive cock raw. It's an arrangement that benefits everyone. Twink Breeder: When Evan Marco comes home tired from work, his horny boyfriend Brandon Wilde offers the perfect way to relieve his stress: a good ol' raw fuck-fest. Evan takes him up on his offer and starts by throat-fucking Brandon until he's ready to fuck. As soon as Brandon sits on Evan's big dick, you'll know you're in for a wild ride. Take This Dick: Trevor Long and Brett Lake are eager to fuck, and it shows by the way Brett quickly goes down on Trevor's thick piece. Trevor holds Brett down and fucks his mouth until he's good and ready to start pounding him bareback. Once he penetrates him, Trevor dives deep and hard into Brett's sweet ass until their sweaty bodies are covered in cum.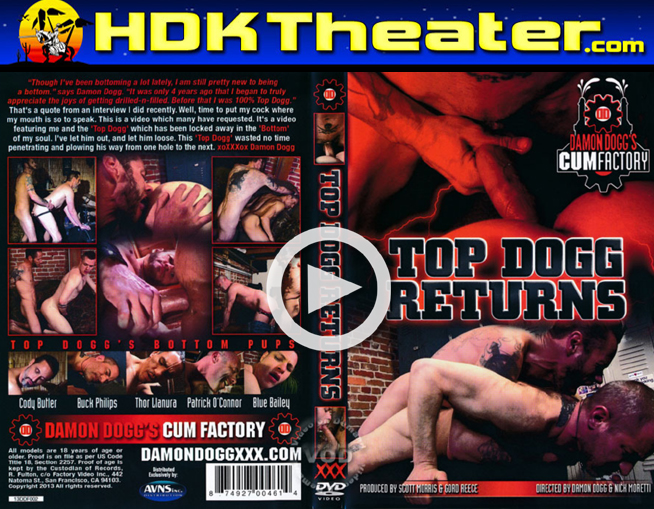 Watch the Full Length Movie at – www.HDKTheater.Com
Studio: Damon Dogg's Cum Factory
Director: Nick Moretti & Damon Dogg
Approximate Running Time: 01:45:55
Description:
Damon Dogg's Cum Factory churns out one hell of bareback flick and this film is no exception. Top Dogg Returns features five intense fucking scenes performed by the filthy top himself, Damon Dogg! With Cody Butler, Buck Philips, Thor Llanura, Patrick O'Connor and Blue Bailey bottoming you won't want to miss Damon's return! Here's what the stud has to say for himself…
"Though I've been bottoming a lot lately, I am still pretty new to being a bottom." say's Damon Dogg. "It was only four years ago that I began to truly appreciate the joys of getting drilled n filled. Before then I was 100% Top Dogg." That's a quote from an interview I did recently. Well, time to put my cock where my mouth is so to speak. Many have requested it and Top Dogg Returns features me and the 'Top Dogg' which has been locked away in the 'Bottom' of my soul. I've let him out and let him loose and this 'Top Dogg' wasted no time penetrating and plowing his way from one hole to the next."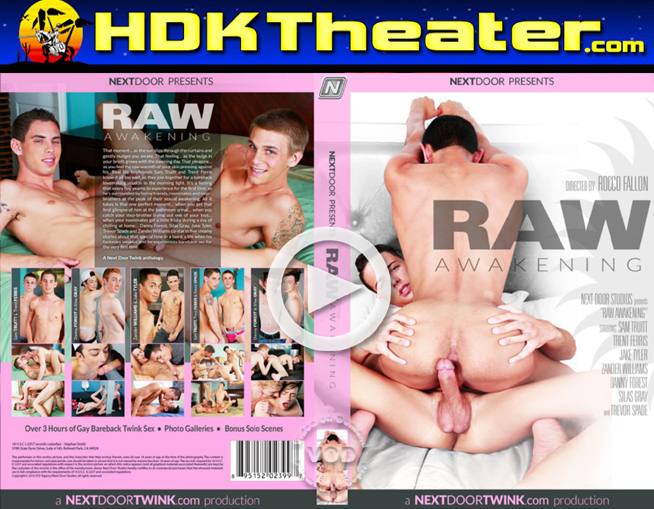 Watch the Full Length Movie at – www.HDKTheater.Com
Studio: Next Door Studios
Director: Rocco Fallon
Approximate Running Time: 03:14:05
Description:
That moment… as the sun slips through the curtains and gently nudges you awake. That feeling… as the bulge in your briefs grows with the dawning day. That pleasure, as you feel the raw warmth of your skin pressing against his. Real life boyfriends Sam Truitt and Trent Ferris know it all too well, as they join together for a bareback three-way session in the morning light. It's a feeling that every boy yearns to experience for the first time, as he's surrounded by horny friends, roommates and step-brothers at the peak of their sexual awakening.