Watch the Full Length Movie at – www.HDKTheater.com
Studio: Bromo.com
Approximate Running Time: 01:08:27
Description:
The stars have aligned to bring us Bo Sinn with his meticulously curated sex dungeon and Jack Hunter as his thirsty sub. The tension between these two is electric, and once Bo lets Jack out of his cage, the savagery is hypnotizing. Bo wields his throbbing hole wrecker like a weapon of ass destruction until Jack is soaked in his cum and locked away like a good fuck toy.
When Tristan Jaxx decides to spice things up by transforming into Rubberman, he really gives Jack Hunter a heart-pounding surprise! Not one to be scared off by harsh kink, Jack takes everything Tristan unleashes like a champ. Watch tension turn to passion in this bareback fetish fantasy!
Dane Stewart is out to show Carlos Lindo who's boss around here. Marking his territory with slaps, spit, and cum, Dane turns Carlos into a writhing cum slut who's ready to explode. You'll be right alongside Carlos as he begs for a sip of Dane's frothy load.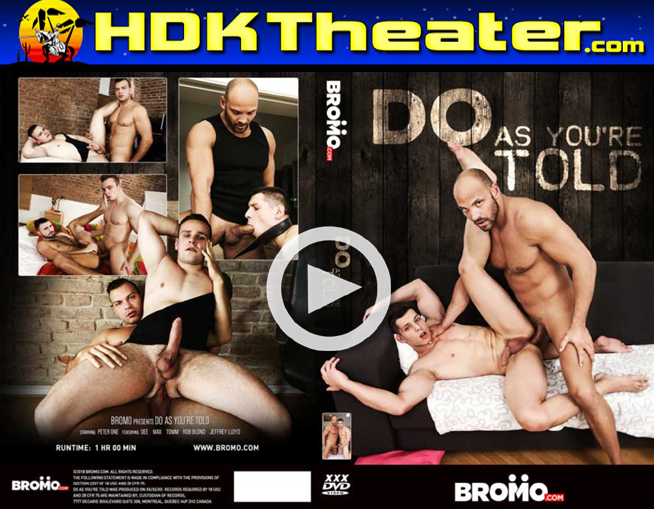 Watch the Full Length Movie at – www.HDKTheater.com
Studio: Bromo.com
Approximate Running Time: 01:00:12
Description:
If we can be sure of one thing, it's that Jeffrey Lloyd has a delicious ass, and Boris Lang knows exactly how to tame it. Boris shoves his uncut cock in every one of Jeffrey's holes, taking full control with finesse and vigor. Watch Jeffrey and Boris get sweaty & sloppy in this steamy bareback fuck fest!
Peter One is about to find out that Tomm is one harsh daddy of an alarm clock. This harsh couch bang sees Tomm manhandling Peter with the strength and precision of a full-blown sex beast. When Peter glazes Tomm's dick with his cum you'll wish you were there yourself to slurp it up!
Why let work get in the way of a long hard throat fuck? Dee and Max certainly don't let it. And once Dee gets a taste of Max's mouth, he absolutely has to own his ass as well. Watch these two have bareback sex all over the office until they coat the furniture in multiple hot loads!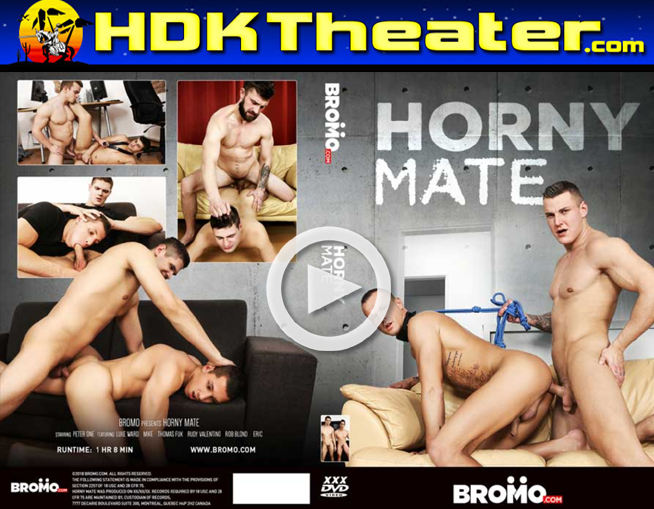 Watch the Full Length Movie at – www.HDKTheater.com
Studio:
Bromo.com
Approximate Running Time:
01:08:36
Description:
When Peter One catches his roommate Thomas Fuk masturbating, he can't help but lend a hand. Thomas takes up the offer and feverishly throat-fucks Peter until he can't help but slide in his ass raw. This high-intensity fuck between sexy muscle babes brings new meaning to the term 'couch surfing'!
Boss Boris Lang needs his employees to go above and beyond at work and Rudy Valentino is eager to please. This is what Raw Overtime looks like.
Rudy Valentino is about to get his gag reflexes put to the test by Eric's huge uncut cock. When Eric has his fill of ramming Rudy's throat, he stuffs his sweet ass raw until his explosive load fills Rudy to the brim. This high energy fuck will have you begging for more!
Luke Ward treats Mike like the good little bitch he is and Mike loves every moment of it. Feeding a good bitch is hard, but Luke's dick is even harder. Soon Mike gets to taste it for himself. Unable to hold back any longer, Luke bends Mike's eager ass over the couch and plows hard him until they both let loose explosive loads.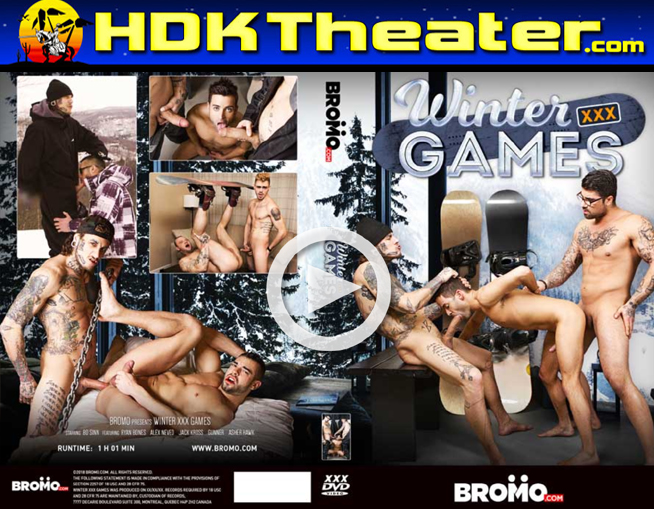 Watch the Full Length Movie at – www.HDKTheater.com
Studio: Bromo.com
Approximate Running Time: 01:01:18
Description:
Bo Sinn is back! And he's ruling the slopes of this resort with his icy stare and rock hard dick. When Jack Kross encounters him he's hell bent on getting his manpussy plowed by Bo's monster cock. Watch these two create their very own 'opening' ceremony out of Jack's ass.
Gunner & Ashton Hawk top off a thrilling day of shredding the slopes with a hot bareback session that's sure to steam up the windows of their cabin. These two prove that snowboard tricks don't actually require any snow! All playing aside, it's always a pure delight to watch a beefcake like Gunner get his ass owned properly.
The guys have a bit of time to kill before the competition. When Alex Neveo admits to Bo Sinn & Ryan Bones that riding snowboards makes him wanna ride cock, his fate is sealed. Can he take on two sex beasts at the same time? You're about to find out just how hard and deep Bo & Ryan can go before loads start to fly.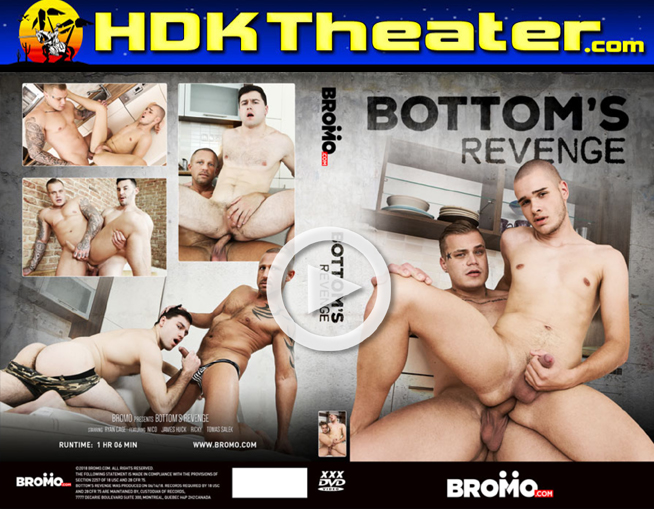 Watch the Full Length Movie at – www.HDKTheater.com
Studio: Bromo.com
Approximate Running Time: 01:05:31
Date Added: 2018-08-15
Description:
Ryan Cage knows just what Nico needs for breakfast – his hot cum. The European hunk pounds Nico's ass mercilessly in the kitchen until he shoots his creamy load all over his bottom's hungry ass. The harsh top gets an unexpected surprise at the end – a face full of Nico's cum!
Athletic beau Ryan Cage is ready to get his muscular ass pounded and he can't think of anyone better for the job then hunky James Huck. He spreads those cheeks wide so James can stick his wet and willing tongue inside his hole before going to work on that ass! Licking and fingering Ryan's ass until he's ready to slide his big, raw cock all the way into his anal passage, James knows just what a horny stud like Ryan wants and he's not going to stop until the blonde-haired lad is covered in cum.
Tomas Salek is no snack: he's a full meal and nothing can stop Ricky from plunging in face first. Top-notch rimming gets Tomas ready for a raw hole wrecking. Ricky doesn't hold back as he brings Tomas to a full stomach glazing climax!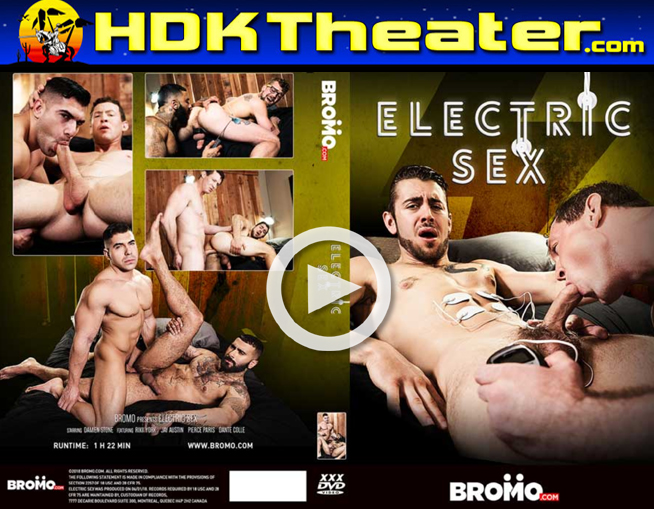 Watch the Full Length Movie at – www.HDKTheater.com
Studio: Bromo.com
Approximate Running Time: 01:22:22
Description:
Electric Sex Part #1: Rikk York has a ball tingling surprise for Jay Austin in this Bromo classic. Jay can't help but buck and writhe under Rikk's skillful manipulations. When Rikk turns his attention to plowing Jay's tight ass hard and fast, it's not long before they create a full on fountain of cum.
Electric Sex Part #2: Damien Stone and Rikk York are obsessed with each other's bodies and it's not hard to see why. Being the hot vers that he is, Rikk sits himself down on Damien's delicious cock and proceeds to work himself up into a sweaty delirium. That's when Damien knows Rikk is ready to get electro-cuffed. that bring this raw session to the next level of hard core.
Electric Sex Part #3: We all know Pierce Paris can handle a lot of abuse, but Damien Stone is going to test those limits. Armed with an electric paddle and his muscular body, Damien begins by working Pierce's balls with precision and both of them can't seem to get enough!
Electric Sex Part #4: Hang on tight: your final session of electro-shock therapy is about to begin! In this series finale, Pierce Paris takes control of Dantel Colle's body, treating him to an electrifying blow job