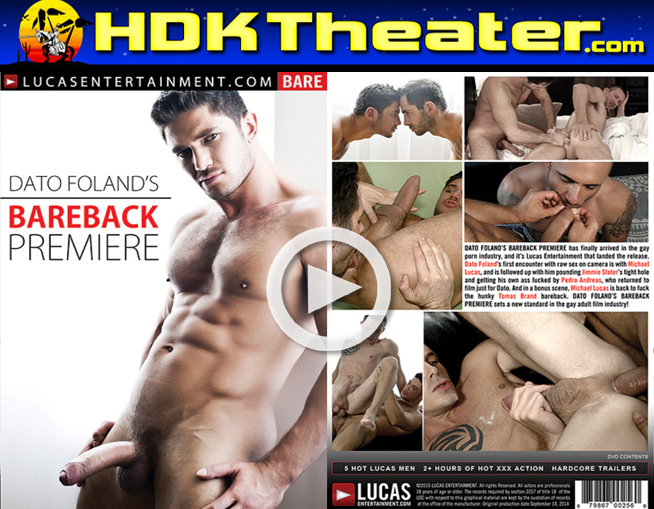 Watch the Full Length Movie at – www.HDKTheater.Com
Studio: Lucas Entertainment
Approximate Running Time: 02:20:55
Description:
"Dato Foland's Bareback Premiere" has finally arrived in the gay porn industry, and it's Lucas Entertainment that landed the release. Dato's first ever encounter with raw sex on camera is with Michael Lucas, and is followed up with him pounding Jimmie Slater's tight hole and getting his own ass fucked by Pedro Andreas, who came out of retirement just for Dato. And in a bonus scene, Michael Lucas returns to fuck the hunky Tomas Brand bareback. "Dato Foland's Bareback Premiere" sets a new standard in the gay adult film industry!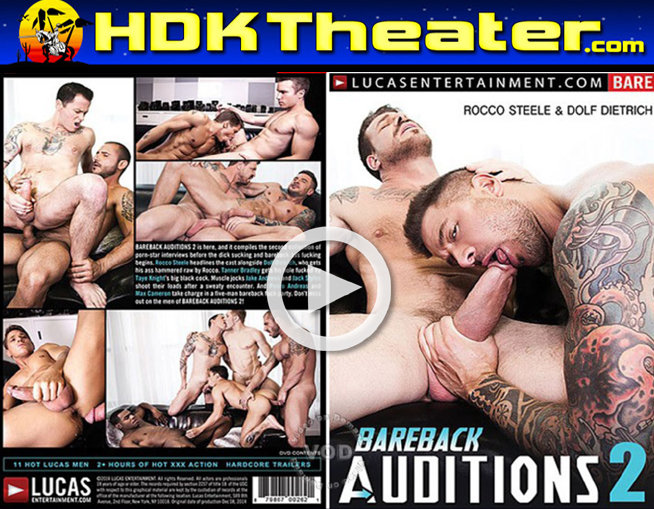 Watch the Full Length Movie at – www.HDKTheater.Com
Studio: Lucas Entertainment
Series: Bareback Auditions (Lucas)
Approximate Running Time: 03:11:35
Description:
"Bareback Auditions 2" is here, and it compiles the second collection of porn-star interviews before the dick sucking and bareback ass fucking begins. Rocco Steele headlines the cast alongside Dolf Dietrich, who gets his ass hammered raw by Rocco. Tanner Bradley gets his hole fucked by Taye Knight's big black cock. Muscle jocks Jake Andrews and Jack Styles shoot their loads after a sweaty encounter. And Pedro Andreas and Max Cameron take charge in a five-man bareback fuck party. Don't miss out on the men of "Bareback Auditions 2"!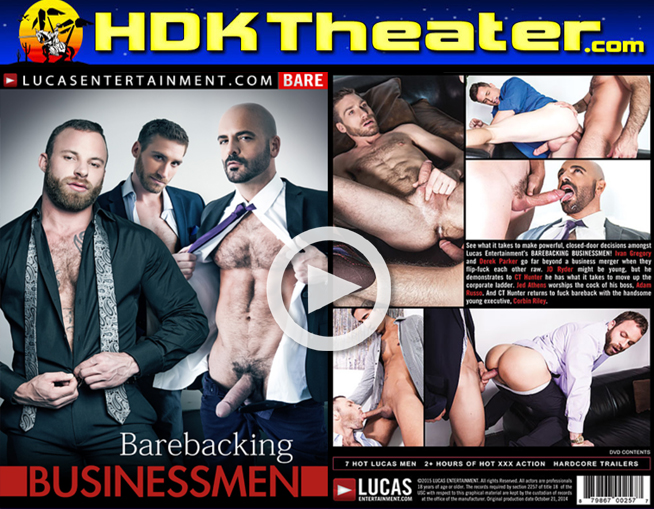 Watch the Full Length Movie at – www.HDKTheater.Com
Studio: Lucas Entertainment
Series: Gentlemen
Approximate Running Time: 02:04:53
Description:
These businessmen among Lucas Entertainment are ready to make you an offer you can't refuse! They are offering to take you behind closed doors to make executive decisions that will make your cock stand up and pay attention in four ass reaming, barebacking, hardcore scenes! Ivan Gregory and Derek Parker go far beyond a business merger when they flip-fuck each other raw. JD Ryder might be young, but he demonstrates to CT Hunter he has what it takes to move up the corporate ladder. Jed Athens worships the cock of his boss, Adam Russo. And CT Hunter returns to fuck bareback with the handsome young executive, Corbin Riley.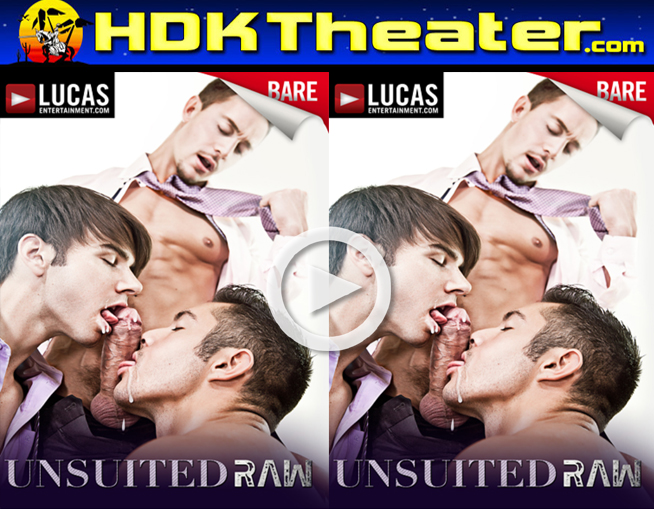 Watch the Full Length Movie at – www.HDKTheater.Com
Studio: Lucas Entertainment
Series: Gentlemen
Director: Adam Killian
Approximate Running Time: 02:01:18
Description:
The Gentlemen of Lucas Entertainment go bareback in "Unsuited Raw" and express their sexual appetites without restriction! Morgan Black can't leave work at the office and always brings it to the bedroom — luckily, Shane Frost has a major suit fetish. Michael Lachlan invites Addison Graham and Seth Treston back to his apartment for a coffee break, but all they wind up drinking is cum. The next morning, Michael Lachlan calls Sebastian Rossi over to his apartment before the office to fix his plumbing, which turns into a hardcore bareback flip-fuck. And Seth Treston returns to take his business meeting with Michael Lucas to the next level by taking Michael's load up his ass!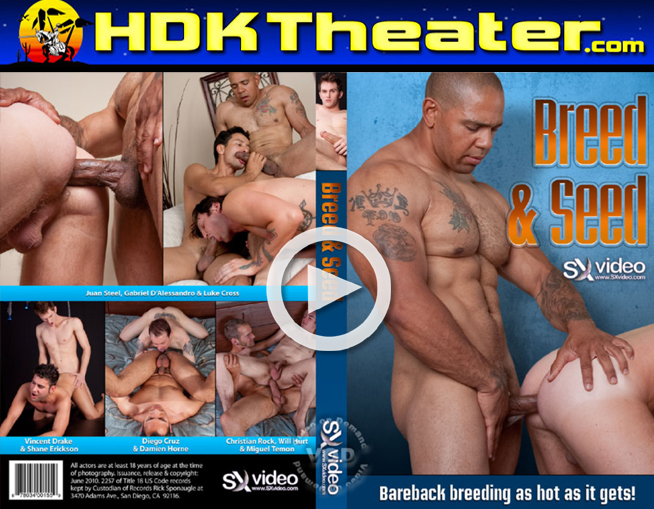 Watch the Full Length Movie at – www.HDKTheater.Com
Studio: SX Video
Director: Ben Baird
Approximate Running Time: 01:51:30
Description:
Scene 1: Juan Steele, Gabriel D'Alessandro, Luke Cross. SX Video is proud to debut Juan Steele, a very muscled Latino with a nice tool who we know will quickly become an SX favorite. Luke Cross is no stranger to cock and is eager for both Juan's monster cock and Gabriel's thick Latin cock, sucking and being fucked by both until Angel is ready to slide his ten inches into Gabriel. The Latin fever is too much for Luke who busts his load on Gabriel and eats it up before jumping right back into a daisy chain. These men are into each other and it shows by breeding multiple times.
Scene 2: Christian Rock, Miguel Temon, Will Hurt. This is the scene that everyone has been asking for. Miguel Temon finally gives up his virgin ass! Christian is an aggressive guy and has no problem shoving Will's head down on his big cock. Miguel wants a piece of this submissive twink and takes turns fucking and getting sucked by Will. Miguel is ready to see what being a bottom is all about He gets warmed up by a nice rim job before taking it a couple ways from Christian and being seeded. Christian then finishes off Will, pumping a load in his ass too.
Scene 3: Diego Cruz, Damien Horne. Diego loves to work cock with his talented Latin ass, and Damien is a guy who loves to throw down in every position…twice. Diego gets jack hammered, and flipped in every direction in this scene. Damien is clearly calling all the shots from feeding Diego his load, to making sure not a drop is wasted when he loads up his ass.
Scene 4: Vincent Drake, Shane Erickson. Vincent and Drake are two college kids who are more interested in fucking than studying books. These boys love to explore with their mouths as they exchange thirst quenching blowjobs and 69. Shane takes control moving into rimming before fucking Vincent. They start out on a leather table and take it to a leather sling. Shane gives Vincent his very explosive load, before Shane mounts again until he explodes.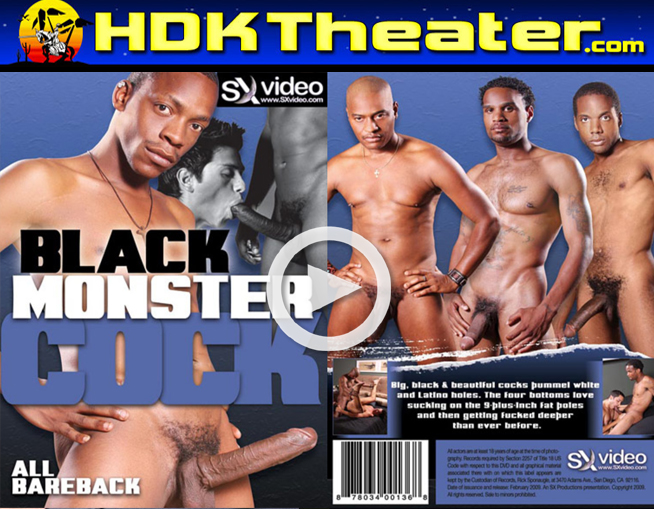 Watch the Full Length Movie at – www.HDKTheater.Com
Studio: SX Video
Series: Black Monster Cock
Approximate Running Time: 01:10:40
Description:
Four black tops who swing exceptionally big equipment between their legs take on four ready-to-please bottoms who love getting stretched and pumped by big black cock fat cock. So Sit back and lube your cocks and enjoy bareback sex with some of the most known names in gay film!!Scene 1 brings muscle bottom J.D. Lopez together with Jack Trade, an Eddie Murphy look-alike. Lopez deep throats Trade's 9-inch curver to get the party started. He then gets on all fours for the main event. Trade keeps it hard and Lopez rides and rides.
Young pup Orion Cross is proud at how much cock he can take. Mike Shawn is proud of his huge cock. It is a perfect match for Scene 2. Shawn licks Cross' hole for a nice long time until it is slick and ready for action. Cross starts moaning uncontrollably once he sits on that monster dick and brings it to climax.
With 10 inches, Rod Rockhard is the cock king in this video. Mark Mann (who is hung big himself) is happy in Scene 3 to worship that donkey dick and see if he can handle it up his ass. He can. And does. First he sucks it, almost chocking but never stopping. Then he takes it, Rockhard pulling in and out, in and out.
In Scene 4 Mickey Dee Jay tells Black Delight he only gets fucked by guys with 8 inches or more. Delight pulls out 9 and Dee Jay is on it, his pink hole swallowing up every inch until they both spurt!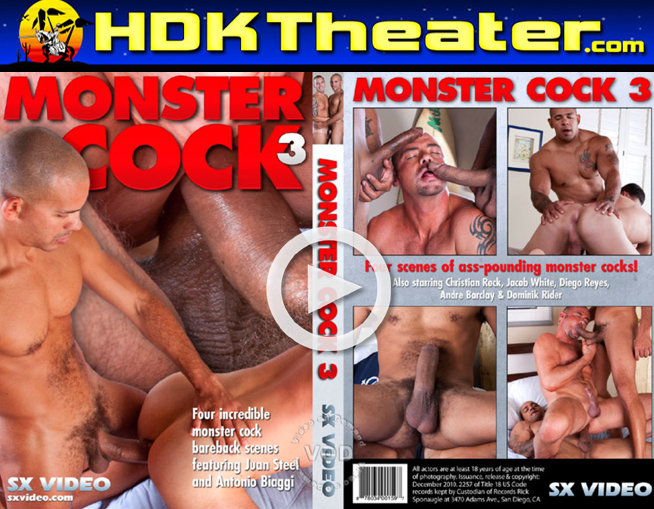 Watch the Full Length Movie at – www.HDKTheater.Com
Studio: SX Video
Series: Monster Cock
Approximate Running Time: 01:50:20
Description:
Four incredible monster cock bareback scenes featuring Juan Steel, Antonio Biaggi, Christian Rock, Jacob White, Diego Reyes, Andre Barclay and Dominik Rider. The first scene wastes no time jumping right into a muscle vs. muscle threesome scene that is sure to leave you hot, bothered and needing more! I'm talking double anal, ATM, and pure hardcore ass pounding…and that's only the first scene!