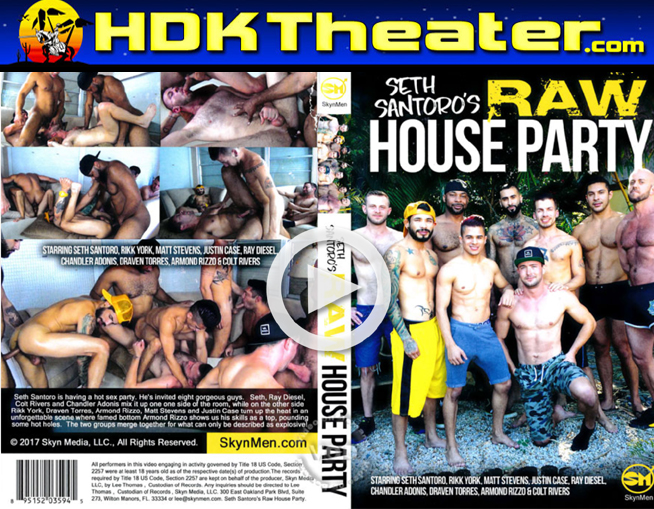 Watch the Full Length Movie at – www.HDKTheater.com
Studio: Skyn Men
Director: Anthony Michaels
Approximate Running Time: 01:18:35
Description:
Seth Santoro is having a hot sex party. He invited eight gorgeous guys. Seth, Ray Diesel, Colt Rivers and Chandler Adonis mix it up on one side of the room, while on the other side Rikk York, Draven Torres, Armond Rizzo, Matt Stevens, and Justin Case turn up the heat in an unforgettable scene where tamed bottom Armond Rizzo shows us his skills as a top, pounding some hot holes. The two groups merge together for what can only be described as explosive!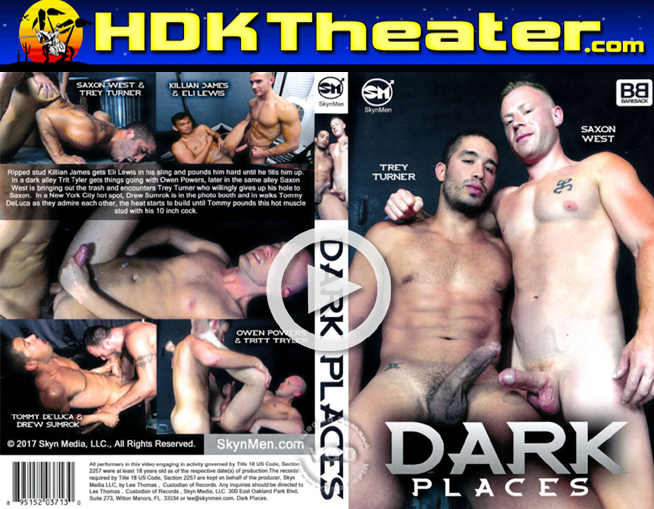 Watch the Full Length Movie at – www.HDKTheater.com
Studio: Skyn Men
Approximate Running Time: 01:32:56
Description:
Ripped stud Killian James gets Eli Lewis in his sling and pounds him hard until he fills him up. In a dark alley Trit Tyler gets things going with Owen Powers, later in the same alley Saxon West is bringing out the trash and encounters Trey Turner who willingly gives up his hole to Saxon. In a New City hot spot, Drew Sumrol is in the photo booth and in walks Tommy DeLuca as they admire each other, the heat starts to build until Tommy pounds this hot muscle stud with his 9 inch cock.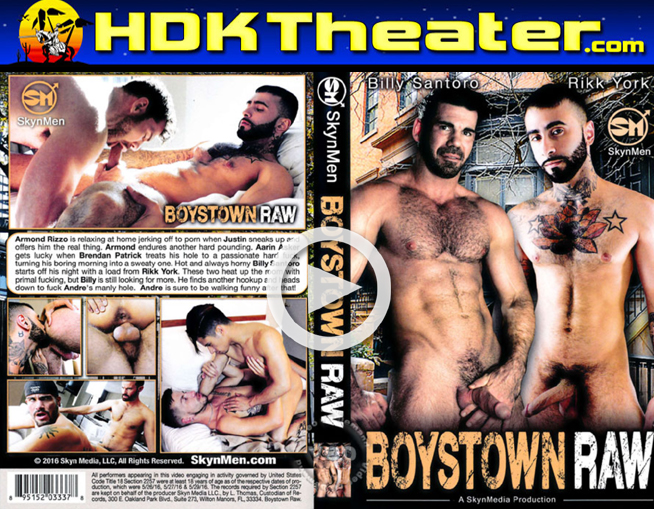 Watch the Full Length Movie at – www.HDKTheater.com
Studio:
Skyn Men
Approximate Running Time:
01:51:56
Description:
Armond Rizzo is relaxing at home jerking off to porn when Justin sneaks up and offers him the real thing. Armond endures another hard pounding. Aarin Asker gets lucky when Brendan Patrick treats his hole to a passionate hard fuck, turning his boring morning into a sweaty one. Hot and always horny Billy Santoro starts off his night with a load from Rikk York. These two heat up the room with primal fucking, but Billy is still looking for more. He finds another hookup and heads down to fuck Andre's manly hole. Andre is sure to be walking funny after that!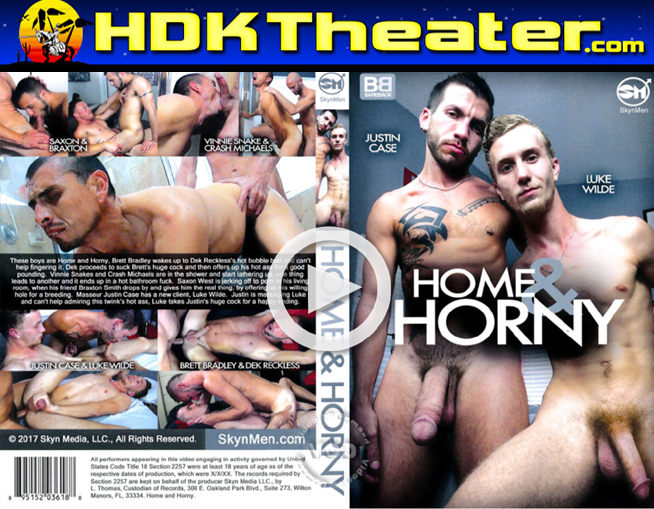 Watch the Full Length Movie at – www.HDKTheater.com
Studio: Skyn Men
Approximate Running Time: 01:23:45
Description:
These boys are home and horny. Brett Bradley wakes up to Dek Reckless's hot bubble butt and can't help fingering it. Dek proceeds to suck Brett's huge cock and then offers up his hot ass for a good pounding. Vinnie Snakes and Crash Michaels are in the shower and start lathering up. One thing leads to another and it ends up in a hot bathroom fuck. Saxon West is jerking off to porn in his living room, when his friend Braxton Smith drops by and gives him the real thing by offering up his willing hole for a breeding. Masseur Justin Case has a new client, Luke Wilde. Justin is massaging Luke and can't help admiring this twink's hot ass; Luke takes Justin's huge cock for a happy ending.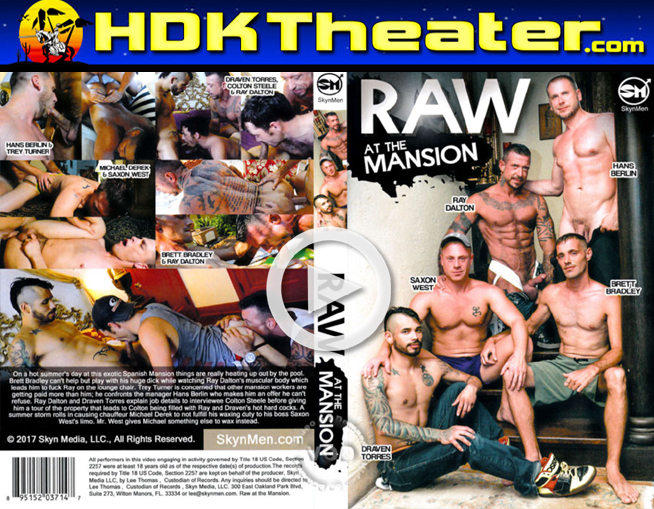 Watch the Full Length Movie at – www.HDKTheater.com
Studio: Skyn Men
Approximate Running Time: 01:19:06
Description:
On a summer day at this exotic Spanish Mansion things really heat up, Brett Bradley finds it hard to keep his hands off his huge cock while staring at pool boy Ray Dalton's muscular body. Brett then fucks Ray on the lounge chair. Trey Turner is concerned that other workers at the mansion make money than him, he approaches manager Hans Berlin who makes him an offer he can refuse for more money. Colton Steele is looking for a job, Ray Dalton and Draven Torres explain job details and give him a tour of the mansion that ends up in a hot three way with Colton being filled by Ray and Draven. Later in the day it's beginning to rain, so Chauffer Michael Derek can't wax his bosses limo, but Mr. West has something else he can wax.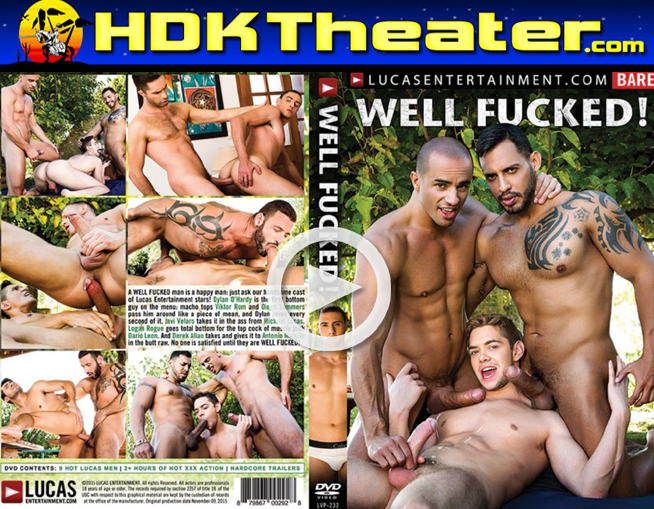 Watch the Full Length Movie at – www.HDKTheater.com
Studio: Lucas Entertainment
Director: Michael Lucas
Approximate Running Time: 02:43:10
Description
A "Well Fucked" man is a happy man: just ask our handsome cast of Lucas Entertainment stars! Dylan O'Hardy is the first bottom guy on the menu: macho tops Viktor Rom and Diego Summers pass him around like a piece of meat, and Dylan loves every second of it. Javi Velaro takes it in the ass from Michael Lucas. Logan Rogue goes total bottom for the top cock of muscle jock Dario Leon. And Derek Allan takes and gives it to Antonio Miracle in the butt raw. No one is satisfied until they are "Well Fucked"! One thing is for sure — Dylan O'Hardy must have had a hard time walking after taking two dicks up the rear. But the two tops in question are extra special, so there's no room for complaint: Viktor Rom and Diego Summers (a new Lucas Entertainment exclusive model). Also, a note on Diego: in the opinion of this Lucas Entertainment content writer, he's one of the sexiest models currently around. His shaved head, lean body, and erect fat cock all make him a dream guy to have in bed. Dylan gets him and Viktor, another god among gay porn stars. However much fun you have watching these three together, the live action itself must have been mind-blowing. One of the best aspects of Javi Velaro as a gay bareback porn star is his true versatility. He enjoys taking dick in the butt as much as he likes giving it. In this encounter he flaunts his desires as a bottom, and Michael Lucas is his top. Judging by the hungry ass shot at 07:24, Javi isn't afraid to take all 10 inches of Michael's uncut Russian dick. Don't worry: Michael is more than happy to deliver it. Dario Leon might be all top, but he's sure a passionate one who knows how to relax and soften his men up before stripping down and sticking it in. This approach works very well on Logan Rogue, who gets hot and bothered after being passionately swooned by the deep and wet kisses of Dario. This leads to Logan pulling Dario's huge uncut cock out of his shorts for fellatio. Logan enjoys seeing his tops fuck him, so he starts out on his back with Dario's raw dick deep inside of him. But in my opinion, the best sequence shows Logan on his elbows and knees — from behind, Dario is mounted on top and pumps his seed hard. Antonio Miracle is a big, beefy, and tattooed muscle bear that has a lot of passion to give his partners. He also looks incredible wearing a simple black t-shirt and jeans. Fresh-faced Derek Allan has a particular attraction to Antonio for all of these reasons and more — he couldn't stop staring at the beefcake on set — so they were paired up to see what kind of fun would happen. It's no surprise that quite a bit occurred. You might assume that Antonio would pound Derek, but he actually takes it as much as he gives. Show him who is in charge, Derek!