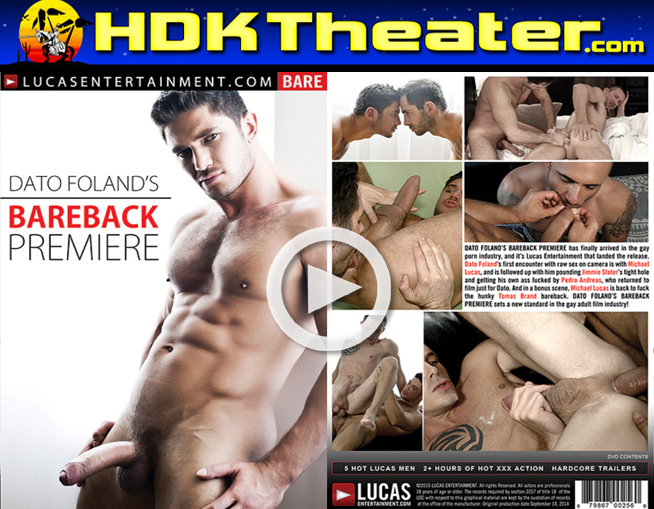 Watch the Full Length Movie at – www.HDKTheater.Com
Studio: Lucas Entertainment
Approximate Running Time: 02:20:55
Description:
"Dato Foland's Bareback Premiere" has finally arrived in the gay porn industry, and it's Lucas Entertainment that landed the release. Dato's first ever encounter with raw sex on camera is with Michael Lucas, and is followed up with him pounding Jimmie Slater's tight hole and getting his own ass fucked by Pedro Andreas, who came out of retirement just for Dato. And in a bonus scene, Michael Lucas returns to fuck the hunky Tomas Brand bareback. "Dato Foland's Bareback Premiere" sets a new standard in the gay adult film industry!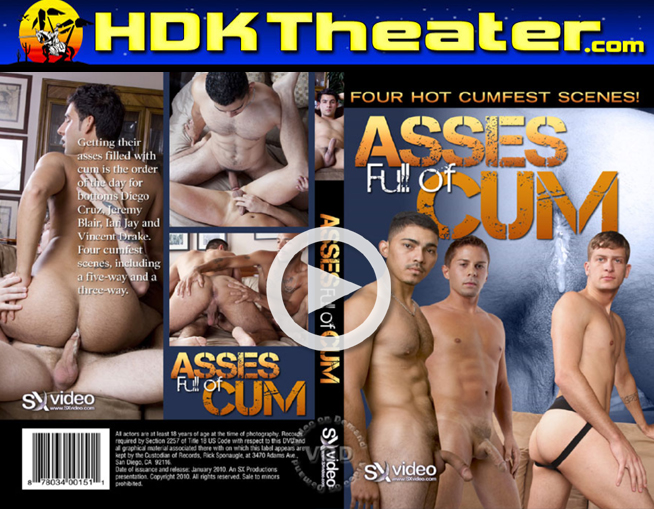 Watch the Full Length Movie at – www.HDKTheater.Com
Studio: SX Video
Approximate Running Time: 01:36:25
Description:
Getting their asses filled with cum is the order of the day for bottoms of Diego Cruz, Jeremy, Blair Ian Jay and Vincent Drake. Scenes including a five way and a three-way.Its a cum fest and your invited to four action packed scenes of barebacking studs of various flavors offering plenty cream for hole!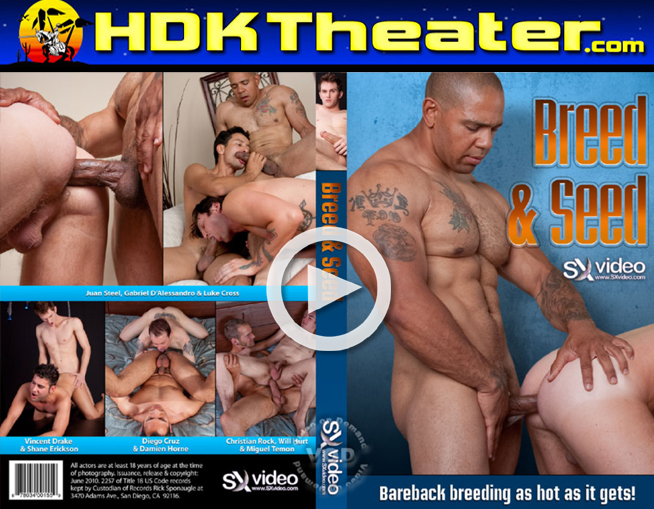 Watch the Full Length Movie at – www.HDKTheater.Com
Studio: SX Video
Director: Ben Baird
Approximate Running Time: 01:51:30
Description:
Scene 1: Juan Steele, Gabriel D'Alessandro, Luke Cross. SX Video is proud to debut Juan Steele, a very muscled Latino with a nice tool who we know will quickly become an SX favorite. Luke Cross is no stranger to cock and is eager for both Juan's monster cock and Gabriel's thick Latin cock, sucking and being fucked by both until Angel is ready to slide his ten inches into Gabriel. The Latin fever is too much for Luke who busts his load on Gabriel and eats it up before jumping right back into a daisy chain. These men are into each other and it shows by breeding multiple times.
Scene 2: Christian Rock, Miguel Temon, Will Hurt. This is the scene that everyone has been asking for. Miguel Temon finally gives up his virgin ass! Christian is an aggressive guy and has no problem shoving Will's head down on his big cock. Miguel wants a piece of this submissive twink and takes turns fucking and getting sucked by Will. Miguel is ready to see what being a bottom is all about He gets warmed up by a nice rim job before taking it a couple ways from Christian and being seeded. Christian then finishes off Will, pumping a load in his ass too.
Scene 3: Diego Cruz, Damien Horne. Diego loves to work cock with his talented Latin ass, and Damien is a guy who loves to throw down in every position…twice. Diego gets jack hammered, and flipped in every direction in this scene. Damien is clearly calling all the shots from feeding Diego his load, to making sure not a drop is wasted when he loads up his ass.
Scene 4: Vincent Drake, Shane Erickson. Vincent and Drake are two college kids who are more interested in fucking than studying books. These boys love to explore with their mouths as they exchange thirst quenching blowjobs and 69. Shane takes control moving into rimming before fucking Vincent. They start out on a leather table and take it to a leather sling. Shane gives Vincent his very explosive load, before Shane mounts again until he explodes.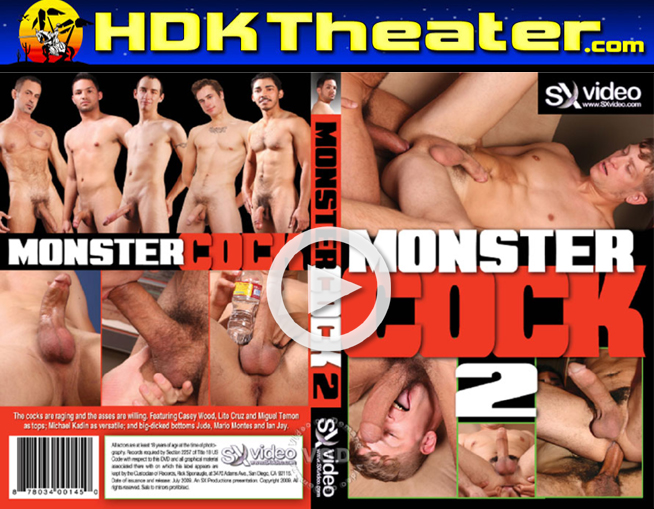 Watch the Full Length Movie at – www.HDKTheater.Com
Studio: SX Video
Series: Monster Cock
Director: Ben Baird
Approximate Running Time: 01:38:42
Description:
The cocks are raging and the asses are willing. Featuring Casey Wood, Lito Cruz and Miguel Temon as tops; Michael Kadin as versatile; and big-dicked bottoms Jude, Mario Montes and Ian Jay.Scene one opens with fresh-faced Ian Jay taking on Lito Cruz's ten-inch whopper. The two trade blow jobs to start and then Lito lunches on Ian's smooth asshole, alternating between sticking in his tongue and cock. Then while fucking, he pulls his cock out to stick it in Ian's mouth. Ian even gets two loads up his butt – Lito's and his own. Watch to find out how.
Wow – a true 11×8 cock in action is the star of Scene Two. As Michael Kadin says: 'That was the biggest cock I have ever seen." He gets more than just to see it. He licks and sucks it as much as he can fit in his mouth. Then it takes several tries in various positions for his ass to open so Casey Wood can get that big boy inside. There is no acting here. Michael really feels the pain to get the pleasure.
What happens when two Latino studs collide? Miguel Temon and Mario Montes both have big, fat cocks and want to get off in Scene Three.
Mario loves servicing gay-for-pay Miguel's uncut monster. He deep throats it for a bit to get a feel for its size. Miguel fucks him hard and leaves a juicy load inside.
Finally, Scene Four has two young studs with big dicks and cute butts. Who gets to top? After a bit of sixty-nine Michael Kadin takes control of Jude's ass with some quality rimming and finger play. He knows his cock is fat and he needs to open Jude up. Jude's ass takes it until shooting time and then he flips to get a mouthful of cum.