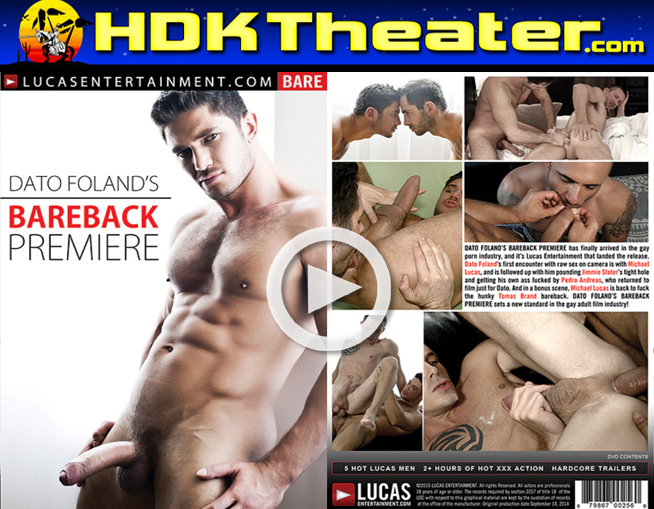 Watch the Full Length Movie at – www.HDKTheater.Com
Studio: Lucas Entertainment
Approximate Running Time: 02:20:55
Description:
"Dato Foland's Bareback Premiere" has finally arrived in the gay porn industry, and it's Lucas Entertainment that landed the release. Dato's first ever encounter with raw sex on camera is with Michael Lucas, and is followed up with him pounding Jimmie Slater's tight hole and getting his own ass fucked by Pedro Andreas, who came out of retirement just for Dato. And in a bonus scene, Michael Lucas returns to fuck the hunky Tomas Brand bareback. "Dato Foland's Bareback Premiere" sets a new standard in the gay adult film industry!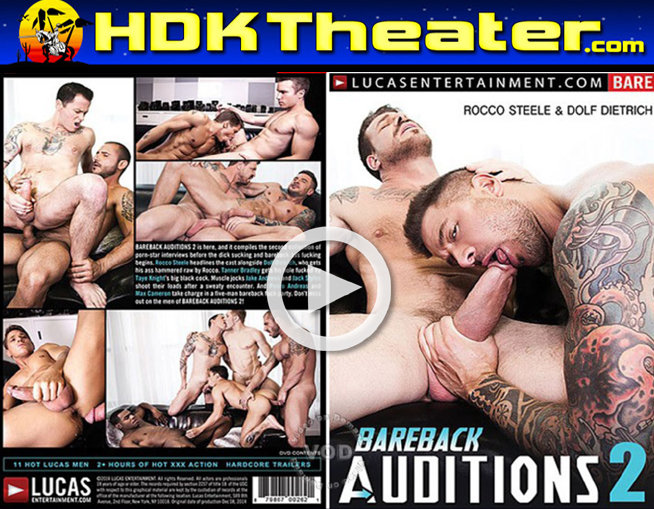 Watch the Full Length Movie at – www.HDKTheater.Com
Studio: Lucas Entertainment
Series: Bareback Auditions (Lucas)
Approximate Running Time: 03:11:35
Description:
"Bareback Auditions 2" is here, and it compiles the second collection of porn-star interviews before the dick sucking and bareback ass fucking begins. Rocco Steele headlines the cast alongside Dolf Dietrich, who gets his ass hammered raw by Rocco. Tanner Bradley gets his hole fucked by Taye Knight's big black cock. Muscle jocks Jake Andrews and Jack Styles shoot their loads after a sweaty encounter. And Pedro Andreas and Max Cameron take charge in a five-man bareback fuck party. Don't miss out on the men of "Bareback Auditions 2"!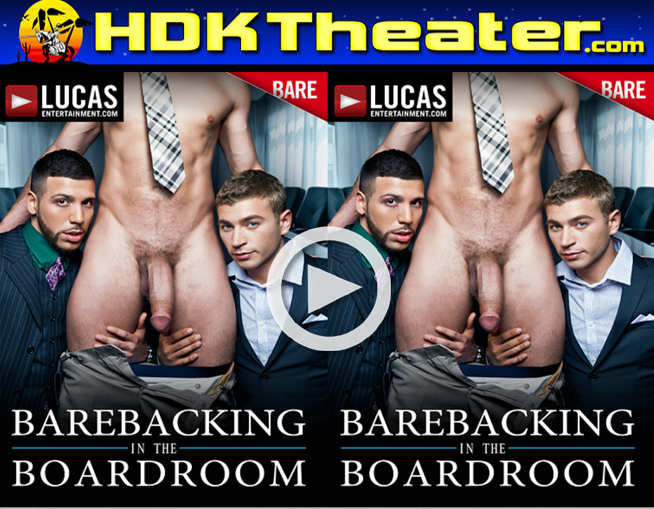 Watch the Full Length Movie at – www.HDKTheater.Com
Studio: Lucas Entertainment
Series: Gentlemen
Director: Allen Simmons, Adam Killian
Approximate Running Time: 02:04:46
Description:
You know the business meeting just got real when there's full-on "Barebacking in the Boardroom" to consummate a corporate deal! Just ask Lucas Knight, FX Rios, Alexander Greene, and Michael Lucas: all four of these blockbuster porn stars take raw fucking in suits to the next level. And don't forget about Nova Rubio, Drew Sumrok, and Jed Athens: they show the sex-charged hijinks that happen when three hot men are fighting for the same job. Meanwhile, Derek Parker is in charge of an office full of cum-dripping double penetration and bareback ass-fucking with his subordinates Marcus Isaacs, BJ Rhubarb, Nigel Banks, and Comrad Blu!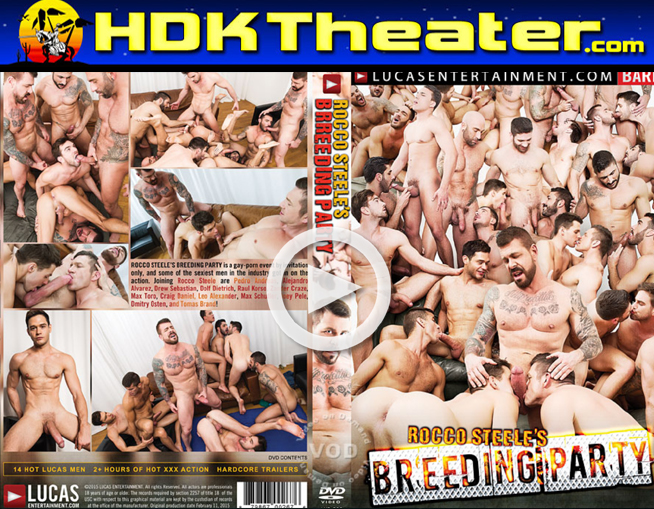 Watch the Full Length Movie at – www.HDKTheater.Com
Studio: Lucas Entertainment
Director: Michael Lucas
Approximate Running Time: 02:48:25
Description:
Rocco Steele's Breeding Party" is a gay-porn event by invitation only, and some of the sexiest men in the industry got in on the action. Joining Rocco Steele are Pedro Andreas, Alejandro Alvarez, Drew Sebastian, Dolf Dietrich, Raul Korso, Zander Craze, Max Toro, Craig Daniel, Leo Alexander, Max Schutler, Joey Pele, Dmitry Osten, and Tomas Brand!
Watch the Full Length Movie at – www.HDKTheater.Com
Studio: Next Door Studios
Approximate Running Time: 02:14:06
Description:
These sexy chiseled hunks are horny, cum-filled and ready for some hot and heavy action…deep, hard and condom-free! These FIVE explosive scenes from Next Door Studios will leave you salivating for more! When the 2 officers Diesel White & Damian West catch the french-Canadian Johnny Diesel in the back alley trying to make a little extra cash, one of them says "You know how we handle it at the station…". After exchanging roles at fucking Johnny's ass they both bust a load all over him. A lot more fun than having to fill out some paper work, right? Enjoy!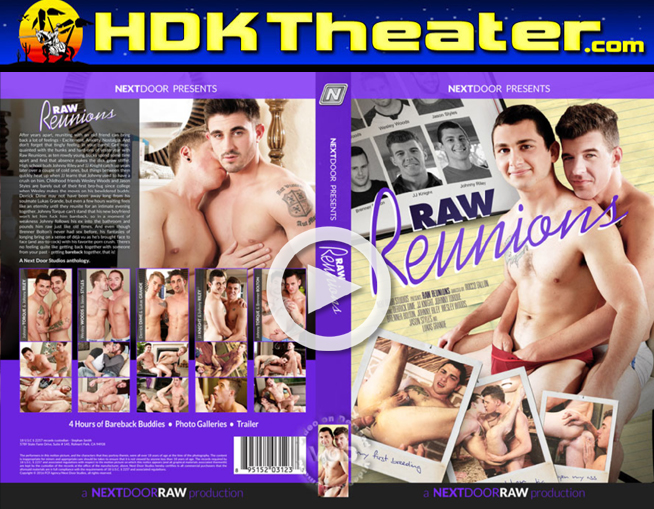 Watch the Full Length Movie at – www.HDKTheater.Com
Studio: Next Door Studios
Director: Rocco Fallon
Approximate Running Time: 04:01:29
Description:
After years apart, reuniting with an old friend can bring back a lot of feelings – Excitement. Anxiety. Nostalgia. And don't forget that tingly feeling in your pants! Get reacquainted with the hunks and hard-ons of yesteryear with Raw Reunions, as ten rowdy young bucks spend some time apart and find that absence makes the dick grow stiffer. High school buds Johnny Riley and JJ Knight catch up years later over a couple of cold ones, but things between them quickly heat up when JJ learns that Johnny used to have a crush on him. Childhood friends Wesley Woods and Jason Styles are barely out of their first bro-hug since college when Wesley makes the moves on his bewildered buddy. Derrick Dime may not have been away long from his soulmate Lukas Grande but even a few hours waiting feels like an eternity until they reunite for an intimate evening together. Johnny Torque can't stand that his new boyfriend won't let him fuck him bareback, so in a moment of weakness Johnny follows his ex into the bathroom and pounds him raw just like old times. And even though Brenner Bolton's never had sex before, his fantasies of longing bring on a sense of deja vu as he's brought face to face (and ass-to-cock) with his favorite porn crush. There's no feeling quite like getting back together with someone from your past – getting bareback together, that is! A Next Door Raw anthology.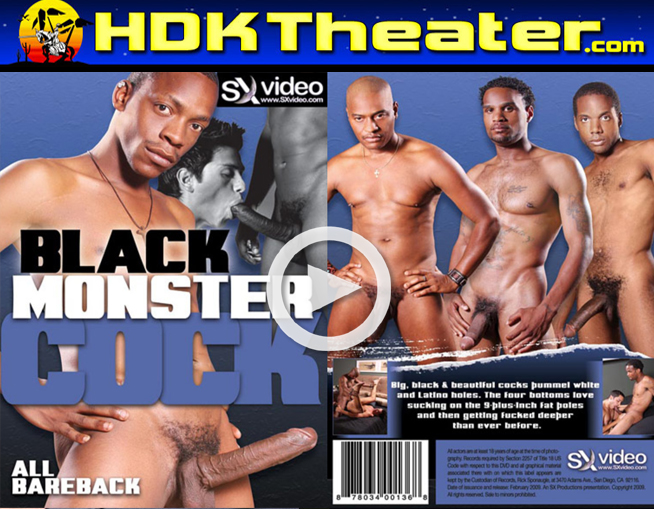 Watch the Full Length Movie at – www.HDKTheater.Com
Studio: SX Video
Series: Black Monster Cock
Approximate Running Time: 01:10:40
Description:
Four black tops who swing exceptionally big equipment between their legs take on four ready-to-please bottoms who love getting stretched and pumped by big black cock fat cock. So Sit back and lube your cocks and enjoy bareback sex with some of the most known names in gay film!!Scene 1 brings muscle bottom J.D. Lopez together with Jack Trade, an Eddie Murphy look-alike. Lopez deep throats Trade's 9-inch curver to get the party started. He then gets on all fours for the main event. Trade keeps it hard and Lopez rides and rides.
Young pup Orion Cross is proud at how much cock he can take. Mike Shawn is proud of his huge cock. It is a perfect match for Scene 2. Shawn licks Cross' hole for a nice long time until it is slick and ready for action. Cross starts moaning uncontrollably once he sits on that monster dick and brings it to climax.
With 10 inches, Rod Rockhard is the cock king in this video. Mark Mann (who is hung big himself) is happy in Scene 3 to worship that donkey dick and see if he can handle it up his ass. He can. And does. First he sucks it, almost chocking but never stopping. Then he takes it, Rockhard pulling in and out, in and out.
In Scene 4 Mickey Dee Jay tells Black Delight he only gets fucked by guys with 8 inches or more. Delight pulls out 9 and Dee Jay is on it, his pink hole swallowing up every inch until they both spurt!