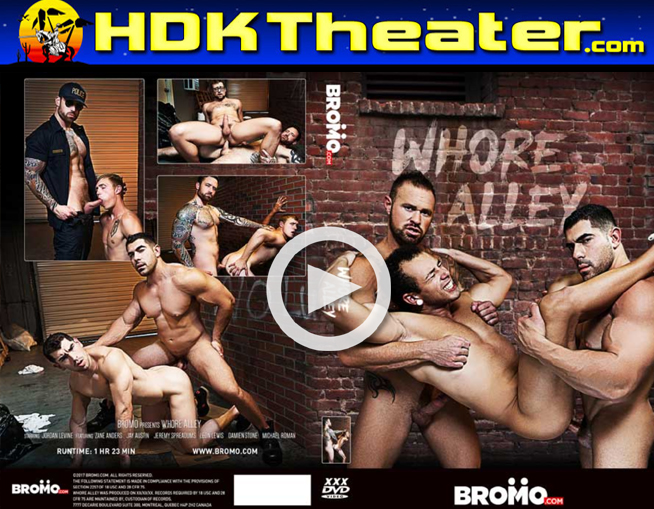 Watch the Full Length Movie at – www.HDKTheater.com
Studio: Bromo.com
Approximate Running Time: 01:23:24
Date Added: 2017-12-21
Description:
Jordan Levine is an off duty cop looking for action. Where better than Whore Alley? There he finds Zane Anders defacing public property with a filthy proposition. Who knows if Zane is prepared to receive such a relentless pounding, however he gets exactly what he deserves as Jordan serves up his own brand of raw vigilante justice.
Off duty cop Jordan Levine, loves fucking street sluts so much that he's back for more. He waits impatiently in Whore Alley, until Jay Austin falls right into his lap. Faced with such a dominant beast, Jay can't help but drop to his knees and start sucking. Jordan makes use of all Jay's holes before the tables turn and he takes a massive facial from his fuck toy.
Damien Stone may have entered Whore Alley not knowing what to expect, but he will leave as a fully initiated man. He happens upon Jeremy Spreadums on all fours, savoring a cream pie but begging for more. Can Damien tame Jeremy's insatiable bubble butt? Watch as he takes on the challenge, relentlessly pounding our beloved cum slut with brute intensity, until they are both glistening with sweat under the alley lights.
We're back in Whore Alley for a full blown beef buffet! Muscle studs Michael Roman and Damien Stone are practically setting fire to the pavement when Leon Lewis crash lands into their world. Leon barely has time to catch his breath but he's still more than ready to recieve a sweaty bareback spit roasting for the ages.