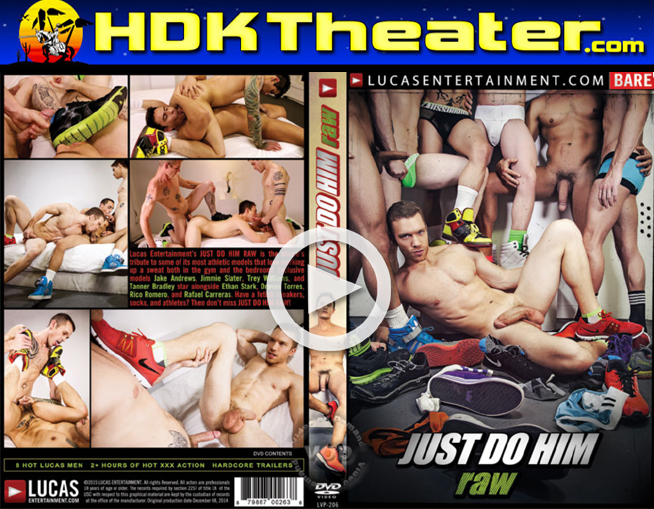 Watch the Full Length Movie at – www.HDKTheater.Com
Studio: Lucas Entertainment
Director: Jake Steel
Approximate Running Time: 02:28:33
Description:
Lucas Entertainment's "Just Do Him Raw" is the studio's tribute to some of its most athletic models that love working up a sweat both in the gym and the bedroom! Exclusive models Jake Andrews, Jimmie Slater, Trey Williams, and Tanner Bradley star alongside Ethan Stark, Draven Torres, Rico Romero, and Rafael Carreras. Have a footwear and athlete fetish? Then don't miss "Just Do Him Raw"! Tanner Bradley rides Trey Williams' cock bareback… I always found Tanner Bradley exceptionally cute since his first scene. Even cuter are the statements he's made in the past about being a top, but he always winds up on the bottom. What can I say — he looks great taking cock. Because of this Tanner was paired up with Trey Williams in his first scene. Trey is a handsome blonde guy with a swimmer's build and a big fat cock between his legs. He's a fan of having guys ride him, and if you check out 13:25 you'll see just that! Ethan Stark joins Trey Williams and Tanner Bradley in a raw threesome! If two wasn't enough, Ethan Stark certainly rounds out this sexual encounter among athletic young men (and might I add, I love the band tattoos on Ethan's bicep and the paw on his cum-gutters). I just hope Tanner can handle another cock so quickly, because he's getting pig-roasted in this scene, and Ethan is a top who enjoys taking his time fucking. But Tanner looks great between two guys — check out 14:05 is you don't believe me! I've been a fan of Jimmie Slater ever since his first scene: this kid's body is ripped, he has an amazing cock, and most importantly he knows how to use it. If you don't follow him on Twitter, you're doing yourself a disservice. Here he and Draven Torres hook up after a work out, and you really get to see Jimmie and Draven at their best: fucking ass bareback until they blow their loads! Talk about a strong roster of hot worked-out men: Ethan Stark makes a second appearance (much to my enjoyment) along with the always handsome Jake Andrews and sexy young Latin Rico Romero. Attention everyone who has a wrestling fetish: you get to see Jake and Ethan go at it in singlets. One of my favorite spots in the scene is when Jake and Ethan are taking turns sucking on Rico's uncut cock. It's a great lead-in for the fucking that follows! Draven Torres might have been flip fucking with Jimmie Slater earlier on, but now he's in the hands of Rafael Carreras, and he takes complete control of Draven. Let's not forget that Rafael has a huge 10-inch uncut Cuban cock, and he shows Draven who is in charge with it!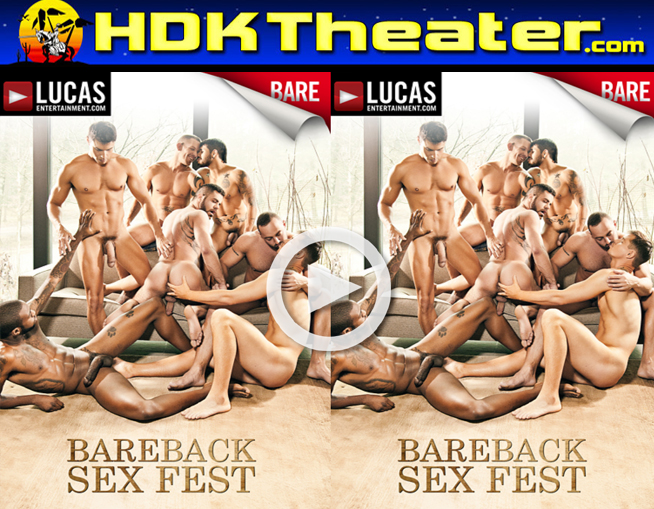 Watch the Full Length Movie at – www.HDKTheater.Com
Studio: Lucas Entertainment
Director: Chris Crisco & Adam Killian
Approximate Running Time: 01:34:48
Description:
It's a "Bareback Sex Fest" when Lucas Entertainment bring together a group of its horniest and raw-fucking porn stars, packs them up, and sends them to a cabin in upstate New York to do what they do best: have some hot and heavy bareback sex, and that includes some ass-splitting double-penetration! Jed Athens, Rafael Carreras, Marcus Isaacs, Shane Frost, Draven Torres, Hot Rod, and Fabio Stallone: no one could ask for a sexier group of men to suck, fuck, and blow their raw loads in an unforgettable "Bareback Sex Fest"!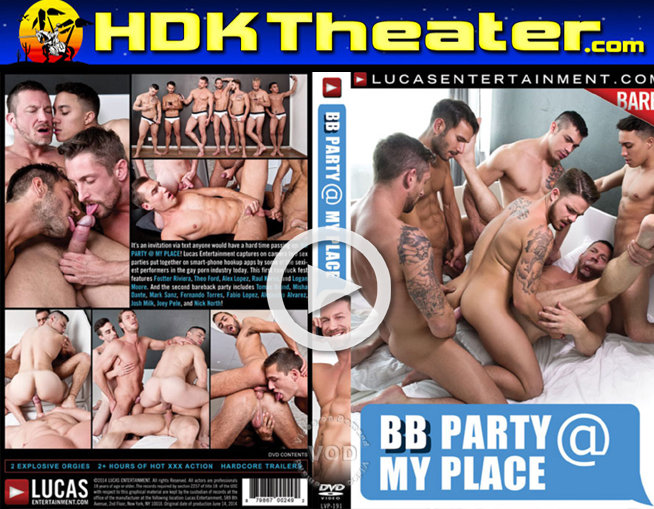 Watch the Full Length Movie at – www.HDKTheater.Com
Studio: Lucas Entertainment
Director: Allen Simmons
Approximate Running Time: 02:53:44
Description:
It's an invitation via text anyone would have a hard time passing up: "BB PARTY @ MY PLACE"! Lucas Entertainment captures on camera two sex parties put together on smart-phone hookup apps by some of the sexiest performers in the gay porn industry today. This first raw fuck fest (broken into two encounters) features Fostter Riviera, Theo Ford, Alex Lopez, Raul Korso, and Logan Moore. And the second bareback party (also two parts) includes Tomas Brand, Misha Dante, Mark Sanz, Fernando Torres, Fabio Lopez, Alejandro, Alvarez, Josh Milk, Joey Pele, and Nick North!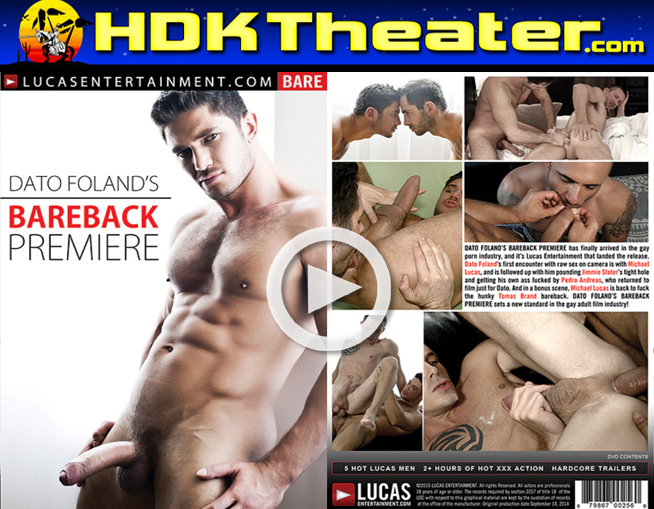 Watch the Full Length Movie at – www.HDKTheater.Com
Studio: Lucas Entertainment
Approximate Running Time: 02:20:55
Description:
"Dato Foland's Bareback Premiere" has finally arrived in the gay porn industry, and it's Lucas Entertainment that landed the release. Dato's first ever encounter with raw sex on camera is with Michael Lucas, and is followed up with him pounding Jimmie Slater's tight hole and getting his own ass fucked by Pedro Andreas, who came out of retirement just for Dato. And in a bonus scene, Michael Lucas returns to fuck the hunky Tomas Brand bareback. "Dato Foland's Bareback Premiere" sets a new standard in the gay adult film industry!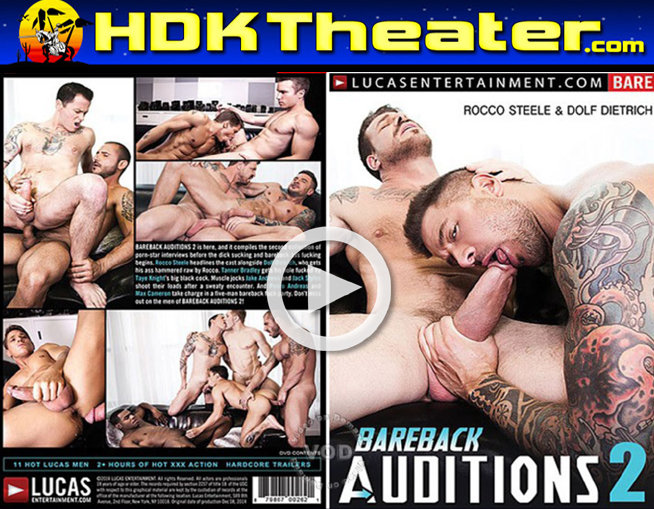 Watch the Full Length Movie at – www.HDKTheater.Com
Studio: Lucas Entertainment
Series: Bareback Auditions (Lucas)
Approximate Running Time: 03:11:35
Description:
"Bareback Auditions 2" is here, and it compiles the second collection of porn-star interviews before the dick sucking and bareback ass fucking begins. Rocco Steele headlines the cast alongside Dolf Dietrich, who gets his ass hammered raw by Rocco. Tanner Bradley gets his hole fucked by Taye Knight's big black cock. Muscle jocks Jake Andrews and Jack Styles shoot their loads after a sweaty encounter. And Pedro Andreas and Max Cameron take charge in a five-man bareback fuck party. Don't miss out on the men of "Bareback Auditions 2"!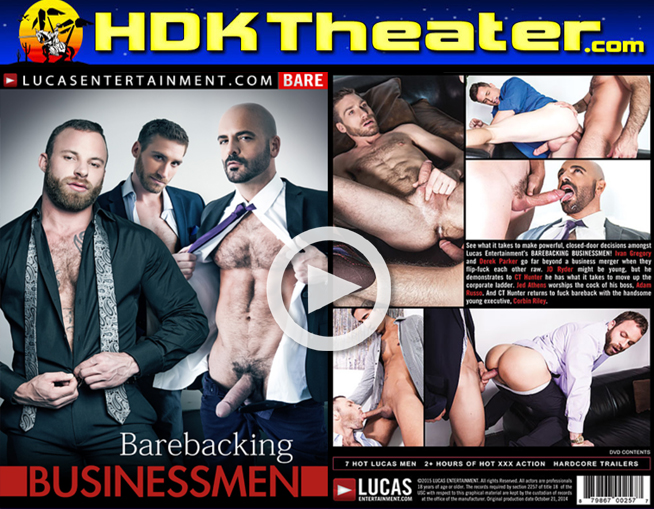 Watch the Full Length Movie at – www.HDKTheater.Com
Studio: Lucas Entertainment
Series: Gentlemen
Approximate Running Time: 02:04:53
Description:
These businessmen among Lucas Entertainment are ready to make you an offer you can't refuse! They are offering to take you behind closed doors to make executive decisions that will make your cock stand up and pay attention in four ass reaming, barebacking, hardcore scenes! Ivan Gregory and Derek Parker go far beyond a business merger when they flip-fuck each other raw. JD Ryder might be young, but he demonstrates to CT Hunter he has what it takes to move up the corporate ladder. Jed Athens worships the cock of his boss, Adam Russo. And CT Hunter returns to fuck bareback with the handsome young executive, Corbin Riley.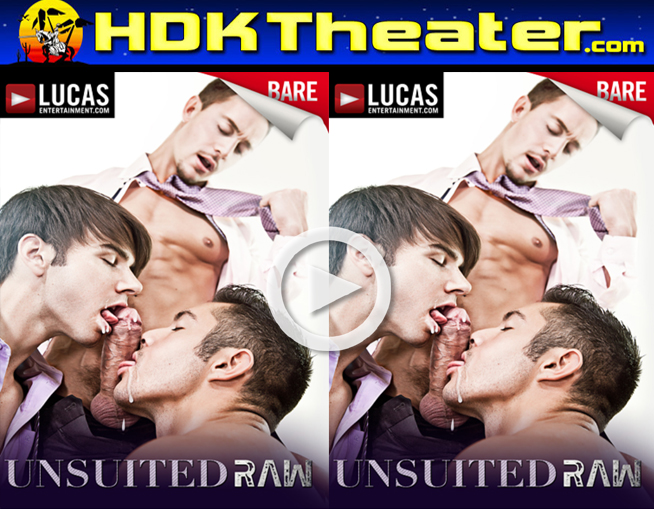 Watch the Full Length Movie at – www.HDKTheater.Com
Studio: Lucas Entertainment
Series: Gentlemen
Director: Adam Killian
Approximate Running Time: 02:01:18
Description:
The Gentlemen of Lucas Entertainment go bareback in "Unsuited Raw" and express their sexual appetites without restriction! Morgan Black can't leave work at the office and always brings it to the bedroom — luckily, Shane Frost has a major suit fetish. Michael Lachlan invites Addison Graham and Seth Treston back to his apartment for a coffee break, but all they wind up drinking is cum. The next morning, Michael Lachlan calls Sebastian Rossi over to his apartment before the office to fix his plumbing, which turns into a hardcore bareback flip-fuck. And Seth Treston returns to take his business meeting with Michael Lucas to the next level by taking Michael's load up his ass!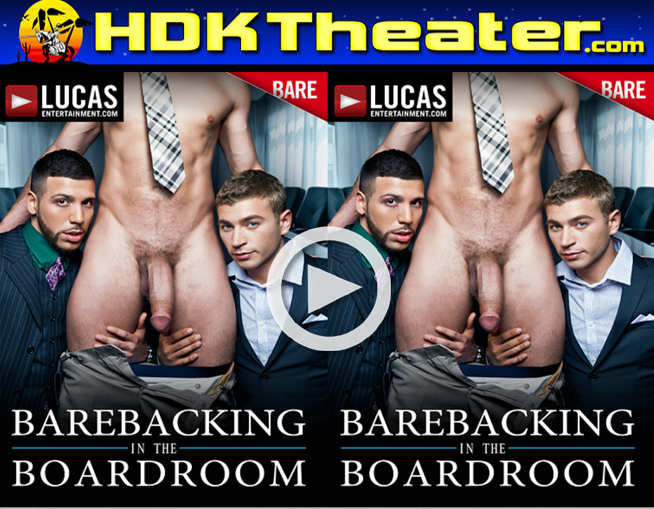 Watch the Full Length Movie at – www.HDKTheater.Com
Studio: Lucas Entertainment
Series: Gentlemen
Director: Allen Simmons, Adam Killian
Approximate Running Time: 02:04:46
Description:
You know the business meeting just got real when there's full-on "Barebacking in the Boardroom" to consummate a corporate deal! Just ask Lucas Knight, FX Rios, Alexander Greene, and Michael Lucas: all four of these blockbuster porn stars take raw fucking in suits to the next level. And don't forget about Nova Rubio, Drew Sumrok, and Jed Athens: they show the sex-charged hijinks that happen when three hot men are fighting for the same job. Meanwhile, Derek Parker is in charge of an office full of cum-dripping double penetration and bareback ass-fucking with his subordinates Marcus Isaacs, BJ Rhubarb, Nigel Banks, and Comrad Blu!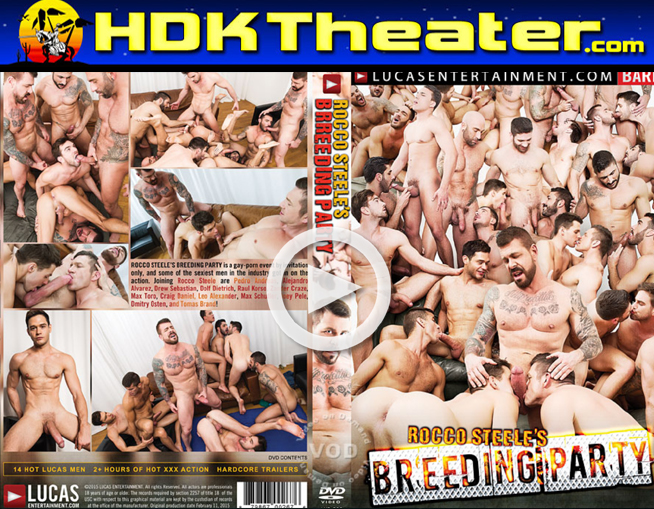 Watch the Full Length Movie at – www.HDKTheater.Com
Studio: Lucas Entertainment
Director: Michael Lucas
Approximate Running Time: 02:48:25
Description:
Rocco Steele's Breeding Party" is a gay-porn event by invitation only, and some of the sexiest men in the industry got in on the action. Joining Rocco Steele are Pedro Andreas, Alejandro Alvarez, Drew Sebastian, Dolf Dietrich, Raul Korso, Zander Craze, Max Toro, Craig Daniel, Leo Alexander, Max Schutler, Joey Pele, Dmitry Osten, and Tomas Brand!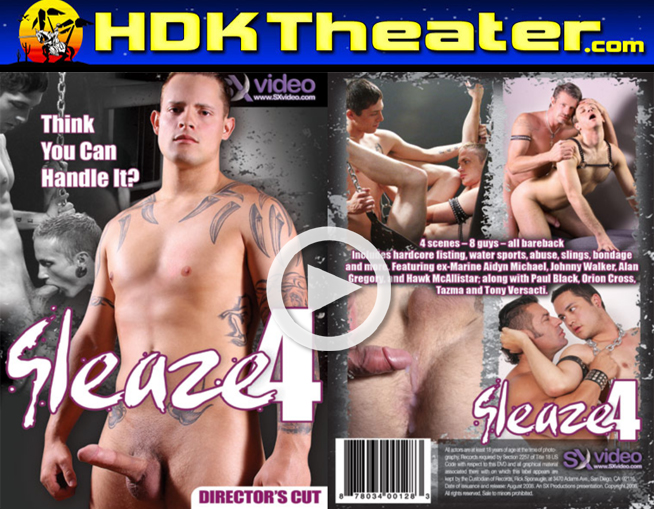 Watch the Full Length Movie at – www.HDKTheater.Com
Studio: SX Video
Series: Sleaze
Director: Ben Baird
Approximate Running Time: 01:51:35
Description:
SCENE ONE:
Scene 1 pairs ex-Marine Aidyn Michael, a fat-dicked, inked mother fucker, with pretty boy Johnny Walker. Aidyn has a lot of aggression to work out and Johnny gets it full on. Aidyn handcuffs Johnny before finger fucking him hard and shoving a dildo in hard and deep. Johnny is making too much noise so he gets a ball gag in that hole and cock in the other. Are his moans pain or pleasure?
SCENE TWO:
Paul Black uses Tony Versacti like a rented mule in Scene 2. Paul does not spare the paddle on Tony's little rump. The punker takes every swat and asks for more as he sways in the sling. He shows what a good boy he is by sucking Paul's wank, eating his ass and licking his feet. For his reward Tony gets a big dildo in his red ass and then doused in a river of piss. The two passionately fuck, Tony riding Paul's big dick.
SCENE THREE:
Scene 3 features porn pros Hawk McAllistar and Alan Gregory. Hawk takes charge of Alan, making him his boy for the session. And, as we know, every boy needs to be fisted now and then. Hawk expertly and slowly opens Alan up until he can bury his whole hand.
SCENE FOUR:
Tazma, a Latino muscle brute, wants to have his way with Orion Cross. Orion can only resist a little while before he has Tazma's fat, uncut cock first in his throat and then in his ass pie. It doesn't take long before Tazma is stretching Orion's pucker with a huge dildo and fist. Orion grunts and groans, but he loves every minute. He also enjoys a mouthful of his own cum.