Watch the Full Length Movie at – www.HDKTheater.Com
Studio: Next Door Studios
Approximate Running Time: 02:14:06
Description:
These sexy chiseled hunks are horny, cum-filled and ready for some hot and heavy action…deep, hard and condom-free! These FIVE explosive scenes from Next Door Studios will leave you salivating for more! When the 2 officers Diesel White & Damian West catch the french-Canadian Johnny Diesel in the back alley trying to make a little extra cash, one of them says "You know how we handle it at the station…". After exchanging roles at fucking Johnny's ass they both bust a load all over him. A lot more fun than having to fill out some paper work, right? Enjoy!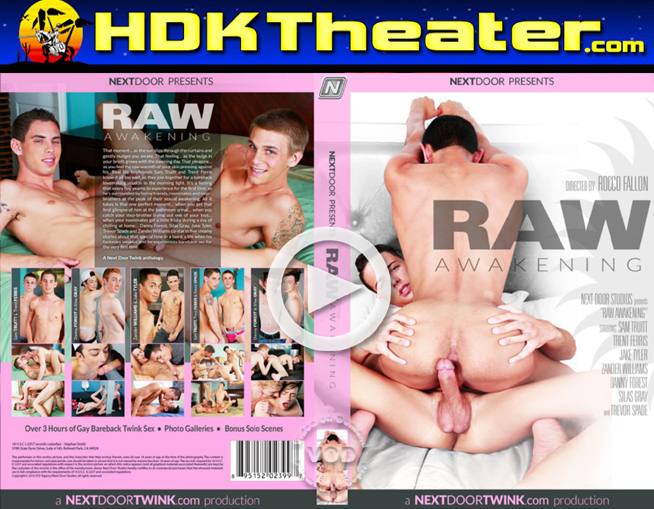 Watch the Full Length Movie at – www.HDKTheater.Com
Studio: Next Door Studios
Director: Rocco Fallon
Approximate Running Time: 03:14:05
Description:
That moment… as the sun slips through the curtains and gently nudges you awake. That feeling… as the bulge in your briefs grows with the dawning day. That pleasure, as you feel the raw warmth of your skin pressing against his. Real life boyfriends Sam Truitt and Trent Ferris know it all too well, as they join together for a bareback three-way session in the morning light. It's a feeling that every boy yearns to experience for the first time, as he's surrounded by horny friends, roommates and step-brothers at the peak of their sexual awakening.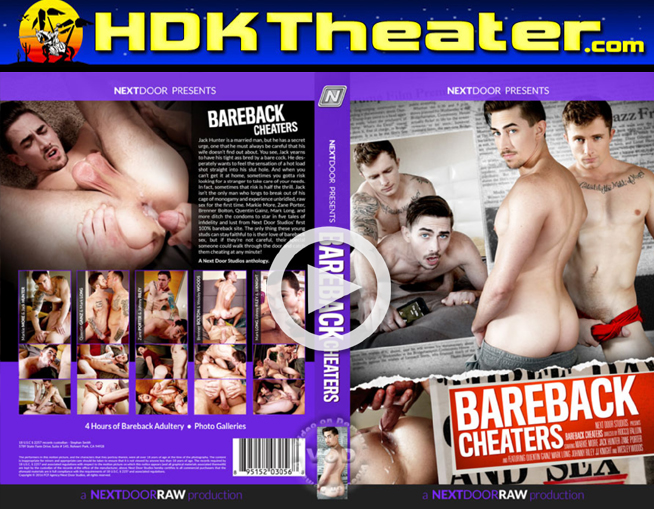 Watch the Full Length Movie at – www.HDKTheater.Com
Studio: Next Door Studios
Director: Rocco Fallon
Approximate Running Time: 03:57:48
Description:
Jack Hunter is a married man, but he has a secret urge, one that he must always be careful his wife doesn't find out about. You see, Jack yearns to have his tight ass bred by a bare cock. He desperately wants to feel the sensation of a hot load shot straight into his slut hole. And when you can't get it at home, sometimes you gotta risk looking for a stranger to take care of your needs. In fact, sometimes that risk is half of the thrill. Jack isn't the only man who longs to break out of his cage of monogamy and experience unbridled, raw sex for the first time. Markie More, Zane Porter, Brenner Bolton, Quentin Gainz, Mark Long, and more ditch the condoms to star in five tales of infidelity and lust from Next Door Studios' first 100% bareback site. The only thing these young studs can stay faithful to is their love of bareback sex, but if they're not careful, their special someone could walk through the door and catch them cheating at any minute!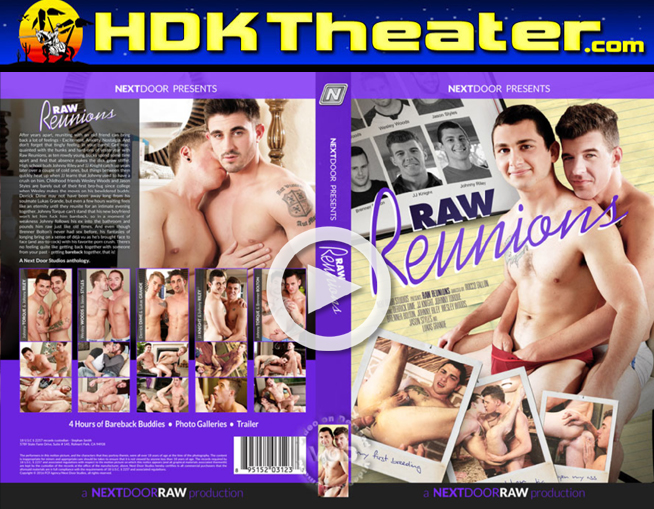 Watch the Full Length Movie at – www.HDKTheater.Com
Studio: Next Door Studios
Director: Rocco Fallon
Approximate Running Time: 04:01:29
Description:
After years apart, reuniting with an old friend can bring back a lot of feelings – Excitement. Anxiety. Nostalgia. And don't forget that tingly feeling in your pants! Get reacquainted with the hunks and hard-ons of yesteryear with Raw Reunions, as ten rowdy young bucks spend some time apart and find that absence makes the dick grow stiffer. High school buds Johnny Riley and JJ Knight catch up years later over a couple of cold ones, but things between them quickly heat up when JJ learns that Johnny used to have a crush on him. Childhood friends Wesley Woods and Jason Styles are barely out of their first bro-hug since college when Wesley makes the moves on his bewildered buddy. Derrick Dime may not have been away long from his soulmate Lukas Grande but even a few hours waiting feels like an eternity until they reunite for an intimate evening together. Johnny Torque can't stand that his new boyfriend won't let him fuck him bareback, so in a moment of weakness Johnny follows his ex into the bathroom and pounds him raw just like old times. And even though Brenner Bolton's never had sex before, his fantasies of longing bring on a sense of deja vu as he's brought face to face (and ass-to-cock) with his favorite porn crush. There's no feeling quite like getting back together with someone from your past – getting bareback together, that is! A Next Door Raw anthology.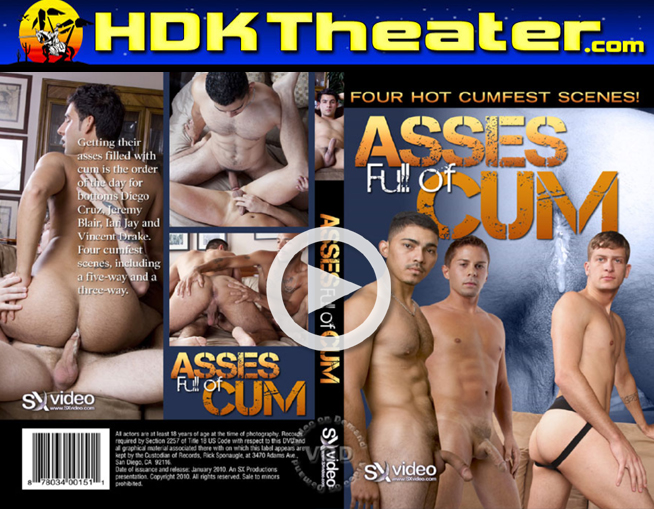 Watch the Full Length Movie at – www.HDKTheater.Com
Studio: SX Video
Approximate Running Time: 01:36:25
Description:
Getting their asses filled with cum is the order of the day for bottoms of Diego Cruz, Jeremy, Blair Ian Jay and Vincent Drake. Scenes including a five way and a three-way.Its a cum fest and your invited to four action packed scenes of barebacking studs of various flavors offering plenty cream for hole!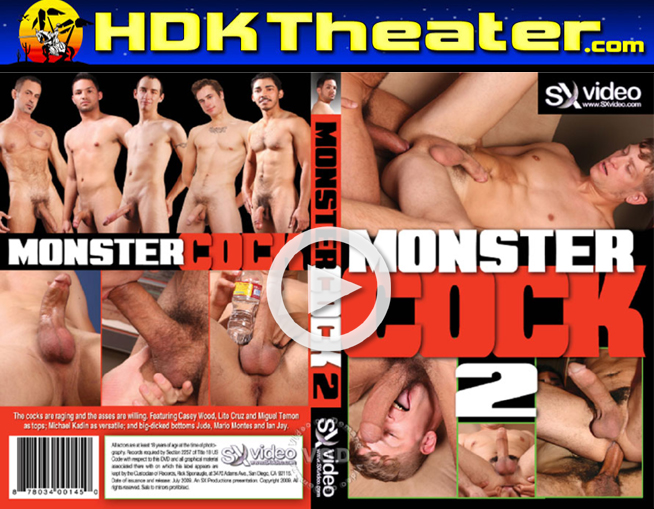 Watch the Full Length Movie at – www.HDKTheater.Com
Studio: SX Video
Series: Monster Cock
Director: Ben Baird
Approximate Running Time: 01:38:42
Description:
The cocks are raging and the asses are willing. Featuring Casey Wood, Lito Cruz and Miguel Temon as tops; Michael Kadin as versatile; and big-dicked bottoms Jude, Mario Montes and Ian Jay.Scene one opens with fresh-faced Ian Jay taking on Lito Cruz's ten-inch whopper. The two trade blow jobs to start and then Lito lunches on Ian's smooth asshole, alternating between sticking in his tongue and cock. Then while fucking, he pulls his cock out to stick it in Ian's mouth. Ian even gets two loads up his butt – Lito's and his own. Watch to find out how.
Wow – a true 11×8 cock in action is the star of Scene Two. As Michael Kadin says: 'That was the biggest cock I have ever seen." He gets more than just to see it. He licks and sucks it as much as he can fit in his mouth. Then it takes several tries in various positions for his ass to open so Casey Wood can get that big boy inside. There is no acting here. Michael really feels the pain to get the pleasure.
What happens when two Latino studs collide? Miguel Temon and Mario Montes both have big, fat cocks and want to get off in Scene Three.
Mario loves servicing gay-for-pay Miguel's uncut monster. He deep throats it for a bit to get a feel for its size. Miguel fucks him hard and leaves a juicy load inside.
Finally, Scene Four has two young studs with big dicks and cute butts. Who gets to top? After a bit of sixty-nine Michael Kadin takes control of Jude's ass with some quality rimming and finger play. He knows his cock is fat and he needs to open Jude up. Jude's ass takes it until shooting time and then he flips to get a mouthful of cum.