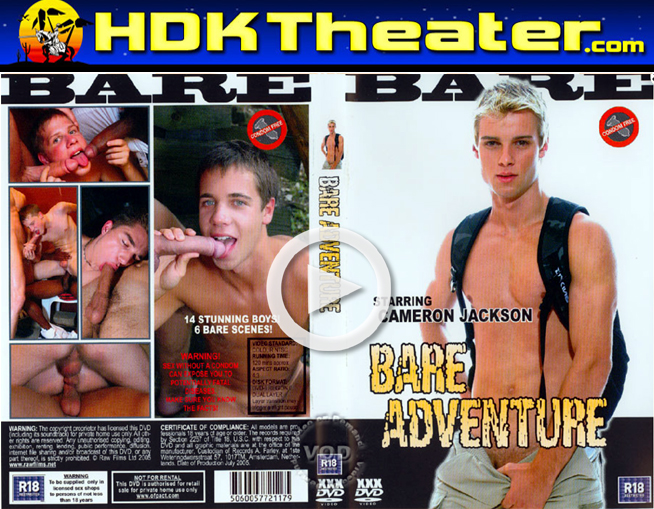 Watch the Full Length Movie at – www.HDKTheater.Com
Studio: Bare
Director: Vlado Iresch
Approximate Running Time: 01:59:21
Description:
Two lads find a used condom in the woods, and talking about who'd been shagging there turns them on. One is a tall, handsome guy, with a blond pony tail, and a lovely defined body finished off with a fabulous long prick. His boyish mate can't get all of this monster cock into his mouth; the only way he can satisfy his hung mate is by spreading his boyish butt cheeks for a deep, raw fucking. A passer-by joins in to fuck this boy's hot hole with his thick meat, and there's a great shot of him shooting his load all over that pink rosebud.
A young kid gets caught spying on a hot, blond muscled swimmer in the changing rooms. His punishment is to swallow the swimmer's stiff cut cock. The swim guy, Robert Driveman, is a very handsome bloke, late twenties, with a great body. His black mate joins him in dishing out the boy's punishment, and this guy has a massive slice of black man meat; I almost felt sorry for the kid as he choked on it while Robert fingered his hole. The phrase 'spit roast' doesn't do justice to the inches of rough raw cock this poor lad has to cope with.
The next scene has the young boy from the woods initiating his drunken friend in raw anal sex. This friend is Chris Rosso, a slim, good looking dark haired twenty year old, with such a sweet smile (although he doesn't look so sweet when he's eating the cum from his mate's shaft!) The lads take turns to top each other with their stiff bare dicks.
The handsome, muscled lifeguard is reviving a distressed swimmer, and he has a noticeable effect on the tackle inside the swimmer's speedos. Cue two hot, defined lads in a great boy-on-boy scene with cool cum eating shots.
In a horny outdoor scene one hungry bottom gets double fucked by two raw studs; all of these lads are handsome, athletic types, and they cannot get enough of each other's cocks. One lad sucks his mate's dick as soon as he's pulled out of the other lad's asshole, tasting the ass juice and cum on it, before this sticky prick is thrust back inside the wet, pink asshole.
The last scene has three randy lads camping; at night their attention turns to getting into each other's pants. Chris Rosso is the lucky bottom who gets raw fucked whilst 69ing with a mate, who then takes a turn at shafting him. The guys in this scene are all so damned hot I couldn't pick out one as the cutest!
This is a great film, packed with a wide variety of sexy guys, from boyish teens to muscled twentysomethings – all hungry for cock and eager to fuck raw.