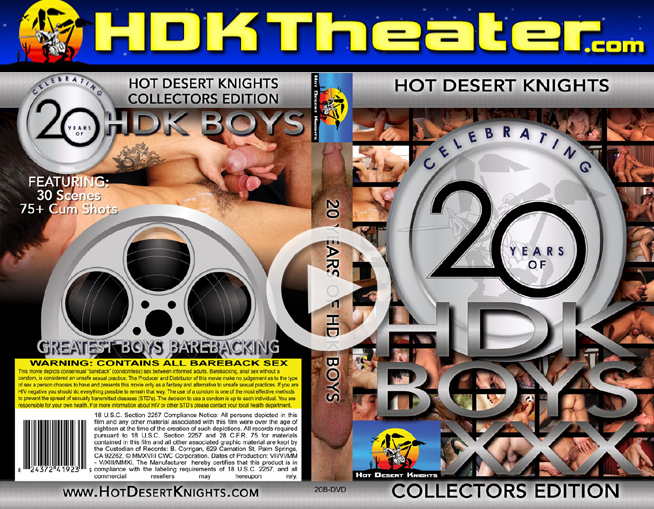 Watch the Full Length Movie at – www.HDKTheater.com
Studio: Hot Desert Knights
Director: Wade Lincoln
Approximate Running Time: 02:01:07
Description:
Hot Desert Knights is proud to celebrate "20 Years of HDK BOYS". Real hardcore men doing what men do best – Raw, Hot, Sweaty, Bareback Sex. To celebrate HDK's 20th Anniversary making bareback movies This is the 2nd in a set of 3 special collectors editions, each dedicated to a specific genre: HDK MEN, HDK BOYS & HDK This edition is a special collector's edition of our greatest bareback moments from the past two decades featuring nothing but hardcore bareback fucking & the boys who tok the loads . This special collector's edition features 30 of the best re-mastered and re-edited action scenes from 28 different HDK movies, packed with over 70 of your favorite HDK porn stars. Sit back and enjoy as you experience everything from Duo's to 3-Ways to 4-Ways and Orgies, all caught on film during the last 20 years. Watch while your cock fills with cum as we take you thru 20 years of HDK's most popular scenes. Go get your favorite lube, turn on the DVD, sit back, relax, lube it up and take your time stroking. This DVD is filled with over 80 cum shots and so much hot, raw, animal sex and so many hung, horny men; you'll be shooting load after load for days! A special thanks to all of our fans for making Hot Desert Knights a long time leader of bareback films. Most of all, thanks for your support over the past 20 Years! ..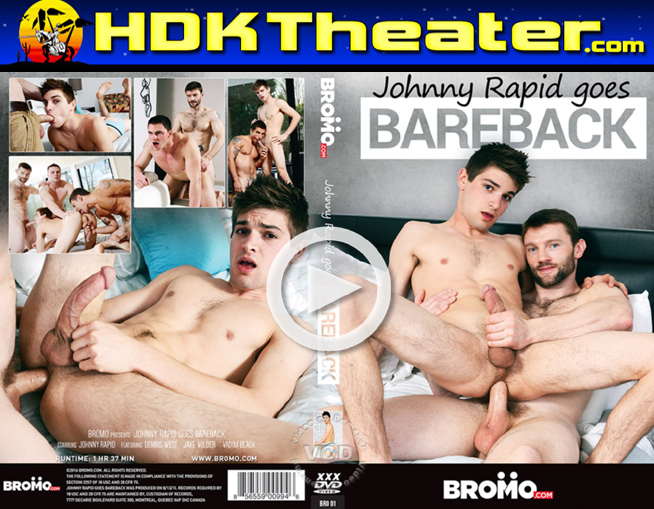 Watch the Full Length Movie at – www.HDKTheater.com
Studio: Bromo.com
Series: Johnny Rapid Goes Bareback
Approximate Running Time: 01:37:24
Description
Johnny Rapid invites his good friend Dennis West over to his Atlanta home for a little bareback fun. As soon as Dennis arrives, Johnny – being the gracious host that he is – welcomes Dennis to town with a nice warm mouth and even warmer hole. Dennis plows his enormous cock into Johnny's little ass before filling him up and breeding his hole.
Jake Wilder comes to town after Johnny invites him over for a little getaway. Johnny is out picking up his other model friends when Jake decides to go for a quick swim and is greeted by Dennis – who offers to help Jake warm up after his swim with a little body contact. Dennis slides his hung cock into Jake's muscle ass until he fucks a huge load out of him. Dennis uses Jake's cum as lube before he cream pies his delicious ass.
Johnny has some hot friends! Vadim Black is in town now, and is really ready to work Johnny's hole. Johnny rides Vadim's thick cock before Vadim explodes his cum shot and slides back into Johnny's ass. Soon Johnny busts his nut all over Vadim's hot body.
Finally the gang is all here and ready to stretch out Johnny's hole to the max. They all get to pound his butt… and he even gets double penetrated! Dennis and Jake DP his hole first and then Vadim and Dennis really stretch him out as Jake holds Johnny as he's bouncing on the guy's thick cocks. They all take their turn cumming on his hole until Dennis finally pushes it all in with his bare cock.