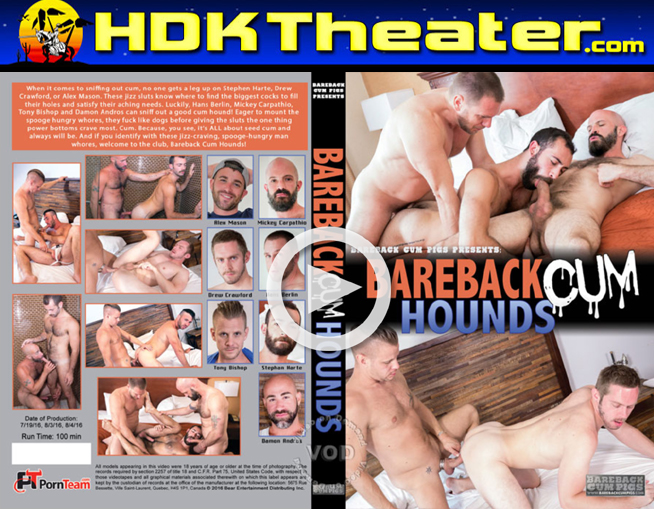 Watch the Full Length Movie at – www.HDKTheater.Com
Studio: Bareback Cum Pigs
Approximate Running Time: 01:40:57
Description:
When it comes to sniffing out cum, no one gets a leg up on Stephen Harte, Drew Crawford, or Alex Mason. These jizz sluts know where to find the biggest cocks to fill their holes and satisfy their aching needs. Luckily, Hans Berlin, Mickey Carpathio, Tony Bishop and Damon Andros can sniff out a good cum hound! Eager to mount the spooge hungry whores, they fuck like dogs before giving the sluts the one thing power bottoms crave most. Cum. Because, you see, it's ALL about seed cum and always will be. And if you identify with these jizz-craving, spooge-hungry man whores, welcome to the club, Bareback Cum Hounds!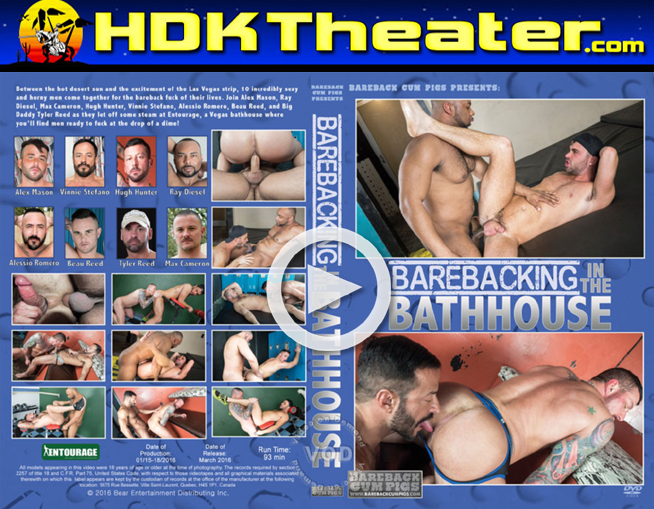 Watch the Full Length Movie at – www.HDKTheater.Com
Studio: Bareback Cum Pigs
Approximate Running Time: 01:34:09
Description:
Between the hot desert sun and the excitement of Las Vegas strip, 19 incredibly sexy and horny men come together for the bareback fuck of their lives. Join them as they let off some steam at Entourage! …a Las Vegas bathhouse where you'll find men ready to fuck at the drop of a dime!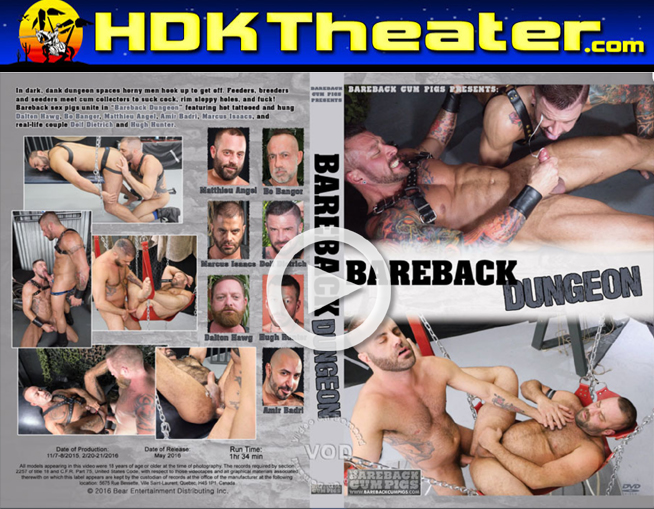 Watch the Full Length Movie at – www.HDKTheater.Com
Studio: Bareback Cum Pigs
Approximate Running Time: 01:34:11
Description:
In dark, dank dungeon spaces horny men hook up to get off. Feeders, breeders and seeders meet cum collectors to suck cock, rim sloppy holes, and fuck! Bareback sex pigs unite in "Bareback Dungeon" featuring hot tattooed and hung Dalton Hawg, Bo Bangor, Matthieu Angel, Amir Badri: Marcus Isaacs, and real-life couple Dolf Dietrich and Hugh Hunter.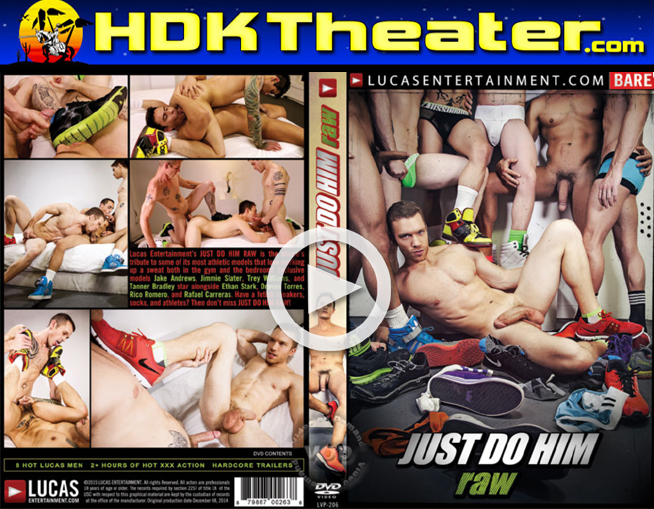 Watch the Full Length Movie at – www.HDKTheater.Com
Studio: Lucas Entertainment
Director: Jake Steel
Approximate Running Time: 02:28:33
Description:
Lucas Entertainment's "Just Do Him Raw" is the studio's tribute to some of its most athletic models that love working up a sweat both in the gym and the bedroom! Exclusive models Jake Andrews, Jimmie Slater, Trey Williams, and Tanner Bradley star alongside Ethan Stark, Draven Torres, Rico Romero, and Rafael Carreras. Have a footwear and athlete fetish? Then don't miss "Just Do Him Raw"! Tanner Bradley rides Trey Williams' cock bareback… I always found Tanner Bradley exceptionally cute since his first scene. Even cuter are the statements he's made in the past about being a top, but he always winds up on the bottom. What can I say — he looks great taking cock. Because of this Tanner was paired up with Trey Williams in his first scene. Trey is a handsome blonde guy with a swimmer's build and a big fat cock between his legs. He's a fan of having guys ride him, and if you check out 13:25 you'll see just that! Ethan Stark joins Trey Williams and Tanner Bradley in a raw threesome! If two wasn't enough, Ethan Stark certainly rounds out this sexual encounter among athletic young men (and might I add, I love the band tattoos on Ethan's bicep and the paw on his cum-gutters). I just hope Tanner can handle another cock so quickly, because he's getting pig-roasted in this scene, and Ethan is a top who enjoys taking his time fucking. But Tanner looks great between two guys — check out 14:05 is you don't believe me! I've been a fan of Jimmie Slater ever since his first scene: this kid's body is ripped, he has an amazing cock, and most importantly he knows how to use it. If you don't follow him on Twitter, you're doing yourself a disservice. Here he and Draven Torres hook up after a work out, and you really get to see Jimmie and Draven at their best: fucking ass bareback until they blow their loads! Talk about a strong roster of hot worked-out men: Ethan Stark makes a second appearance (much to my enjoyment) along with the always handsome Jake Andrews and sexy young Latin Rico Romero. Attention everyone who has a wrestling fetish: you get to see Jake and Ethan go at it in singlets. One of my favorite spots in the scene is when Jake and Ethan are taking turns sucking on Rico's uncut cock. It's a great lead-in for the fucking that follows! Draven Torres might have been flip fucking with Jimmie Slater earlier on, but now he's in the hands of Rafael Carreras, and he takes complete control of Draven. Let's not forget that Rafael has a huge 10-inch uncut Cuban cock, and he shows Draven who is in charge with it!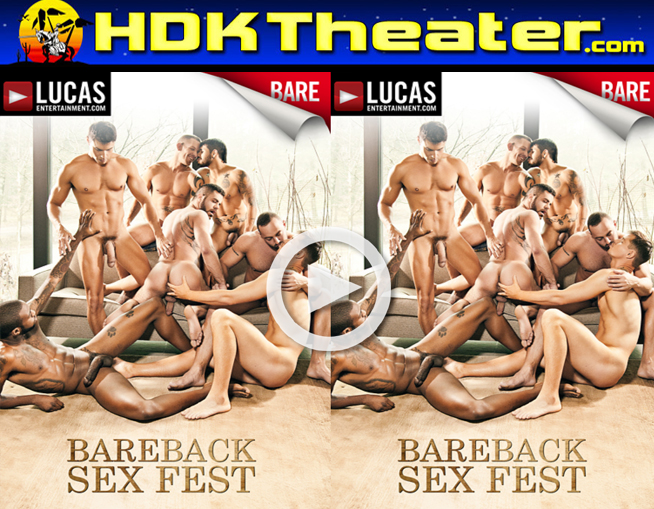 Watch the Full Length Movie at – www.HDKTheater.Com
Studio: Lucas Entertainment
Director: Chris Crisco & Adam Killian
Approximate Running Time: 01:34:48
Description:
It's a "Bareback Sex Fest" when Lucas Entertainment bring together a group of its horniest and raw-fucking porn stars, packs them up, and sends them to a cabin in upstate New York to do what they do best: have some hot and heavy bareback sex, and that includes some ass-splitting double-penetration! Jed Athens, Rafael Carreras, Marcus Isaacs, Shane Frost, Draven Torres, Hot Rod, and Fabio Stallone: no one could ask for a sexier group of men to suck, fuck, and blow their raw loads in an unforgettable "Bareback Sex Fest"!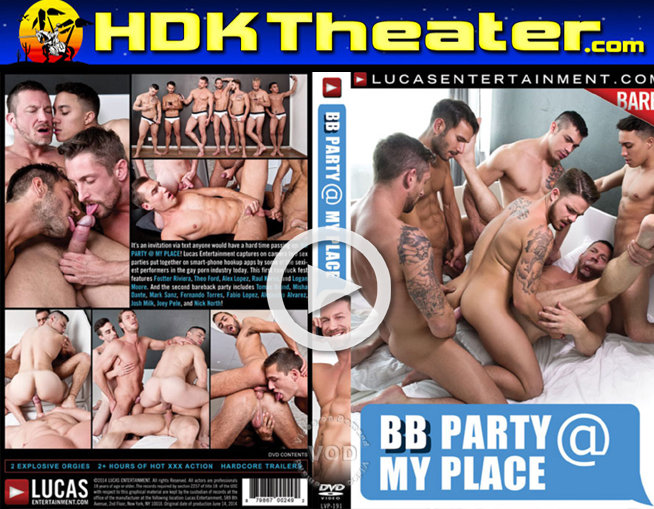 Watch the Full Length Movie at – www.HDKTheater.Com
Studio: Lucas Entertainment
Director: Allen Simmons
Approximate Running Time: 02:53:44
Description:
It's an invitation via text anyone would have a hard time passing up: "BB PARTY @ MY PLACE"! Lucas Entertainment captures on camera two sex parties put together on smart-phone hookup apps by some of the sexiest performers in the gay porn industry today. This first raw fuck fest (broken into two encounters) features Fostter Riviera, Theo Ford, Alex Lopez, Raul Korso, and Logan Moore. And the second bareback party (also two parts) includes Tomas Brand, Misha Dante, Mark Sanz, Fernando Torres, Fabio Lopez, Alejandro, Alvarez, Josh Milk, Joey Pele, and Nick North!