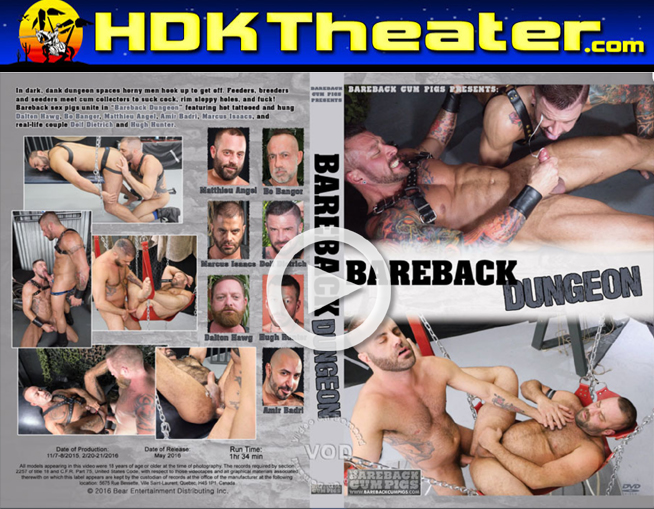 Watch the Full Length Movie at – www.HDKTheater.Com
Studio: Bareback Cum Pigs
Approximate Running Time: 01:34:11
Description:
In dark, dank dungeon spaces horny men hook up to get off. Feeders, breeders and seeders meet cum collectors to suck cock, rim sloppy holes, and fuck! Bareback sex pigs unite in "Bareback Dungeon" featuring hot tattooed and hung Dalton Hawg, Bo Bangor, Matthieu Angel, Amir Badri: Marcus Isaacs, and real-life couple Dolf Dietrich and Hugh Hunter.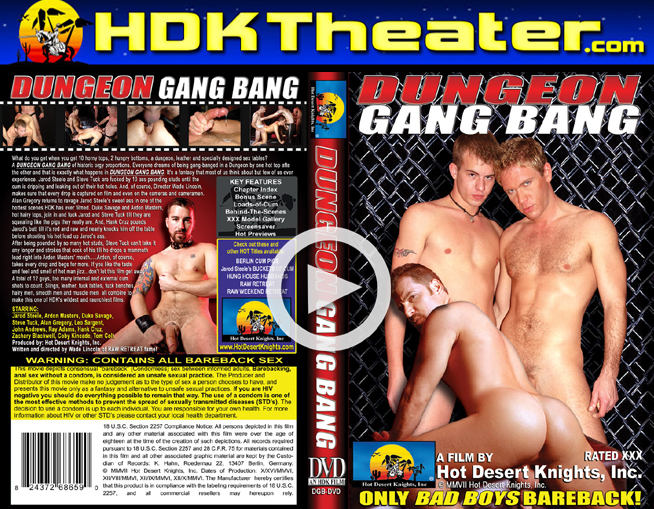 Watch the Full Length Movie at – www.HDKTheater.com
Studio: Hot Desert Knights
Director: Wade Lincoln
Approximate Running Time: 01:52:23
Description:
What do you get when you get 10 horny tops, 2 hungry bottoms, a dungeon, leather and specially designed sex tables? A DUNGEON GANG BANG of historic orgy proportions.
Everyone dreams of being gang-banged in a Dungeon by one hot top after the other and that is exactly what happens in DUNGEON GANG BANG. It's a fantasy that most of us think about but few of us ever experience. Jarod Steele and Steve Tuck are fucked by 10 ass pounding studs until the cum is dripping and leaking out of their hot holes. And, of course, Director Wade Lincoln, makes sure that every drop is captured on film and even on the cameras and cameramen.
Alan Gregory returns to ravage Jarod Steele's sweet ass in one of the hottest scenes HDK has ever filmed. Duke Savage and Ardon Masters, hot hairy tops, join in and fuck Jarod and Steve Tuck till they are squealing like the pigs they really are.
And, Hank Cruz pounds Jarod's butt till it's red and raw and nearly knocks him off the table before shooting his hot load up Jarod's ass.
After being pounded by so many hot studs, Steve Tuck can't take it any longer and strokes that cock of his till he drops a mammoth load right into Ardon Masters' mouth…..Ardon, of course, takes every drop and begs for more. If you like the taste and feel and smell of hot man jizz…don't let this film get away!
A total of 12 guys, too many internal and external cum shots to count. Slings, leather, fuck tables, fuck benches, hairy men, smooth men and muscle men all combine to make this one of HDK's wildest and raunchiest films.
Watch the Full Length Movie at – www.HDKTheater.com