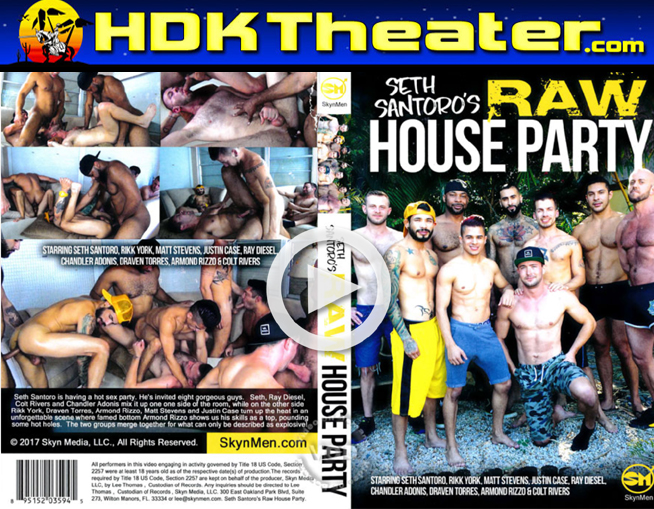 Watch the Full Length Movie at – www.HDKTheater.com
Studio: Skyn Men
Director: Anthony Michaels
Approximate Running Time: 01:18:35
Description:
Seth Santoro is having a hot sex party. He invited eight gorgeous guys. Seth, Ray Diesel, Colt Rivers and Chandler Adonis mix it up on one side of the room, while on the other side Rikk York, Draven Torres, Armond Rizzo, Matt Stevens, and Justin Case turn up the heat in an unforgettable scene where tamed bottom Armond Rizzo shows us his skills as a top, pounding some hot holes. The two groups merge together for what can only be described as explosive!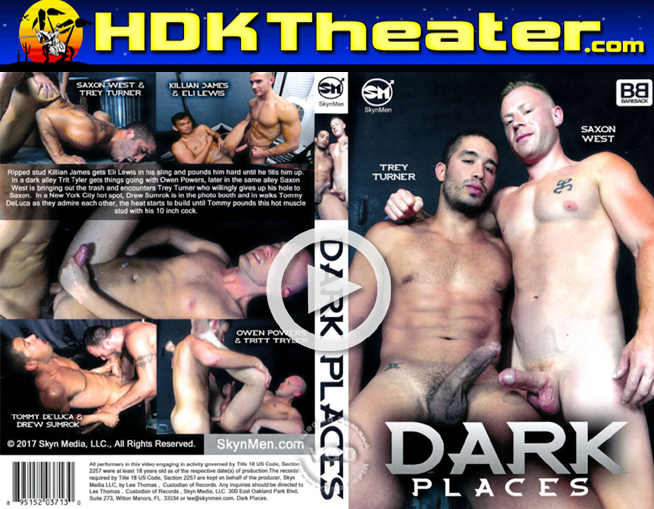 Watch the Full Length Movie at – www.HDKTheater.com
Studio: Skyn Men
Approximate Running Time: 01:32:56
Description:
Ripped stud Killian James gets Eli Lewis in his sling and pounds him hard until he fills him up. In a dark alley Trit Tyler gets things going with Owen Powers, later in the same alley Saxon West is bringing out the trash and encounters Trey Turner who willingly gives up his hole to Saxon. In a New City hot spot, Drew Sumrol is in the photo booth and in walks Tommy DeLuca as they admire each other, the heat starts to build until Tommy pounds this hot muscle stud with his 9 inch cock.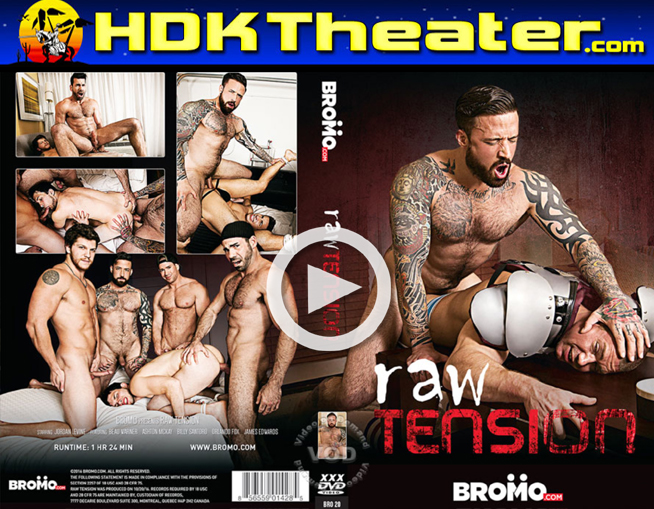 Watch the Full Length Movie at – www.HDKTheater.com
Studio: Bromo.com
Approximate Running Time: 01:24:41
Description:
Raw Tension is all about dipping huge cocks raw inside some of the most muscular asses! These hunks can hardly contain their excitement. They go straight for big cocks and work it until their partners are ready to bareback eager asses! They fuck raw, fast and hard until they blow their load all over each other's asses!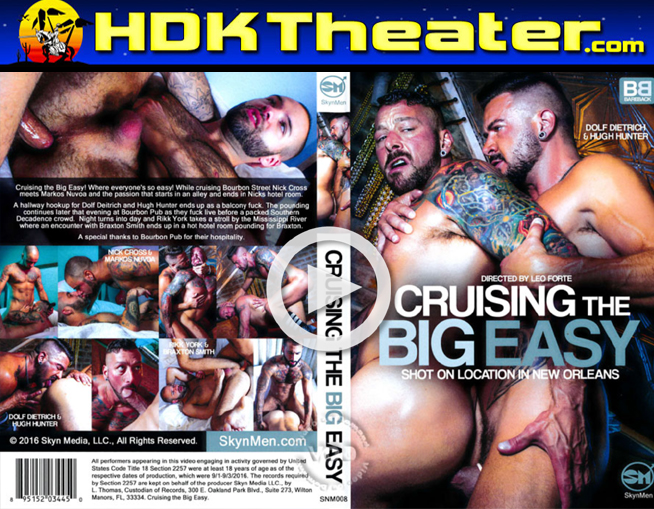 Watch the Full Length Movie at – www.HDKTheater.com
Description:
Cruising the Big Easy! Where everyone's so easy! While cruising Bourbon Street Nick Cross meets Markos Nuvoa and the passion that starts in an alley and ends in Nick's hotel room. A hallway hookup for Dolf Deitrich and Hugh Hunter ends up as a balcony fuck. The pounding continues later that evening at Bourbon Pub as they fuck live before a packed Southern Decadence crowd. Night turns into day and Rikk York takes a stroll by the Mississippi River where an encounter with Braxton Smith ends up in a hot hotel room pounding for Braxton. A special thanks to Bourbon Pub for their hospitality. Shot on location in New Orleans.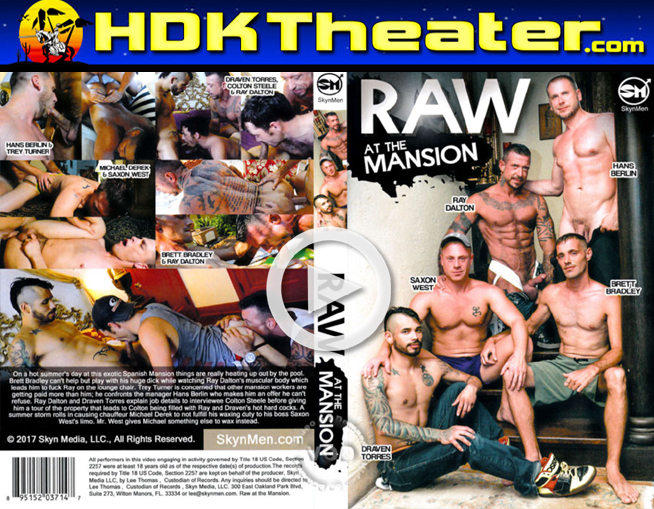 Watch the Full Length Movie at – www.HDKTheater.com
Studio: Skyn Men
Approximate Running Time: 01:19:06
Description:
On a summer day at this exotic Spanish Mansion things really heat up, Brett Bradley finds it hard to keep his hands off his huge cock while staring at pool boy Ray Dalton's muscular body. Brett then fucks Ray on the lounge chair. Trey Turner is concerned that other workers at the mansion make money than him, he approaches manager Hans Berlin who makes him an offer he can refuse for more money. Colton Steele is looking for a job, Ray Dalton and Draven Torres explain job details and give him a tour of the mansion that ends up in a hot three way with Colton being filled by Ray and Draven. Later in the day it's beginning to rain, so Chauffer Michael Derek can't wax his bosses limo, but Mr. West has something else he can wax.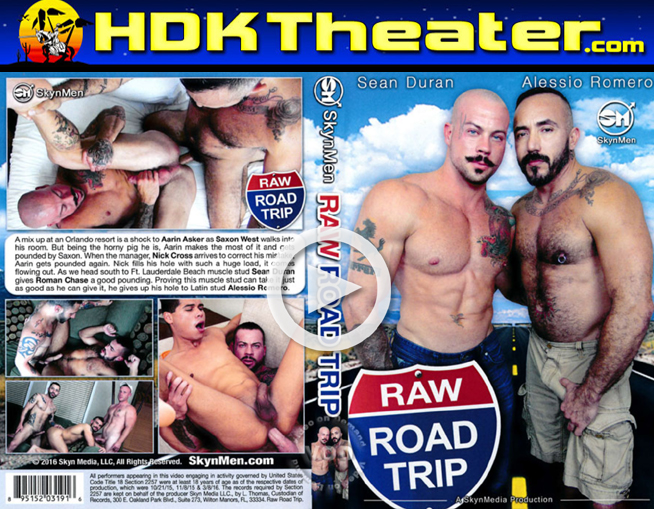 Watch the Full Length Movie at – www.HDKTheater.com
Studio: Skyn Men
Approximate Running Time: 01:20:53
Description:
A mix up at an Orlando resort is a shock to Aarin Asker as Saxon West walks into his room. But being the horny pig he is, Aarin makes the most of it and gets pounded by Saxon. When the manager, Nick Cross arrives to correct his mistake, Aaarin gets pounded again. Nick fills his hole with such a huge load, it comes flowing out and the end. As we head south to Ft. Lauderdale Beach muscle stud Sean Duran gives Roman Chase a good pounding. Proving this muscle stud can take it just as good as he can give it, he gives up his hole to Latin stud Alessio Romero.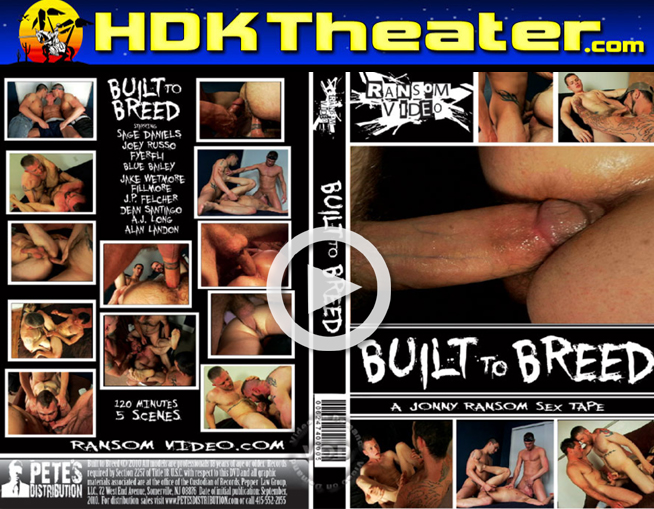 Watch the Full Length Movie at – www.HDKTheater.com
Studio: Ransom Video
Approximate Running Time: 01:55:58
Description
Ransom Video presents "Built To Breed", starring A.J. Long, Alan Landon, Blue Bailey, Dean Santiago, Fillmore, Fyerfli, J.P. Felcher, Jake Wetmore, Joey Russo and Sage Daniels. These guys love sucking, fucking and taking a load off, in the mouth or in the ass! Nothing but 100% bareback fucking, ass rimming and cock throating action!
Scene #1 – Fyerfli and Blue Bailey
My bud Fyerfli was in town and the sparks flew when he and Blue Bailey met! These two Sexy guys flip flop fuck from here to there and then back again… (In fact these two broke the bed during their scene!) There is so much pitching and catching going on from both of these sexy guys, you'd think it was the world series of bareback porn and there was a title at stake. Blue Bailey really shines as a top and bottom in this scene, We had better watch out for this boy, he's the real deal clean cut nasty boy! Fyerfli returns, this time with more vibrantly colored body art work and his ever present mischievous irresistible smirk that gets many many boys in trouble! He is A professional sexaholic and these two dirty birds definitely flock together well in this Scene!
Scene #2 – Joey Russo and AJ Long
These Two Handsome Hung Guys were into each other from the second they met and I was more than willing to shoot them as they hooked up for the first time. These guys have great faces, great cocks and both of them have sexy naturally manly bodies. What I liked about their scene most is that Joey likes taking AJ's cock as much as AJ likes giving it. They are so genuinely into each other, that both of their cocks are hard as rocks the whole time and Joey leaks pre-cum throughout this scene and can't get enough of AJ's cock inside of him whether it's his ass or mouth.
Scene #3 – AJ Long and Alan Landon
I nicknamed this scene "Yellowbeard vs. Blackbeard" These Handsome Men each look great with their different colored beards. Both of these Hairy Manly Men go right for the prize in this one….and each of them have their own idea on what the prize will be. Alan's prize is obviously AJ's Big 'Ol Dick and Load while AJ's prize is a total sub slutty hairy holed bottom with an equally willing mouth to use for his own selfish pleasure. Lots of ATM in this scene!
Scene #4 – Sage Daniels, Jake Wetmore, Fillmore and Alan Landon
There's Alan again, doing what he loves best, being a total fuck hole cum whore, this time for a small group of 3 tops. Originally he was expected to play with Jake only that day. So when Sage and Fillmore, who were there watching, decided to get Alan warmed up for Jake and then never left, I was sure to get that camera in there and capture the good stuff only a few good men can deliver together. Alan is great at getting double penetrated and at being a total oral whore at the same time. He prides himself on trying to get as much cock in him as possible at all times from greedy tops. He has an Ass that is Built to Breed and I'm sure Alan will be even more popular at parties from now on, now that everyone knows how much he really likes to make guys bust their NUT in his gut.
Scene #5 – Sage Daniels, Dean Santiago and JP Felcher
This attractive group of three jocks get down and dirty with Dean being the Lucky Guy on Bottom. Sage takes on Dean's fuckhole while JP shoves his cock down Dean's throat. They all form a nice "Tri-Fuckta" each in tandem complimenting each other's actions, with JP's mouth really stealing the show. This guy is serious about his Mad Oral Skills…..Dick, Ass, Cum, he wants to taste as much Man as he possibly can at one time.