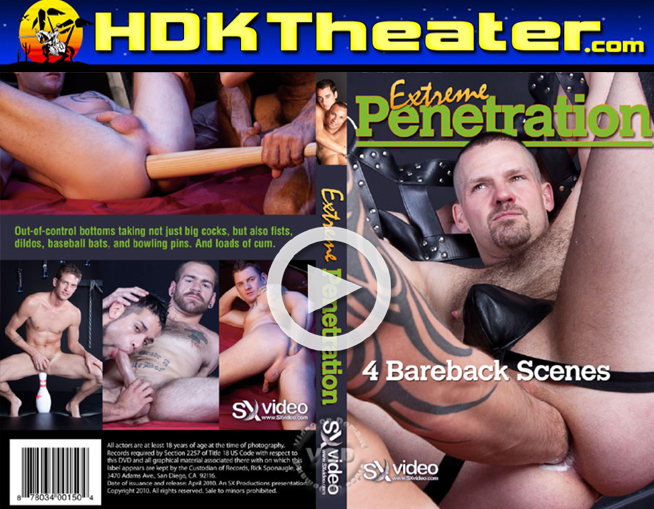 Watch the Full Length Movie at – www.HDKTheater.Com
Studio: SX Video
Director: Ben Baird
Approximate Running Time: 02:11:10
Description:
How much can one asshole take? Find out in these four scenes that literally stretch the boundaries of bareback butt play.
Scene 1 features sweet faced Ian Jay offering his tender hole to Jake Cruz, Dorian Black and Jude. The four start out with some heavy making out and dick sucking. Each top gets his chance to fuck Ian. It is not enough though. A bowling pin is next. Then loads of cum.
Andre Barclay and Tommy Rawlins bring a new definition to "hot" when they get together in Scene 2. Tommy services Andre's beautiful cock to get it really hard and ready for his asshole. After warming things up inside Tommy, Andre brings out the super sized dildo for some double penetration. Then comes the sling and a handballing that includes amazing punching action.
In Scene 3 super bottom Drew Peter's ass take a licking and keeps on ticking. Top Lito Cruz slams it to Drew's pucker. First a tongue, then a cock, a fist, a baseball bat and, later, a load of cum. Drew also does his famous self-handballing and expands it to self-punch handballing.
Christian Rock's long cock fits well in Frank Young's mouth and then asshole. Frank also gets double fucked several times with a cock/dildo combination. Next a water bottle gets used. Finally, a handballing sends Frank over the edge.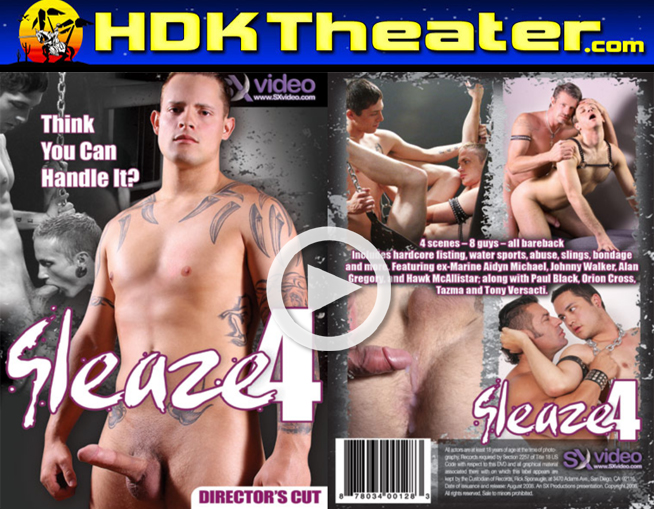 Watch the Full Length Movie at – www.HDKTheater.Com
Studio: SX Video
Series: Sleaze
Director: Ben Baird
Approximate Running Time: 01:51:35
Description:
SCENE ONE:
Scene 1 pairs ex-Marine Aidyn Michael, a fat-dicked, inked mother fucker, with pretty boy Johnny Walker. Aidyn has a lot of aggression to work out and Johnny gets it full on. Aidyn handcuffs Johnny before finger fucking him hard and shoving a dildo in hard and deep. Johnny is making too much noise so he gets a ball gag in that hole and cock in the other. Are his moans pain or pleasure?
SCENE TWO:
Paul Black uses Tony Versacti like a rented mule in Scene 2. Paul does not spare the paddle on Tony's little rump. The punker takes every swat and asks for more as he sways in the sling. He shows what a good boy he is by sucking Paul's wank, eating his ass and licking his feet. For his reward Tony gets a big dildo in his red ass and then doused in a river of piss. The two passionately fuck, Tony riding Paul's big dick.
SCENE THREE:
Scene 3 features porn pros Hawk McAllistar and Alan Gregory. Hawk takes charge of Alan, making him his boy for the session. And, as we know, every boy needs to be fisted now and then. Hawk expertly and slowly opens Alan up until he can bury his whole hand.
SCENE FOUR:
Tazma, a Latino muscle brute, wants to have his way with Orion Cross. Orion can only resist a little while before he has Tazma's fat, uncut cock first in his throat and then in his ass pie. It doesn't take long before Tazma is stretching Orion's pucker with a huge dildo and fist. Orion grunts and groans, but he loves every minute. He also enjoys a mouthful of his own cum.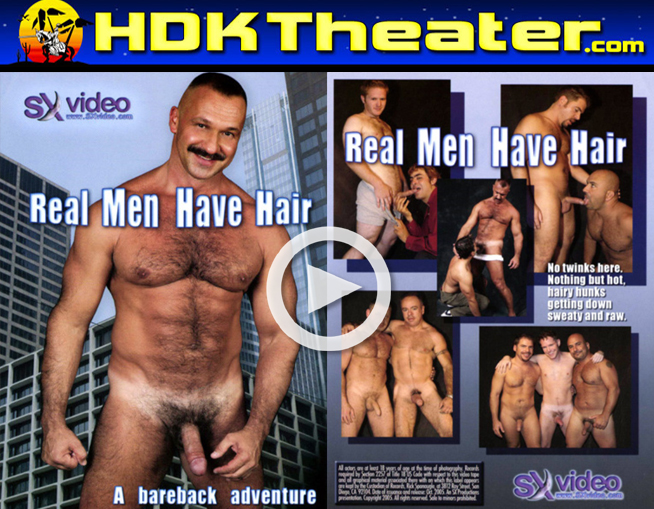 Watch the Full Length Movie at – www.HDKTheater.Com
Studio: SX Video
Approximate Running Time: 01:07:03
Description:
Four scenes with big, buff top guys fucking bottoms with gusto. Muscle man Hank Cruz fucks porn favorite Christian Luke. Mark West gives it good to Dominick Rider and Patrick Ives. Another three-way has Adam Collins and Steve Tuck bottoming out. Finally, Jonathen and Tony show us how much they enjoy raw fucking!!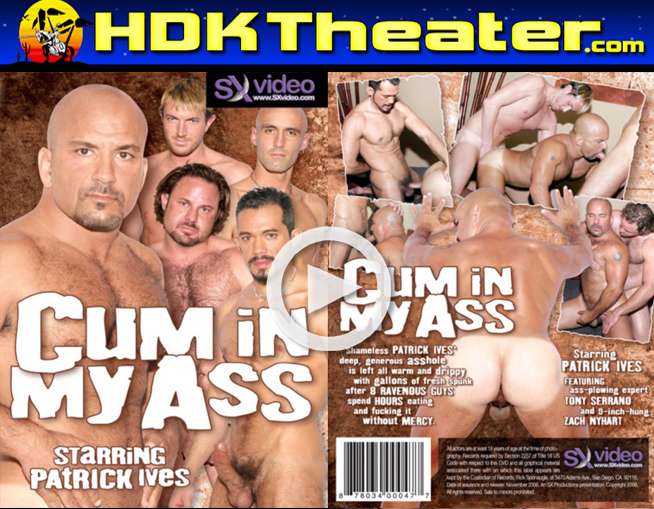 Watch the Full Length Movie at – www.HDKTheater.Com
Studio: SX Video
Series: Cum In My Ass (SX Video)
Director: Ben Baird
Approximate Running Time: 00:59:54
Description:
HOT bareback action, no condoms at all. This film is so hot, you'll shoot your load halfway though the first scene! Hot and buff studs taking it up the ass RAW! Watch as these guys pound each other, pull out, squirt a little, then shove it back in to fill that ass up with that warm white goo!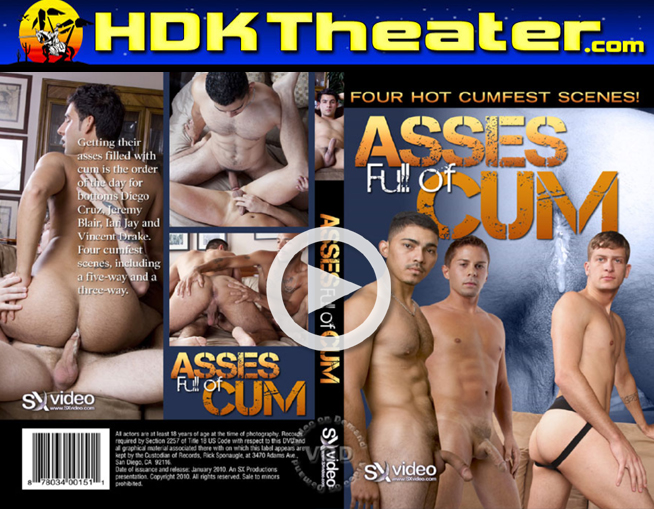 Watch the Full Length Movie at – www.HDKTheater.Com
Studio: SX Video
Approximate Running Time: 01:36:25
Description:
Getting their asses filled with cum is the order of the day for bottoms of Diego Cruz, Jeremy, Blair Ian Jay and Vincent Drake. Scenes including a five way and a three-way.Its a cum fest and your invited to four action packed scenes of barebacking studs of various flavors offering plenty cream for hole!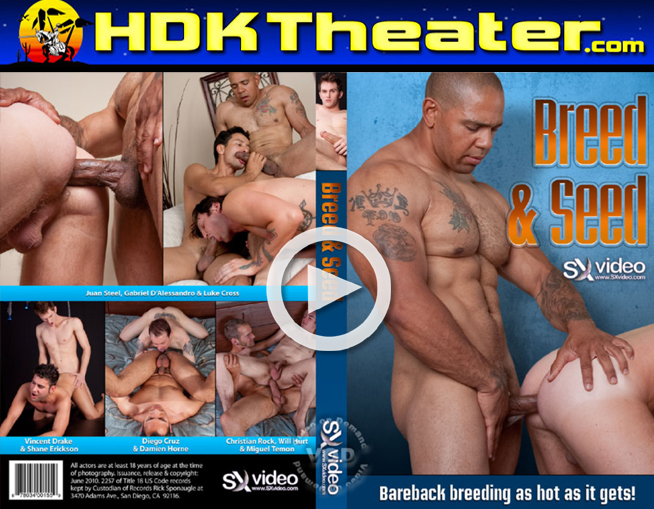 Watch the Full Length Movie at – www.HDKTheater.Com
Studio: SX Video
Director: Ben Baird
Approximate Running Time: 01:51:30
Description:
Scene 1: Juan Steele, Gabriel D'Alessandro, Luke Cross. SX Video is proud to debut Juan Steele, a very muscled Latino with a nice tool who we know will quickly become an SX favorite. Luke Cross is no stranger to cock and is eager for both Juan's monster cock and Gabriel's thick Latin cock, sucking and being fucked by both until Angel is ready to slide his ten inches into Gabriel. The Latin fever is too much for Luke who busts his load on Gabriel and eats it up before jumping right back into a daisy chain. These men are into each other and it shows by breeding multiple times.
Scene 2: Christian Rock, Miguel Temon, Will Hurt. This is the scene that everyone has been asking for. Miguel Temon finally gives up his virgin ass! Christian is an aggressive guy and has no problem shoving Will's head down on his big cock. Miguel wants a piece of this submissive twink and takes turns fucking and getting sucked by Will. Miguel is ready to see what being a bottom is all about He gets warmed up by a nice rim job before taking it a couple ways from Christian and being seeded. Christian then finishes off Will, pumping a load in his ass too.
Scene 3: Diego Cruz, Damien Horne. Diego loves to work cock with his talented Latin ass, and Damien is a guy who loves to throw down in every position…twice. Diego gets jack hammered, and flipped in every direction in this scene. Damien is clearly calling all the shots from feeding Diego his load, to making sure not a drop is wasted when he loads up his ass.
Scene 4: Vincent Drake, Shane Erickson. Vincent and Drake are two college kids who are more interested in fucking than studying books. These boys love to explore with their mouths as they exchange thirst quenching blowjobs and 69. Shane takes control moving into rimming before fucking Vincent. They start out on a leather table and take it to a leather sling. Shane gives Vincent his very explosive load, before Shane mounts again until he explodes.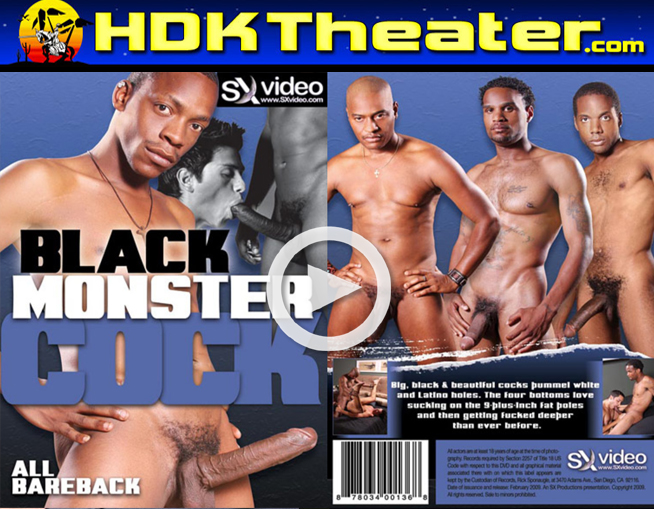 Watch the Full Length Movie at – www.HDKTheater.Com
Studio: SX Video
Series: Black Monster Cock
Approximate Running Time: 01:10:40
Description:
Four black tops who swing exceptionally big equipment between their legs take on four ready-to-please bottoms who love getting stretched and pumped by big black cock fat cock. So Sit back and lube your cocks and enjoy bareback sex with some of the most known names in gay film!!Scene 1 brings muscle bottom J.D. Lopez together with Jack Trade, an Eddie Murphy look-alike. Lopez deep throats Trade's 9-inch curver to get the party started. He then gets on all fours for the main event. Trade keeps it hard and Lopez rides and rides.
Young pup Orion Cross is proud at how much cock he can take. Mike Shawn is proud of his huge cock. It is a perfect match for Scene 2. Shawn licks Cross' hole for a nice long time until it is slick and ready for action. Cross starts moaning uncontrollably once he sits on that monster dick and brings it to climax.
With 10 inches, Rod Rockhard is the cock king in this video. Mark Mann (who is hung big himself) is happy in Scene 3 to worship that donkey dick and see if he can handle it up his ass. He can. And does. First he sucks it, almost chocking but never stopping. Then he takes it, Rockhard pulling in and out, in and out.
In Scene 4 Mickey Dee Jay tells Black Delight he only gets fucked by guys with 8 inches or more. Delight pulls out 9 and Dee Jay is on it, his pink hole swallowing up every inch until they both spurt!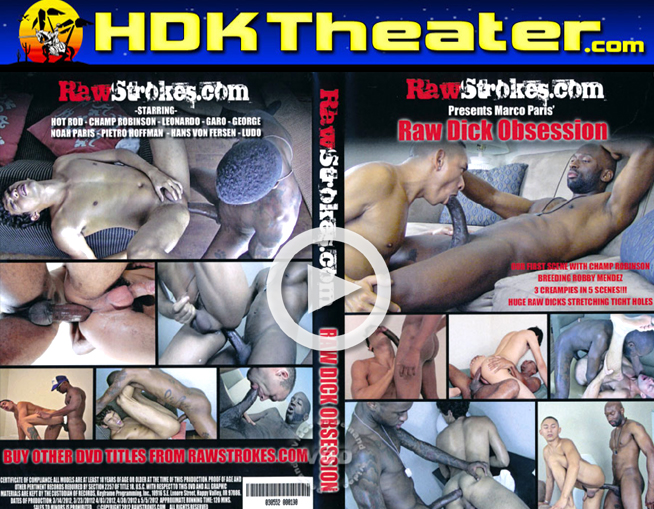 Watch the Full Length Movie at – www.HDKTheater.Com
Studio: Raw Strokes Productions
Director: Marco Paris
Approximate Running Time: 02:00:55
Description:
There's nothing that these horny power bottoms love more than enormous, rock-hard, throbbing cock…in fact, they're obsessed and will stop at nothing to get the pounding that they're desperate for! With ridiculously hung fuckers like Champ Robinson, Hot Rod, Noah Paris and more, indulge in a king-sized fuckfest full of massive monster dicks, hardcore raw poundings and messy creampies!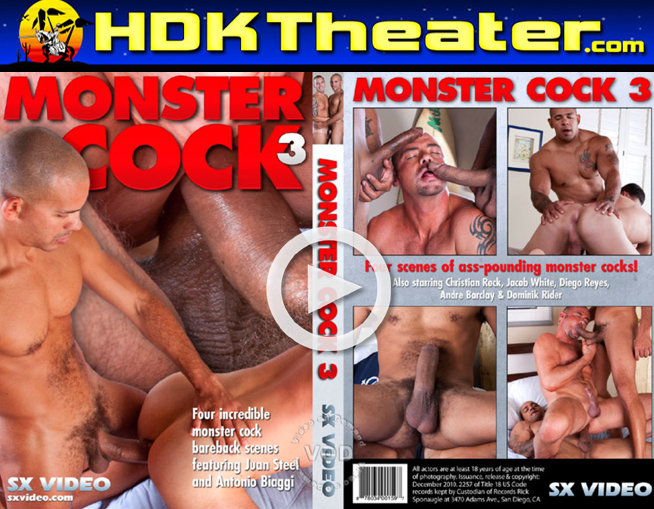 Watch the Full Length Movie at – www.HDKTheater.Com
Studio: SX Video
Series: Monster Cock
Approximate Running Time: 01:50:20
Description:
Four incredible monster cock bareback scenes featuring Juan Steel, Antonio Biaggi, Christian Rock, Jacob White, Diego Reyes, Andre Barclay and Dominik Rider. The first scene wastes no time jumping right into a muscle vs. muscle threesome scene that is sure to leave you hot, bothered and needing more! I'm talking double anal, ATM, and pure hardcore ass pounding…and that's only the first scene!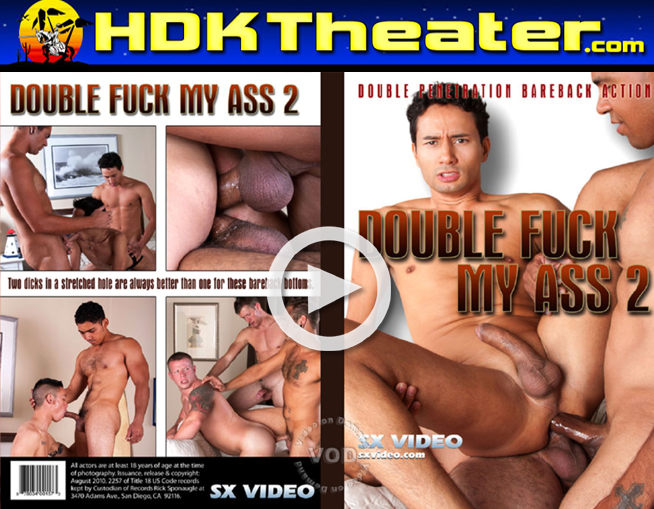 Watch the Full Length Movie at – www.HDKTheater.Com
Studio: SX Video
Series: Double Fuck My Ass!
Director: Ben Baird
Approximate Running Time: 01:50:44
Description:
Gabriel D'Allesandro had never been double fucked before and decided it's time his tight smooth ass should get filled by two big cocks. He was super excited when big dicked muscle men Juan Steel and Miguel Temon showed up and the chemistry was immediate. Gabriel barely had time to get his clothes off before he had Miguel's dick in his mouth and Juan's ten inch monster cock balls deep in his ass. After taking turns filling Gabriel's mouth and hole the guys roll him on his back and stretch him open with both fat cocks at once. He screamed with pleasure and let Miguel and Juan pound him hard and deep every which way they could. The cock on cock double penetration worked Juan up so much that he blew his load on Gabriel's hole with Miguel's dick still in there, then Gabriel cums all over himself with both of their dicks inside. Miguel finishes off by shooting into Gabriel's mouth (and all over his face). Not wanting to miss out Juan sticks his tongue down Gabriel's throat to share Miguel's load.
Asian power bottom Brian Peters gets his ass stretched to the limit by Miguel Temon and Gabriel D'Alessandro. First Brian gets face fucked hard by Gabriel before being flipped over and having his hole filled. Gabriel loosens him up really well and invites Miguel in to have a turn. Brian bounces on Miguel's thick cock cowboy style for a little bit and then Gabriel comes around from behind and shoves his dick in there along with it. Brian writhes in ecstasy getting pounded by both studs at the same time but he still wants more. Gabriel grabs a dildo and rams it right in there with both real cocks giving him a taste of triple penetration! Brian loves it and keeps going and going finally taking both guy's loads in his ass.
Horny newcomer Danny Rohm takes on favorites Christian Rock and Gabriel D'Alessandro at the same time. It only takes Christian a minute before he's plowing his nine inch beast into Danny's tight hole. The guys take turns fingercuffing Danny letting him have it good and hard from both ends to prepare him for what's to come. It doesn't look like it's possible to fit both guy's huge dicks in Danny's tight little ass but they make it happen over and over again. The looks of pain and pleasure in Danny's face makes the tops even hungrier and they keep pounding away holding Danny down. Once again it's that great sensation of your cock rubbing on another cock while inside another guy that sends Gabriel over the edge and he shoots a huge load all over Danny's ass with Christian still inside fucking away. Then they roll Danny up on his shoulders and Christian pile drives him before covering his throbbing hole with a thick layer of jizz.
Hot mainstream pornstar Justin Jameson continues his barebacking adventure by taking Kirby Thomas and Christian Rock on at the same time. Justin gets right to work slurping on Kirby's thick shaft and worshipping his ripped body. Christian pulls off Justin's pants from behind and Justin sticks his ass up begging to be filled. A dick in his mouth and a dick in his ass is just how he likes it. Kirby gets his chance to rock Justin's world and the two tops take turns punishing his ass. But this muscle stud isn't done yet, he rolls back on his shoulders and lets Christian pile drive his hole nice and hard taking it deep. Pretty soon he's ready to take both dicks at the same time and his manhole is stretched wider than it's ever been. The guys take turns cumming onto Justin's hole, then Kirby keeps fucking him until he squirts a giant load all over himself.