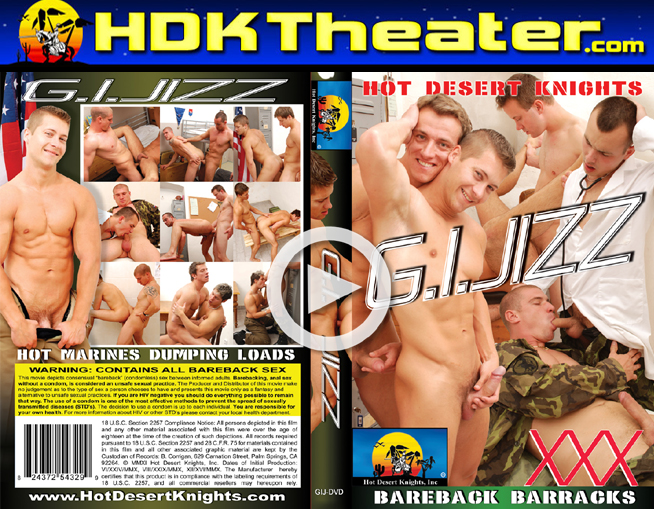 Watch the Full Length Movie at – www.HDKTheater.com
Studio: Hot Desert Knights
Director: Adam Collins
Approximate Running Time: 01:35:21
Description:
What really happens when military leaders aren't around? How do the men let off steam? Cum watch as Hot Desert Knights brings you some of the hottest military G.I. JIZZ on the planet.
Everyone knows bonding amongst soldiers is the key to unit cohesion and is the most important aspect of a soldiers training. Soldiers rely upon each other for their very survival in more ways than one. Through coercion and reward, these hot military studs teach each other the necessary skills needed to survive in today's military unit.
This movie features seven hot, ripped military studs bonding with their fellow soldiers. From big-dicked fuckers to cum hungry holes, this flick gives a bird's eye view of what we all want to believe is going on in those military barracks. Every stud is a hole-plowing top and every stud is also a cum-hungry bottom. These hot studs take you from the barracks to the military gym and even to the doctor's office as load after load of hot, creamy G.I. JIZZ is shot into every hungry gaping hole.
The intense non-stop ass action by each top will make your cocks hard and your holes quiver. If you're a seriously lover of ripped, hot, rugged military studs bonding and sharing each other's hot, creamy G.I. JIZZ, then this is definitely a movie for you. It's a bareback barracks you won't wanna miss!
Watch the Full Length Movie at – www.HDKTheater.com