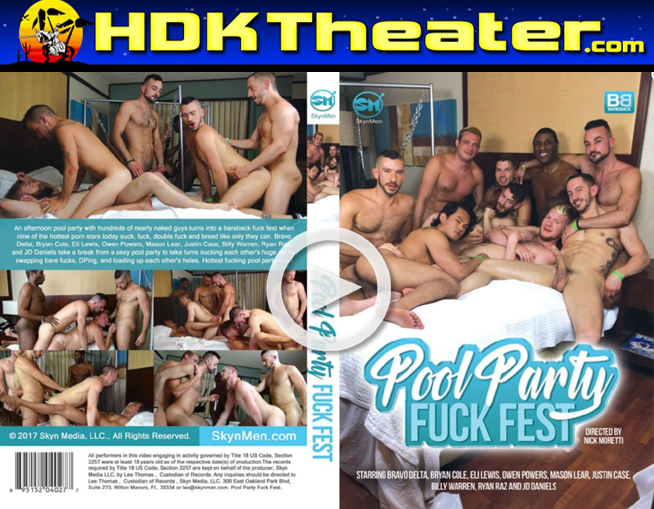 Watch the Full Length Movie at – www.HDKTheater.com
Studio: Skyn Men
Director: Nick Moretti
Approximate Running Time: 01:10:27
Description:
An afternoon pool party with hundreds of nearly naked guys turns into a bareback fuck fest when nine of the hottest porn stars today suck, fuck, double fuck and breed like only they can. Bravo Delta, Bryan Cole, Eli Lewis, Owen Powers, Mason Lear, Justin Case, Billy Warren, Ryan Raz, and JD Daniels take a break from a sexy pool party to take turns sucking each other's big cocks, swapping bare fucks, DPing, and loading up each other's holes.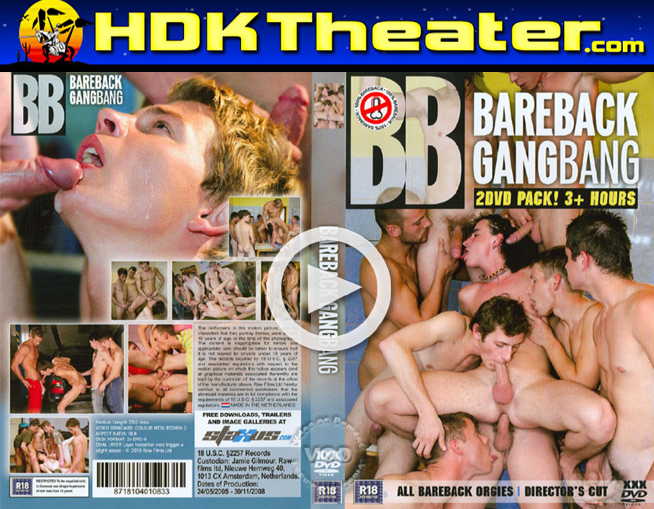 Watch the Full Length Movie at – www.HDKTheater.Com
Studio: Bare
Disc Set: Bareback Gangbang
Approximate Running Time: 02:21:06
Description:
2-Disc Set. Everyone loves an orgy, especially the dirty minded fuckers who love nothing better than watching groups of gorgeous cock-mad Czech twinks sucking and fucking each other like it's going out of fashion! From group sex in the boxing ring to a mass mouth-and-ass-stretching session in a garage, Bareback Gangbang is an undisputed must-watch for everyone who loves their porn with a numerical advantage!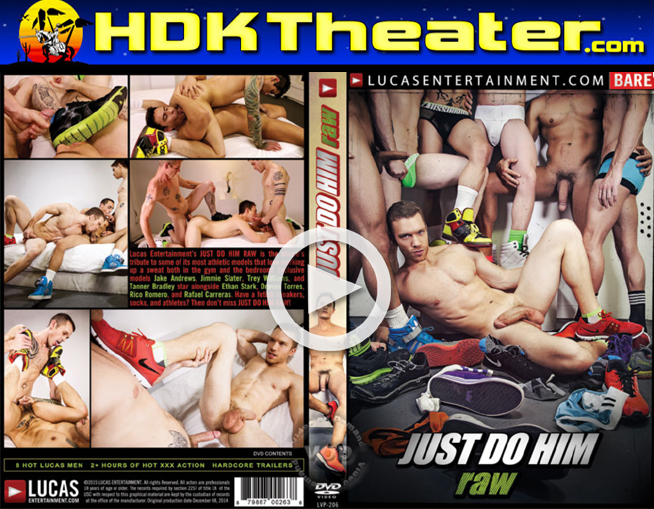 Watch the Full Length Movie at – www.HDKTheater.Com
Studio: Lucas Entertainment
Director: Jake Steel
Approximate Running Time: 02:28:33
Description:
Lucas Entertainment's "Just Do Him Raw" is the studio's tribute to some of its most athletic models that love working up a sweat both in the gym and the bedroom! Exclusive models Jake Andrews, Jimmie Slater, Trey Williams, and Tanner Bradley star alongside Ethan Stark, Draven Torres, Rico Romero, and Rafael Carreras. Have a footwear and athlete fetish? Then don't miss "Just Do Him Raw"! Tanner Bradley rides Trey Williams' cock bareback… I always found Tanner Bradley exceptionally cute since his first scene. Even cuter are the statements he's made in the past about being a top, but he always winds up on the bottom. What can I say — he looks great taking cock. Because of this Tanner was paired up with Trey Williams in his first scene. Trey is a handsome blonde guy with a swimmer's build and a big fat cock between his legs. He's a fan of having guys ride him, and if you check out 13:25 you'll see just that! Ethan Stark joins Trey Williams and Tanner Bradley in a raw threesome! If two wasn't enough, Ethan Stark certainly rounds out this sexual encounter among athletic young men (and might I add, I love the band tattoos on Ethan's bicep and the paw on his cum-gutters). I just hope Tanner can handle another cock so quickly, because he's getting pig-roasted in this scene, and Ethan is a top who enjoys taking his time fucking. But Tanner looks great between two guys — check out 14:05 is you don't believe me! I've been a fan of Jimmie Slater ever since his first scene: this kid's body is ripped, he has an amazing cock, and most importantly he knows how to use it. If you don't follow him on Twitter, you're doing yourself a disservice. Here he and Draven Torres hook up after a work out, and you really get to see Jimmie and Draven at their best: fucking ass bareback until they blow their loads! Talk about a strong roster of hot worked-out men: Ethan Stark makes a second appearance (much to my enjoyment) along with the always handsome Jake Andrews and sexy young Latin Rico Romero. Attention everyone who has a wrestling fetish: you get to see Jake and Ethan go at it in singlets. One of my favorite spots in the scene is when Jake and Ethan are taking turns sucking on Rico's uncut cock. It's a great lead-in for the fucking that follows! Draven Torres might have been flip fucking with Jimmie Slater earlier on, but now he's in the hands of Rafael Carreras, and he takes complete control of Draven. Let's not forget that Rafael has a huge 10-inch uncut Cuban cock, and he shows Draven who is in charge with it!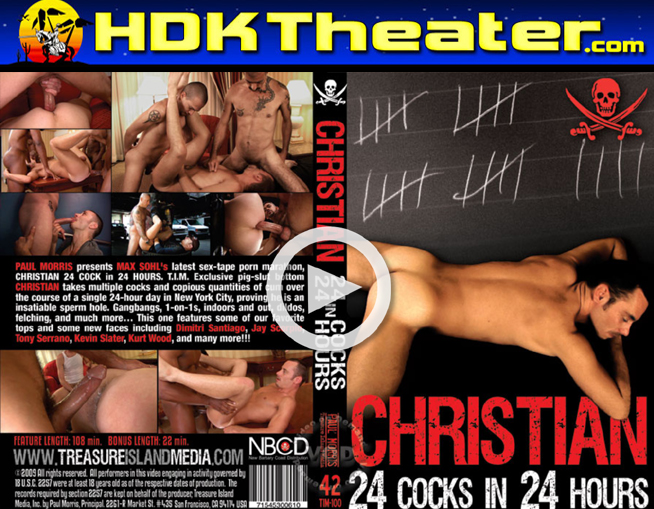 Watch the Full Length Movie at – www.HDKTheater.Com
Studio: Treasure Island Media
Director: Max Sohl
Approximate Running Time: 02:10:33
Description:
Call it sibling-pig-bottom rivalry, but when the discussion started of doing an all-Christian video, the first thing he said was that if Dawson could take twenty loads in a weekend, he wanted to do it in 24 hours. The result is Max Sohl's latest porn marathon, Christian: 24 Cocks In 24 Hours, which follows Christian as he takes as much cock and cum as he can over the course of a single day.