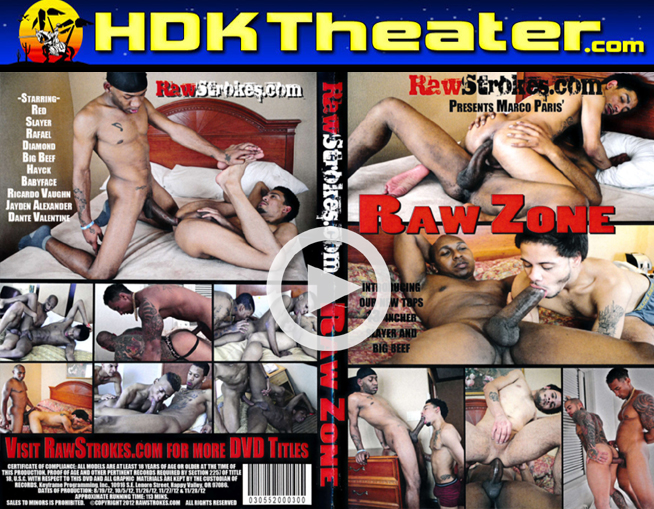 Watch the Full Length Movie at – www.HDKTheater.com
Studio: Raw Strokes Productions
Approximate Running Time: 01:53:49
Description:
Our movie Raw Zone brings you amazing sex between 13-incher Slayer and sexy bottom Kannon. Watch bottom guy having amazing sex full of internal orgasms as Slayer rams his weapon inside that irresistible ass. Watch Kannon to take all this huge dick and like a good slutty bottom boy does, get seeded nicely at the end by our new dream top Slayer. Our tattooed bottom from Brazil, Rafael getting fucked by hot muscle dude Hayck. He fucks him with his thick dick, and at the end shoots his babies in his mouth so he can taste his seed. Babyface gets his ass torn up by one of the biggest, thickest dicks you've seen. Big Beef is introduced on RawStrokes and watch our Babyface take it all. Big Beef would push every bottom's limits, no doubt about that. Watch him seed Babyface with his breeding weapon at the end…So hot! Threesome with two tops Ricardo Vaughn and Red and their whore bottom lil' Diamond. Watch sexy tattooed Ricardo and Red take turns on Diamond as they claim him their personal whore boy. Poor Diamond's ass is destroyed by our two hung tops at the end and Ricardo and Red shoot their load in bottom's mouth on on his ass. New bottom Dante Valentine, a young smooth sexy boy with his hot lil ass waiting to be stretched by Jayden and seeded for the first time. Jayden surely doesn't hesitate to slide his thick raw dick inside that smooth bare hole and make him feel every inch of his dick. Five hot scenes for you to enjoy. Watch some of the biggest dicks in porn stretching our slutty bottoms.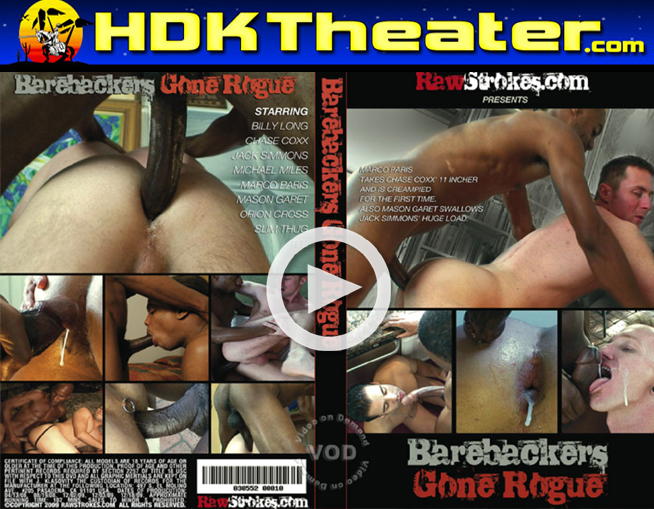 Watch the Full Length Movie at – www.HDKTheater.com
Studio: Raw Strokes Productions
Director: Marco Paris
Approximate Running Time: 01:33:01
Description:
Marco Paris is going rogue and he's seeing stars, and has teamed up with legendary porn star Jack Simmons, making his bareback debut, and Chase Coxx.The tough guy raw fucking starts with the first scene as Chase Coxx harshizes the little butthole of Michael Miles. Coxx catches Miles unawares at the kitchen sink preparing a meal. Chase bends him over and screws him on the butcher block, then rips his ass open with his 11″ pole on the kitchen counter.
Slim Thug gives a special pounding to his pal Tee. In the third scene Jack Simmons proves why he's one of the all-time great black performers. He uses the huge dick to slam a hard fuck up Mason Garet, whose tattoos quiver in response. The scene ends when Jack spews hot cum all over Mason's face and in his mouth.
Next, Marco Paris goes before the camera and shows that he, too, can take a severe fucking from Chase Coxx. Soon Chase is pounding away on Marco's pink hole and tapping that muscled butt until he fills it with his load. After taking that cream-pie, Marco has a major cum shot of his own all over his ripped chest.
Finally, straight star Billy Long is back to raw fuck more gay ass. This time it's Orion Cross who takes Billy's long strokes and licks up his white-hot jizz.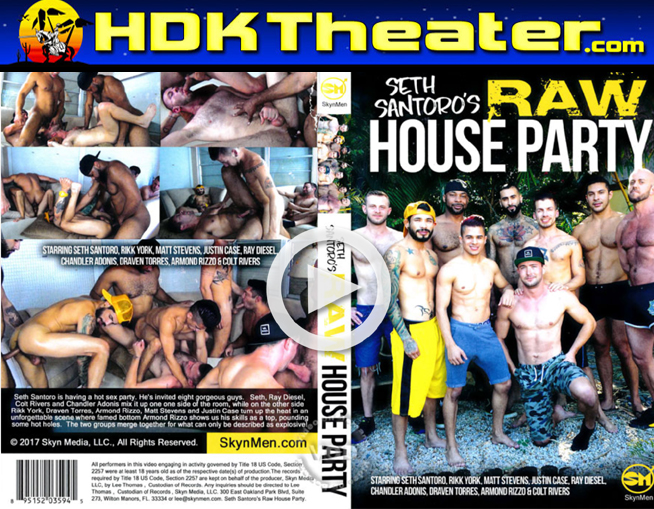 Watch the Full Length Movie at – www.HDKTheater.com
Studio: Skyn Men
Director: Anthony Michaels
Approximate Running Time: 01:18:35
Description:
Seth Santoro is having a hot sex party. He invited eight gorgeous guys. Seth, Ray Diesel, Colt Rivers and Chandler Adonis mix it up on one side of the room, while on the other side Rikk York, Draven Torres, Armond Rizzo, Matt Stevens, and Justin Case turn up the heat in an unforgettable scene where tamed bottom Armond Rizzo shows us his skills as a top, pounding some hot holes. The two groups merge together for what can only be described as explosive!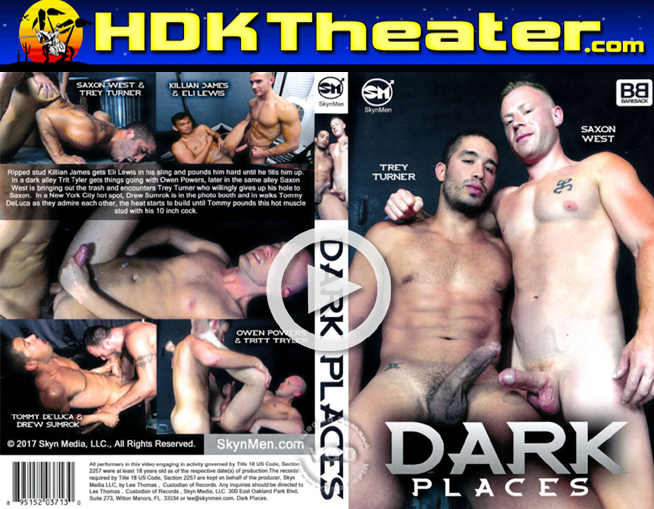 Watch the Full Length Movie at – www.HDKTheater.com
Studio: Skyn Men
Approximate Running Time: 01:32:56
Description:
Ripped stud Killian James gets Eli Lewis in his sling and pounds him hard until he fills him up. In a dark alley Trit Tyler gets things going with Owen Powers, later in the same alley Saxon West is bringing out the trash and encounters Trey Turner who willingly gives up his hole to Saxon. In a New City hot spot, Drew Sumrol is in the photo booth and in walks Tommy DeLuca as they admire each other, the heat starts to build until Tommy pounds this hot muscle stud with his 9 inch cock.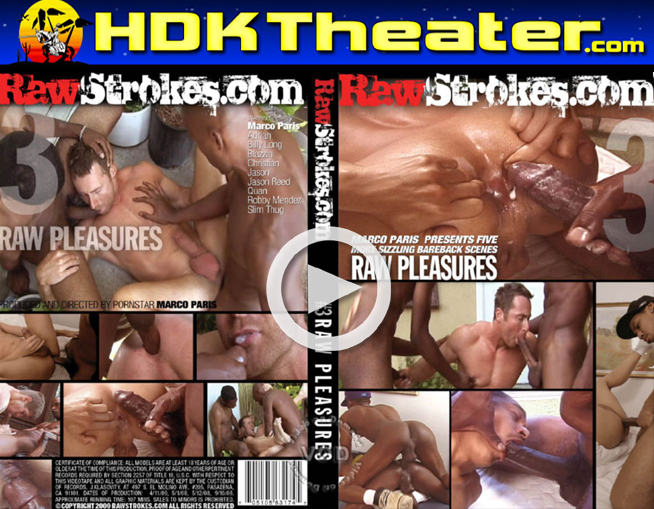 Watch the Full Length Movie at – www.HDKTheater.com
Studio: Raw Strokes Productions
Series: RawStrokes.com
Director: Marco Paris
Approximate Running Time: 01:43:05
Description:
All raw and cum-drenched Marco Paris' Raw Pleasures begins with Marco bottoming for two huge black cocks: Rawstrokes' fave Billy Long and newcomer Christian. Billy Long then gives the same hard treatment to cum pig Jason Reed. Rawstrokes biggest dick Slim Thug raw bones little tight-assed latino boy Robby Mendez. Two more scenes with Ethan and Eric and then Quan and Blazzin are perfect for fans of urban guys gone wild. Watch enough Raw Pleasures and you'll be cum-drenched too.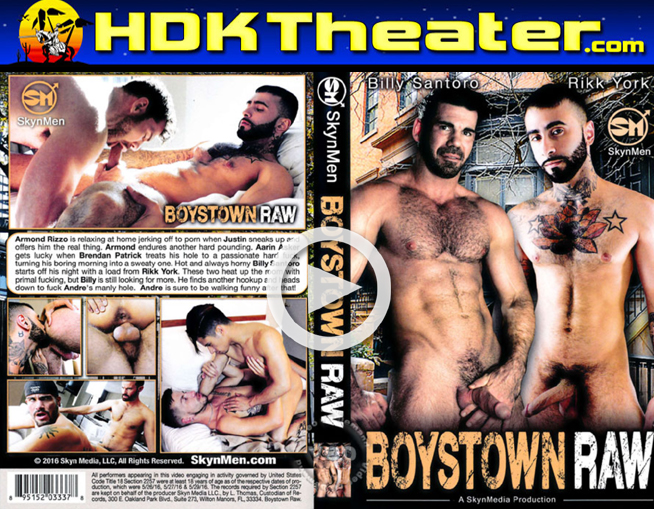 Watch the Full Length Movie at – www.HDKTheater.com
Studio:
Skyn Men
Approximate Running Time:
01:51:56
Description:
Armond Rizzo is relaxing at home jerking off to porn when Justin sneaks up and offers him the real thing. Armond endures another hard pounding. Aarin Asker gets lucky when Brendan Patrick treats his hole to a passionate hard fuck, turning his boring morning into a sweaty one. Hot and always horny Billy Santoro starts off his night with a load from Rikk York. These two heat up the room with primal fucking, but Billy is still looking for more. He finds another hookup and heads down to fuck Andre's manly hole. Andre is sure to be walking funny after that!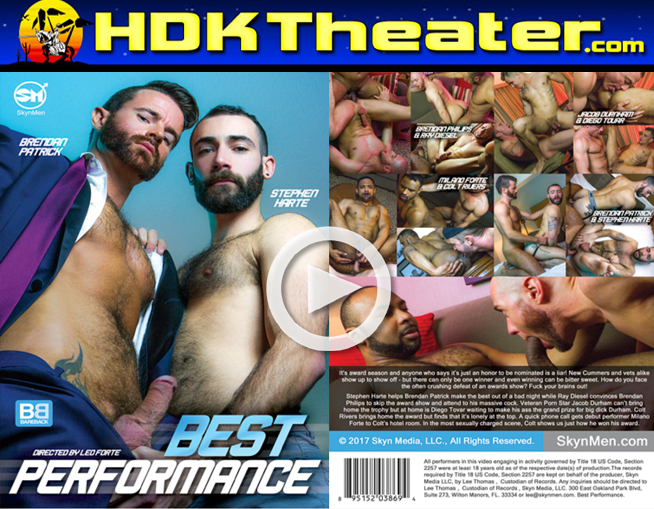 Watch the Full Length Movie at – www.HDKTheater.com
Studio: Skyn Men
Approximate Running Time: 01:50:09
Description:
Gear yourself up for The Best Performance…with FOUR explosive scenes featuring Brendan Patrick, Ray Diesel, Colt Rivers, and many more, you won't want to miss super sexy muscled studs getting down and dirty with no holding back! From start to finish, the sucking, rimming, and hardcore raw pounding will leave you breathless!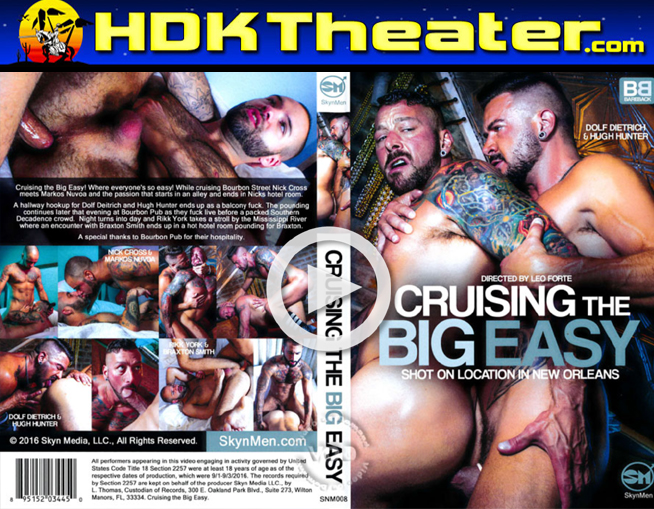 Watch the Full Length Movie at – www.HDKTheater.com
Description:
Cruising the Big Easy! Where everyone's so easy! While cruising Bourbon Street Nick Cross meets Markos Nuvoa and the passion that starts in an alley and ends in Nick's hotel room. A hallway hookup for Dolf Deitrich and Hugh Hunter ends up as a balcony fuck. The pounding continues later that evening at Bourbon Pub as they fuck live before a packed Southern Decadence crowd. Night turns into day and Rikk York takes a stroll by the Mississippi River where an encounter with Braxton Smith ends up in a hot hotel room pounding for Braxton. A special thanks to Bourbon Pub for their hospitality. Shot on location in New Orleans.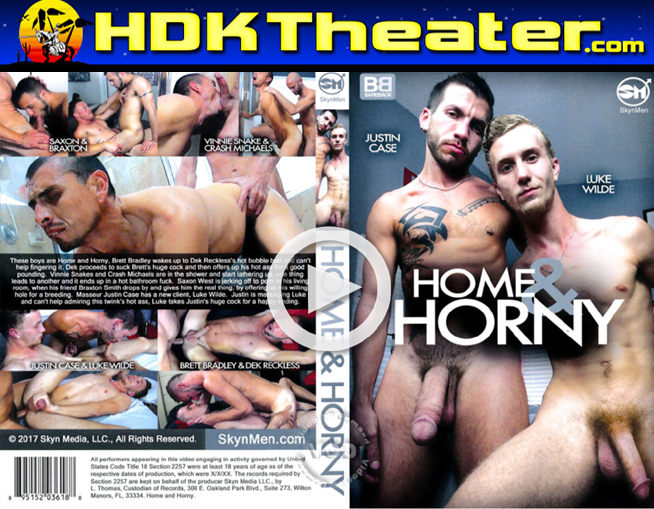 Watch the Full Length Movie at – www.HDKTheater.com
Studio: Skyn Men
Approximate Running Time: 01:23:45
Description:
These boys are home and horny. Brett Bradley wakes up to Dek Reckless's hot bubble butt and can't help fingering it. Dek proceeds to suck Brett's huge cock and then offers up his hot ass for a good pounding. Vinnie Snakes and Crash Michaels are in the shower and start lathering up. One thing leads to another and it ends up in a hot bathroom fuck. Saxon West is jerking off to porn in his living room, when his friend Braxton Smith drops by and gives him the real thing by offering up his willing hole for a breeding. Masseur Justin Case has a new client, Luke Wilde. Justin is massaging Luke and can't help admiring this twink's hot ass; Luke takes Justin's huge cock for a happy ending.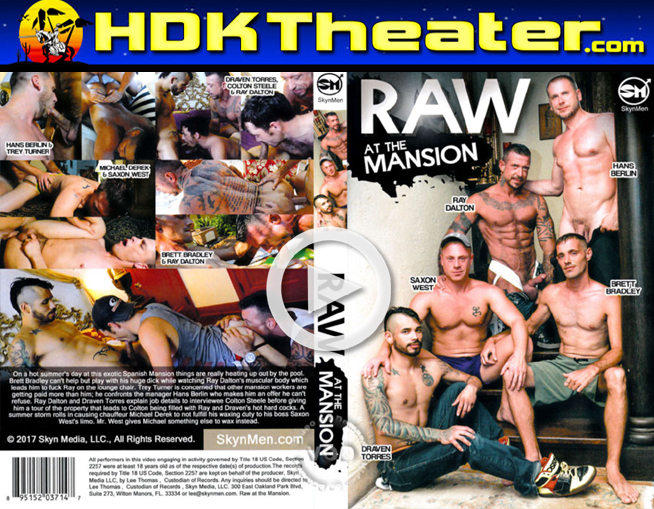 Watch the Full Length Movie at – www.HDKTheater.com
Studio: Skyn Men
Approximate Running Time: 01:19:06
Description:
On a summer day at this exotic Spanish Mansion things really heat up, Brett Bradley finds it hard to keep his hands off his huge cock while staring at pool boy Ray Dalton's muscular body. Brett then fucks Ray on the lounge chair. Trey Turner is concerned that other workers at the mansion make money than him, he approaches manager Hans Berlin who makes him an offer he can refuse for more money. Colton Steele is looking for a job, Ray Dalton and Draven Torres explain job details and give him a tour of the mansion that ends up in a hot three way with Colton being filled by Ray and Draven. Later in the day it's beginning to rain, so Chauffer Michael Derek can't wax his bosses limo, but Mr. West has something else he can wax.