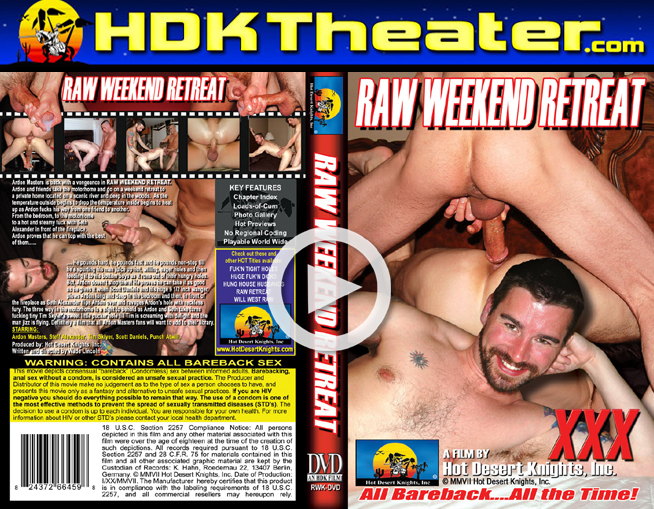 Watch the Full Length Movie at – www.HDKTheater.com
Studio: Hot Desert Knights
Director: Wade Lincoln
Approximate Running Time: 01:34:50
Description:
Ardon Masters is back with a vengeance in RAW WEEKEND RETREAT.
Ardon and friends take the motor home and go on a weekend retreat to a private home located on a scenic river and deep in the woods. As the temperature outside begins to drop the temperature inside begins to heat up as Ardon fucks his way from one friend to another.
From the bedroom, to the motor home to a hot and steamy fuck with Steff Alexander in front of the fireplace, Ardon proves that he can top with the best of them. He pounds hard, he pounds fast and he pounds non-stop till he's spurting his man juice up hot, willing, eager holes and then feeding it to his bottom boys as it runs out of their hungry holes. But, Ardon doesn't stop there! He proves he can take it as good as he gives it when Scott Daniels and his huge 9 1/2 inch wanger, plows Ardon long and deep in the bedroom and then, in front of the fireplace as Steff Alexander flips Ardon over and ravages Ardon's hole with reckless fury.
The three way in the motorhome is a sight to behold as Ardon and Steff take turns fucking tiny Tim Skyler's sweet little pucker hole till Tim is screaming with delight and the man jizz is flying. Definitely a film that all Ardon Masters fans will want to add to their library.
Watch the Full Length Movie at – www.HDKTheater.com