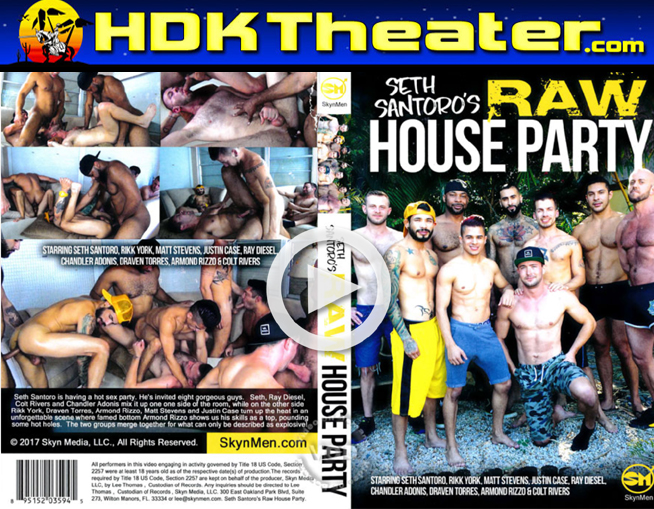 Watch the Full Length Movie at – www.HDKTheater.com
Studio: Skyn Men
Director: Anthony Michaels
Approximate Running Time: 01:18:35
Description:
Seth Santoro is having a hot sex party. He invited eight gorgeous guys. Seth, Ray Diesel, Colt Rivers and Chandler Adonis mix it up on one side of the room, while on the other side Rikk York, Draven Torres, Armond Rizzo, Matt Stevens, and Justin Case turn up the heat in an unforgettable scene where tamed bottom Armond Rizzo shows us his skills as a top, pounding some hot holes. The two groups merge together for what can only be described as explosive!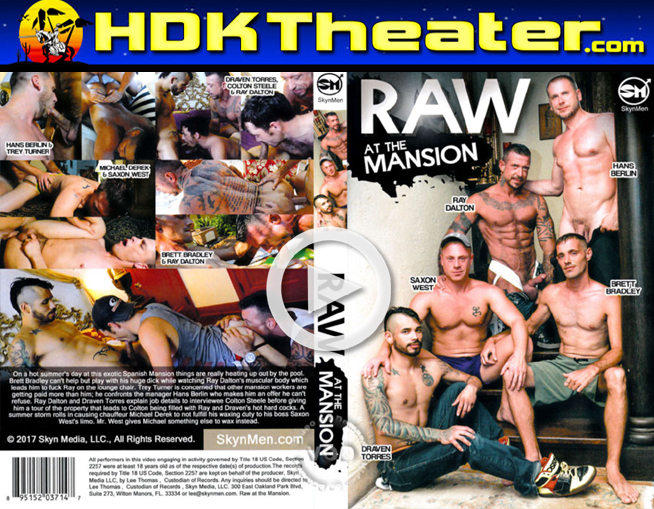 Watch the Full Length Movie at – www.HDKTheater.com
Studio: Skyn Men
Approximate Running Time: 01:19:06
Description:
On a summer day at this exotic Spanish Mansion things really heat up, Brett Bradley finds it hard to keep his hands off his huge cock while staring at pool boy Ray Dalton's muscular body. Brett then fucks Ray on the lounge chair. Trey Turner is concerned that other workers at the mansion make money than him, he approaches manager Hans Berlin who makes him an offer he can refuse for more money. Colton Steele is looking for a job, Ray Dalton and Draven Torres explain job details and give him a tour of the mansion that ends up in a hot three way with Colton being filled by Ray and Draven. Later in the day it's beginning to rain, so Chauffer Michael Derek can't wax his bosses limo, but Mr. West has something else he can wax.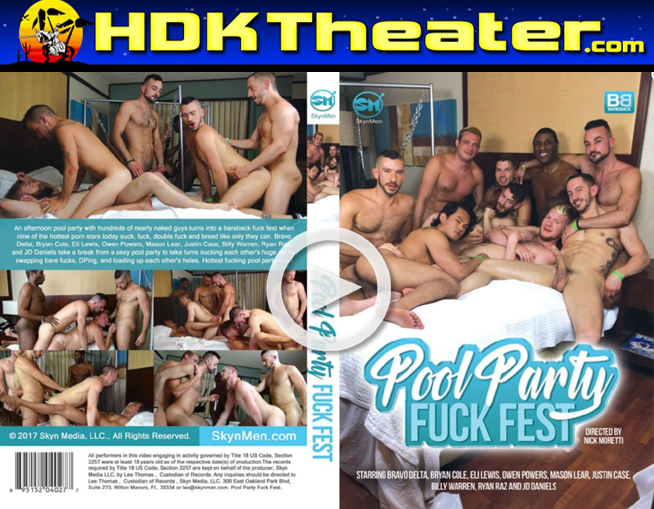 Watch the Full Length Movie at – www.HDKTheater.com
Studio: Skyn Men
Director: Nick Moretti
Approximate Running Time: 01:10:27
Description:
An afternoon pool party with hundreds of nearly naked guys turns into a bareback fuck fest when nine of the hottest porn stars today suck, fuck, double fuck and breed like only they can. Bravo Delta, Bryan Cole, Eli Lewis, Owen Powers, Mason Lear, Justin Case, Billy Warren, Ryan Raz, and JD Daniels take a break from a sexy pool party to take turns sucking each other's big cocks, swapping bare fucks, DPing, and loading up each other's holes.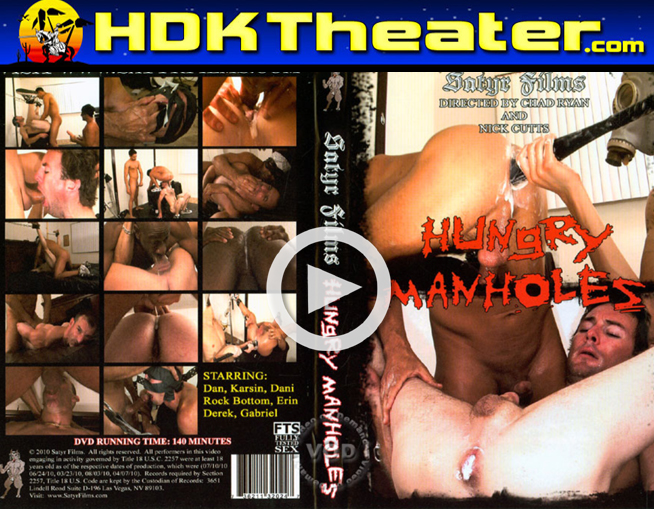 Watch the Full Length Movie at – www.HDKTheater.com
Studio: Satyr Films
Director: Chad Ryan and Nick Cutts
Approximate Running Time: 02:21:49
Description:
Derek's a hot straight guy we met at a night out on the town. He was fighting with his girlfriend because she was demanding more money. We told him about a quick way to earn some hard earned cash. Because Derek had never been with a guy before, we decided it would be best if he couldn't see what was about to happen to him. We wrapped his head in duct tape and unleashed Rock, who wasted little time opening up Derek's hole for a good anal assault. Derek did the best he could to take it like a man, but Rock's thick cock compelled him to whimper like a pussy boy. Our Satyr then shoved three glow-in-the-dark balls along with a flashlight into Derek's tight fuckhole. Derek's sphincter was completely confused as to what to do–clench or relax with balls and cock up his ass. Rock then plowed Derek's throat mercilessly. Derek tried every which way to escape, but Rock wouldn't have it. Derek's nothing more than a rag doll under Rock's control.