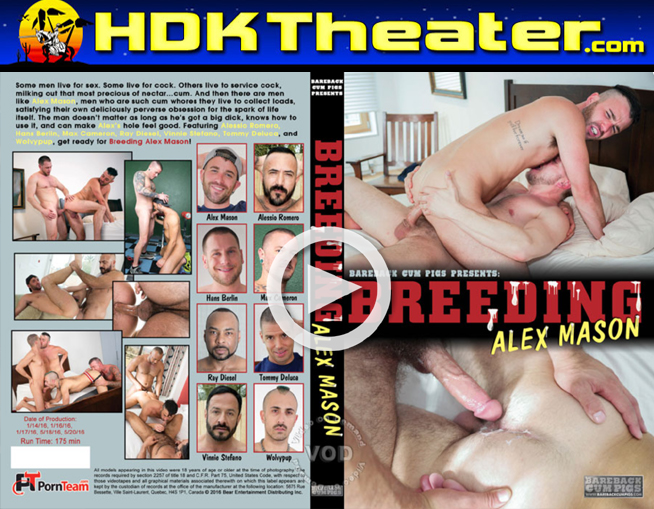 Watch the Full Length Movie at – www.HDKTheater.Com
Studio: Bareback Cum Pigs
Approximate Running Time: 02:56:44
Description:
Some men live for sex. Some live for cock. Others live to service cock, milking out that most precious of nectar…cum. And then there are men like Alex Mason, men who are such cum whores they live to collect loads, satisfying their own deliciously perverse obsession for the spark of life itself. The man doesn't matter as long as he's got a big dick, knows how to use it, and can make Alex's hole feel good. Featuring Alessio Romero, Hans Berlin, Max Cameron, Ray Diesel, Vinnie Stefano, Tommy Deluca, and Wolvypup, get ready for Breeding Alex Mason!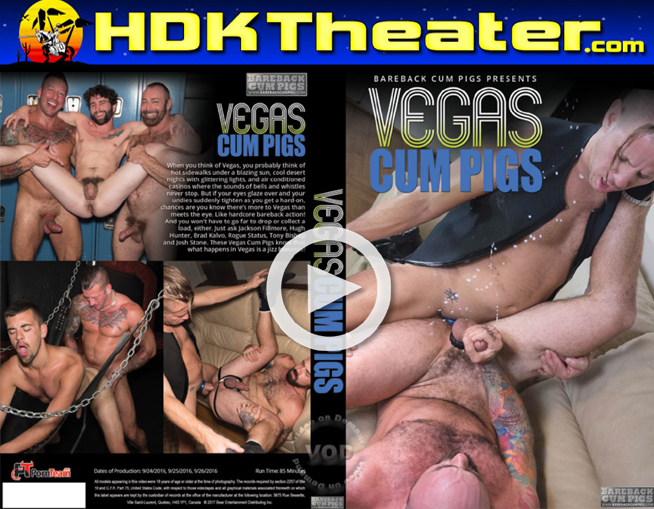 Watch the Full Length Movie at – www.HDKTheater.Com
Studio: Bareback Cum Pigs
Approximate Running Time: 01:26:49
Description:
When you think of Vegas, you probably think of hot sidewalks under a blazing sun, cool desert nights with glittering lights, and air conditioned casinos where the sounds of bells and whistles never stop. But if your eyes glaze over and your undies suddenly tighten as you get a hard-on, chances are you know there's more to Vegas than meets the eye. Like hardcore bareback action! And you won't have to go far to drop or collect aload, either just ask Jackson Fillmore, Hugh Hunter, Brad Kalvo, Rogue Status, Tony Bishop and Josh Stone. These Vegas Cum Pigs know that what happens in Vegas is a jizz bonanza!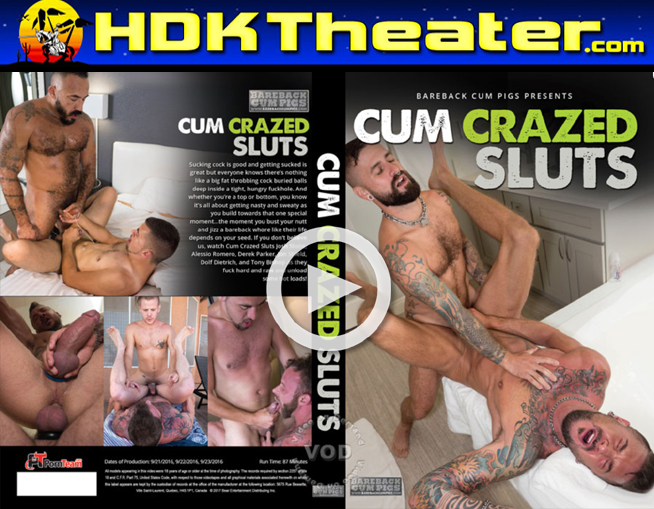 Watch the Full Length Movie at – www.HDKTheater.Com
Studio: Bareback Cum Pigs
Approximate Running Time: 01:27:36
Description:
These boys know that only thing better than taking a relaxing dip is having sex poolside or whenever they please! They go down on each other. These tattooed muscled hunks take turns on sucking each other's big hard cocks! When it comes to fucking, they take hard dicks as deep as possible and they're as loud as they want to be! The beefy, hairy and muscled studs bareback fuck and deliver a tasty mouthful and cum facials! They proudly pound their partners into submission and treat them like the bareback cum pig that they are!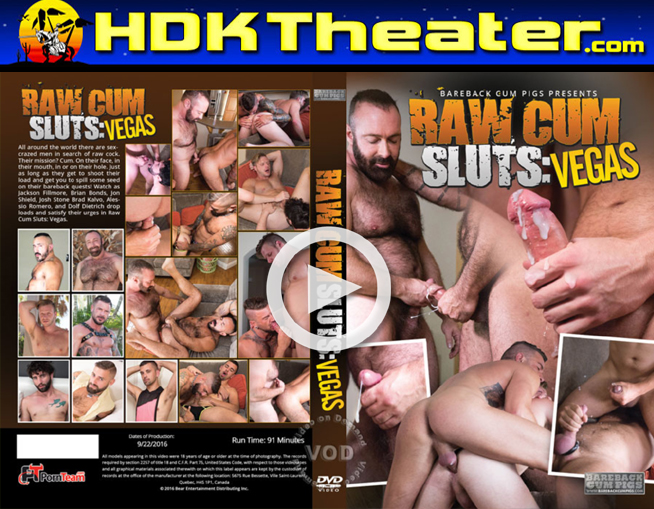 Watch the Full Length Movie at – www.HDKTheater.Com
Studio: Bareback Cum Pigs
Approximate Running Time: 01:31:49
Description
For those of you who love beefy muscled hairy men you're going to love this film! With the right amount of muscle and hair in all the places a man should have hair, these men come together like passionate animals. Kissing and making out, the bearded hunks tease and squeeze each others nipples. Alessio is soon on his knees, sucking down the entire length of Brad's long cock. The two flip so hairy latin tattooed daddy Alessio is the one on the receiving end of a blowjob. But Alessio is a true cock whore and as much as he enjoys being on top, he's soon back on his knees deep throating Brad like his life depends on it before bending over and taking it up the ass. Big daddy Brad pounds away at the hairy whore, bareback fucking his hot ass. Brad hits all the spots but it's not until Alessio is on his back that Brad makes his eyes roll back into his head, pumping away until they both spew big loads of daddy jizz. We bring you Jackson Fillmore and Brian Bonds, the other half of a foursome bareback group scene. Jackson and Brian take turns devouring each other then Jackson buries his face in Brian's hot ass. Slipping inside Brian, Jackson fucks him raw, stretching him open and getting Brian ready for Jon's fat slab of juicy meat. While Jon pounds away at Brian, Jackson bareback fucks Josh. But Jackson clearly prefers to fuck Josh's face as he soon pulls out and throat fucks the little piggy, getting it well and truly lubed with Josh's own spit. The bearded curly haired fucker then slides that uncut beauty back into Josh before sending him back to Jon. Brian returns to Jackson, who drops to his knee and worships Brian's fat cock before plowing him once more, seeding Brian's hungry fuckhole. Fucked by both, Jon and Jackson, and freshly seeded with Jackson's load, Brian then gives Jackson an enormous cum facial he gets to lick off like a good bareback cum pig should. Brian Bonds digs mansmells, which is why when we started this scene, he already had his face in Dolf Dietrich's armpit when we started filming. Soon, however, the scruffy blond bottom is on his knees sucking, choking and gagging on Dolf's big dick. As it turns out, the two are also into spitting while having sex. Brian spits occasionally on Dolf's cock but muscled and tattooed Dolf spits on Brian, treating him like the manwhore that he is. Brian just keeps on sucking, getting his face fucked. Dolf returns the oral favor and although he has some serious oral skills he's far better at rimming hungry manholes. Driving Brian to the edge of insanity, Dolf buries his tongue deep in Brian's crack, getting his asshole wet. When Brian can no longer stand it, he straddles Dolf and impales himself. Riding that raw fat dick, Brian fucks himself and doesn't let up until Dolf spurts his load. Brian, bareback cum pig that he is, sits right down on Dolf's cock, still spewing cum, and milks the rest of the load out of him. Then it's Dolf's turn to take control. He gets Brian on his knees, shoves his still hard cock inside the freshly fucked hole and pounds away. You can even hear his seed squelching inside the power bottom! Soon, Dolf is ready to come a second time. This time, Brian wants to eat his load, which he does, savoring it to the point of swallowing all the protein, while he himself pumps out a juicy load, and not letting us see Dolf's jizz. Greedy cum pig. Sometimes, when you film a porn scene the results can be unpredictable. You have to be ready and change direction on the fly, which in a way, is what happened with this week's scene. Jon Shield, Josh Stone, Jackson Fillmore and Brian Bonds all arrived within minutes of each other. Instead of keeping anybody waiting, however, we decided to film them all at once. And since they were all horny and up for anything, they were ready to go! Stripped and in pairs even before we got the cameras rolling, Jackson and Brian were making out beside Jon and Josh. They soon moved to sucking dick, with Josh gagging on Jon's big fat cock and getting his face fucked. The whore slobbers all over Jon, paying attention to his balls, before ending up on the couch, facing the wall. It's a wham-bam, thank you ma'am type of fuck as Josh gets stuffed and pounded raw. After a while, the bottoms change it up. Josh drops to his knees to get his face fucked by Jackson and Brian takes bearded hairy Jon's mouth watering cock up his very hungry hole for a balls deep bareback fuck. But Jon's load belongs to Josh, at least for this scene, and the slut puppy returns so Jon can stretch him out, pound him into submission and treat him like the bareback cum pig that he is. Next week: Jackson Fillmore and Brian Bonds!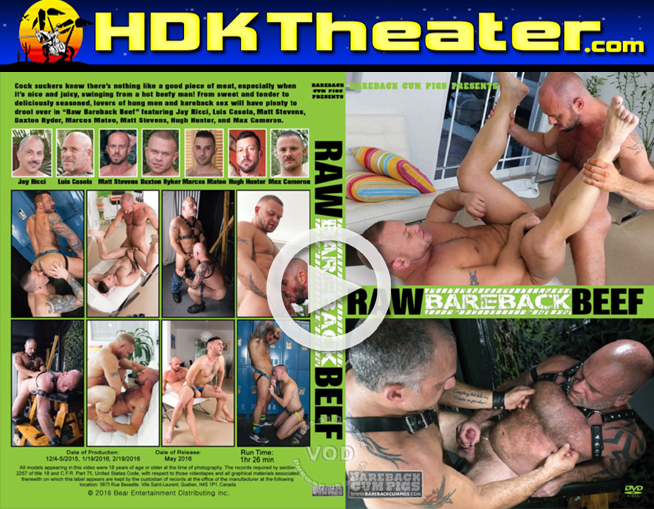 Watch the Full Length Movie at – www.HDKTheater.Com
Studio: Bareback Cum Pigs
Approximate Running Time: 01:24:55
Description:
Cock suckers know there's nothing like a good piece of meat, especially when it's nice and juicy and swinging from a hot beefy man! Watch as these insatiable, furry beefcakes go at one another with the fury of wild animals. They only fuck raw and just love getting nasty for the camera!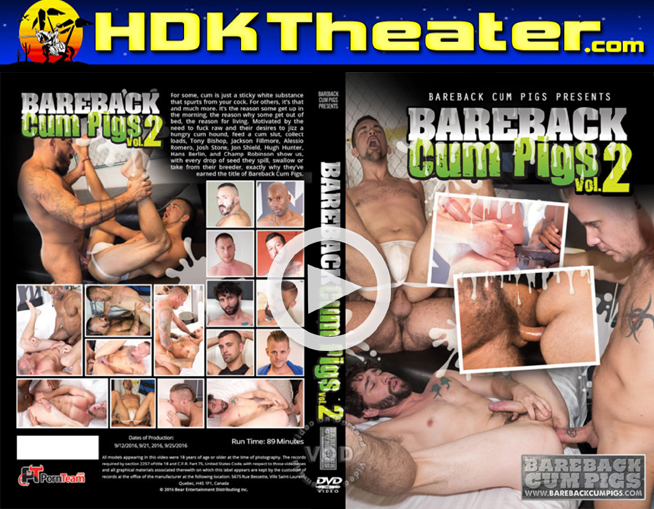 Watch the Full Length Movie at – www.HDKTheater.Com
Studio: Bareback Cum Pigs
Series: Bareback Cum Pigs
Approximate Running Time: 01:29:32
Description:
For some, cum is just a sticky white substance from shoots from your dick. For others, it's that and much more. It's the reason some get up in the morning, the reason why some get out of the bed, the reason for living. Motivated by the need to fuck raw and their desires to jizz a hungry cum hound, feed a cum slut, collect loads, this cast of horny fuckers show us what they're made of in this messy four scene collection!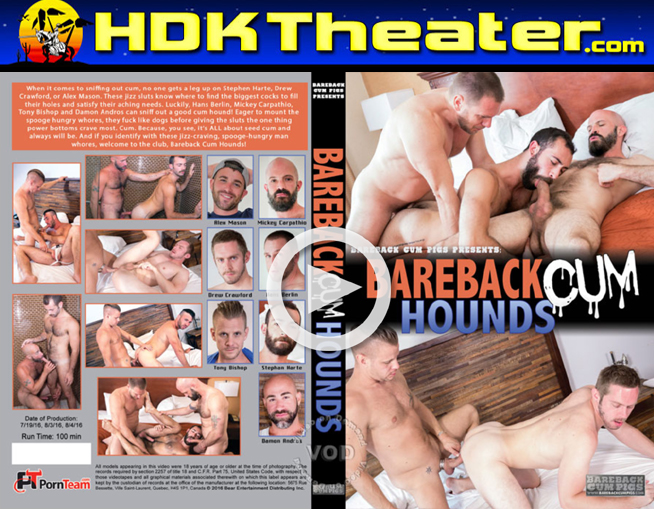 Watch the Full Length Movie at – www.HDKTheater.Com
Studio: Bareback Cum Pigs
Approximate Running Time: 01:40:57
Description:
When it comes to sniffing out cum, no one gets a leg up on Stephen Harte, Drew Crawford, or Alex Mason. These jizz sluts know where to find the biggest cocks to fill their holes and satisfy their aching needs. Luckily, Hans Berlin, Mickey Carpathio, Tony Bishop and Damon Andros can sniff out a good cum hound! Eager to mount the spooge hungry whores, they fuck like dogs before giving the sluts the one thing power bottoms crave most. Cum. Because, you see, it's ALL about seed cum and always will be. And if you identify with these jizz-craving, spooge-hungry man whores, welcome to the club, Bareback Cum Hounds!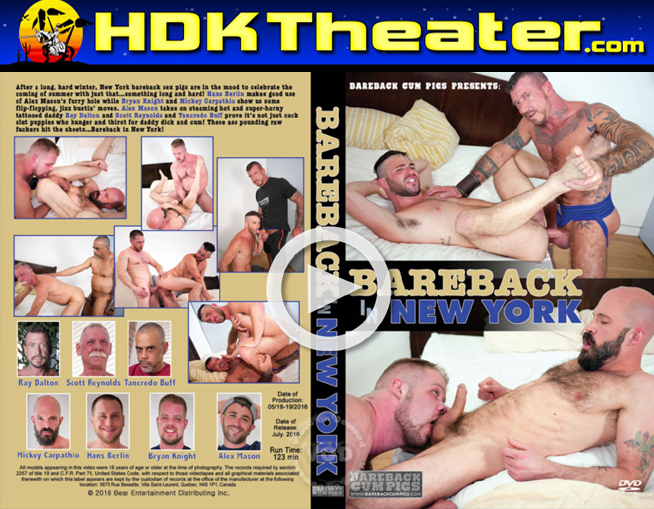 Watch the Full Length Movie at – www.HDKTheater.Com
Studio: Bareback Cum Pigs
Approximate Running Time: 02:02:47
Description:
After a long, hard winter, New York bareback sex pigs are in the mood to celebrate the coming of summer with just that…something long and hard! Hans Berlin makes good use of Alex Mason's furry hole while Bryan Knight and Mickey Carpathio show us some flip-flopping, jizz bustin' moves. Alex Mason takes on steaming hot and super-horny tattooed daddy Ray Dalton and Scott Reynolds and Tancredo Buff prove it's not just cock slut puppies who hunger and thirst for daddy dick and cum! These ass pounding raw fuckers hit the sheets…Bareback In New York!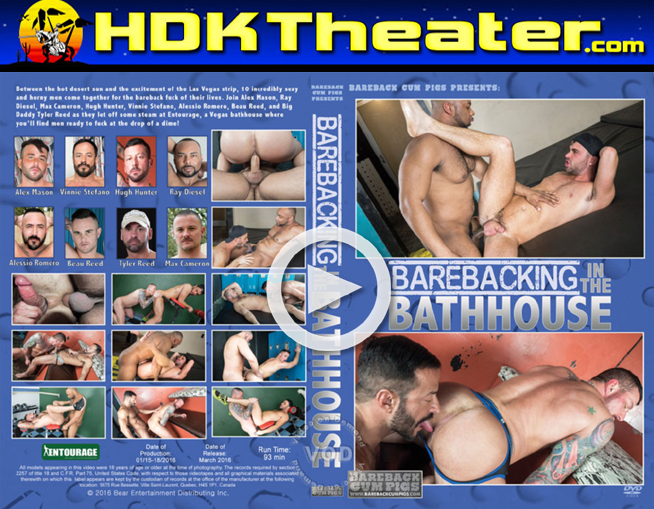 Watch the Full Length Movie at – www.HDKTheater.Com
Studio: Bareback Cum Pigs
Approximate Running Time: 01:34:09
Description:
Between the hot desert sun and the excitement of Las Vegas strip, 19 incredibly sexy and horny men come together for the bareback fuck of their lives. Join them as they let off some steam at Entourage! …a Las Vegas bathhouse where you'll find men ready to fuck at the drop of a dime!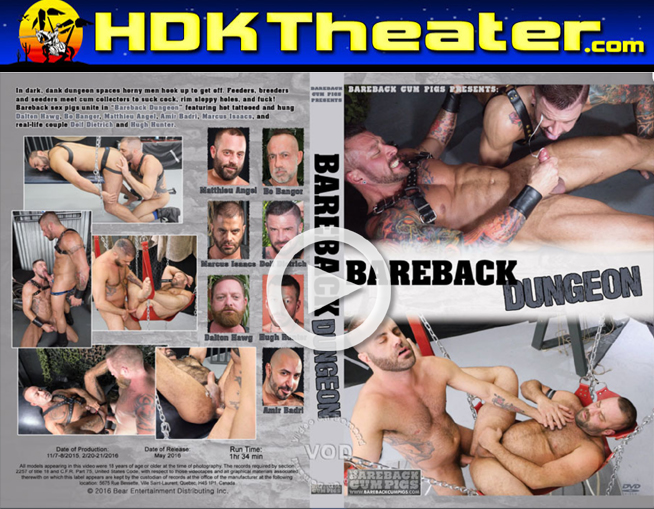 Watch the Full Length Movie at – www.HDKTheater.Com
Studio: Bareback Cum Pigs
Approximate Running Time: 01:34:11
Description:
In dark, dank dungeon spaces horny men hook up to get off. Feeders, breeders and seeders meet cum collectors to suck cock, rim sloppy holes, and fuck! Bareback sex pigs unite in "Bareback Dungeon" featuring hot tattooed and hung Dalton Hawg, Bo Bangor, Matthieu Angel, Amir Badri: Marcus Isaacs, and real-life couple Dolf Dietrich and Hugh Hunter.