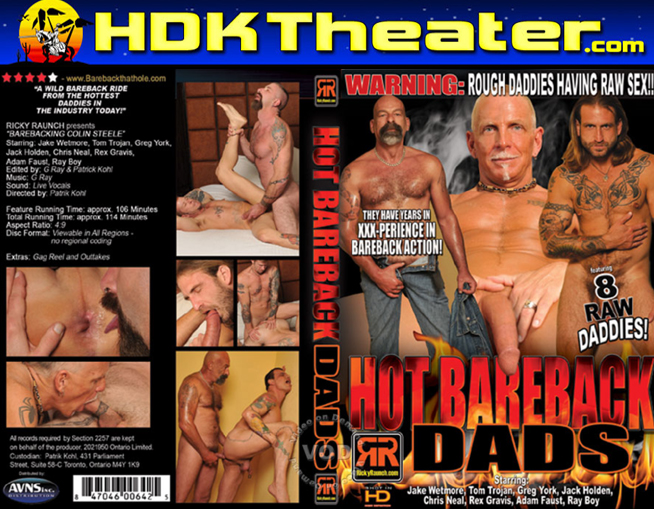 Watch the Full Length Movie at – www.HDKTheater.Com
Studio: Ricky Raunch
Director: Patrik Kohl
Approximate Running Time: 01:49:32
Description
The scene opens with Ray Boy's face nuzzling Jack's hairy manbush then eagerly devouring his thick cut cock. Ray Boy swallows his tool with ease much to Jack's delight. Jack then teases Ray Boy's hole with his fingers and tongue, prepping him for a raw fuck. The sex heats up when Ray Boy stands over Jack's cock, spreads his ass, and slides down the raw tool, fucking himself in cowboy position. Ray Boy grinds his ass onto Jack's cock, riding him like a bronco. The action intensifies when Jack flips him onto his stomach and slides his huge fat tool in and out of his eager raw hole. He throws Ray Boy onto his back, legs up in the air, and starts to pile drive him deep and hard. He fucks him with long hard strokes as Ray Boy grunts and moans in delight. The scene reaches its climax when Jack pulls Ray Boy to the edge of the bed. Jack spreads his legs into a V and continues to fucks him until he drops his nut and breeds Ray Boy deep. Ray…
Jake is on hands and knees, servicing Jack's thick, cut daddy dick, working his tongue up and down Jack's thick shaft. Jack turns Jake around and bends him over, firmly plants his tongue deep in Jake's greedy hole. Jack finger fucks Jake's furry hole, first with one finger, then two, then three. Jake squirms and squeals, begging Jack for his cock. Jack slides his thick headed manmeat into Jake, grabs his hips, and starts pumping Jake deep and hard. He pulls Jake's ass to the edge of the bed and throws his legs up, exposing the freshly fucked puckering hole. Jack spits on his dick and slides back into Jake, fucking him with long deep thrusts until he shoots a thick creamy wad all over Jake's raw hole. Jack pushes it in and continues to fuck Jake, who soon shoots his own nut all over himself. Jack felches Jake's sloppy hole and they share the tasty load. …
Rex Gravis is on all fours, slurping on Adam Faust's cock and servicing his balls. It doesn't take long for Adam to reciprocate as they get into a 69 position. Adam rims Rex's furry hole, priming it for his raw cock, then slides his cock deep into his bare hole. Adam pounds Rex hard and deep while Rex moans for it, harder and deeper. Adam flips Rex on his belly, spreads the ass cheeks apart and spits on his hole. Then he keeps fucking Rex until he breeds him with his load. When Adam pulls out, he shoves his fingers into Rex's sloppy cumhole and feeds it to Rex to sample. Rex then rides Adam until he drops a load and the two end with a sloppy kiss.
Chris and Jake start off by feverishly sucking each other in a hot 69 then rimming each other's holes. It doesn't take Chris long to slide his inked cock into Jake's hairy butt. Chris pumps Jake, making him moan and begs for more. Chris flips Jake over on his back and pummels him with deep strokes. Soon, however, Jake throws Chris on his back, shoves his tongue up his ass and slides his bare cock into the willing hole. Jake pulls Chris to the edge of the bed and rides his raw ass, making it nice and loose. Jake then gets Chris back on all fours, ass up in the air but Chris turns the table on Jake and plows his huge cock up the hairy ass until he sprays a huge load all over the messy, twitching hole. Jake licks them both clean they hug tenderly as they taste each other in a cum-filled kiss.
After groping each other, Greg wraps his lips around Jack's thick cock while Jack rims his ass. When the hole is spit-lubed, Jack slides his fat cut dick into Greg's raw hole and pile drives into his ass with hard deep thrusts. He breeds Greg with a thick gooey load almost immediately but continues to fuck Greg like a dog. After a while, Greg sits on Jack and rides his manmeat as he lets out a huge nut all over himself. Jack wastes no time in licking it up and sampling the load before sharing it and swapping a kiss with each other. .
Tom is on his hands and knees, working Jake's inked and delicious manmeat. Soon Jake fingers Tom's smooth pink hole and the eager bareback bottom pushes back until he's got three fingers stretching his sphincter. Jake grabs hold of Tom's hips and slides his raw cock into him. Tom quivers with delight and begs for more as Jake loads him up with a fresh load of spunk. Jake then pulls Tom to the edge of the bed, bends him over, and exposes his sloppy hole. Jake spits on his dick and slides it back into Tom, pumping him from behind until he nuts a second time. The scene reaches a cum-sloppy climax when Jake drops yet a 3rd load and Tom squirts a messy one all over himself, Jake, and the camera guy!