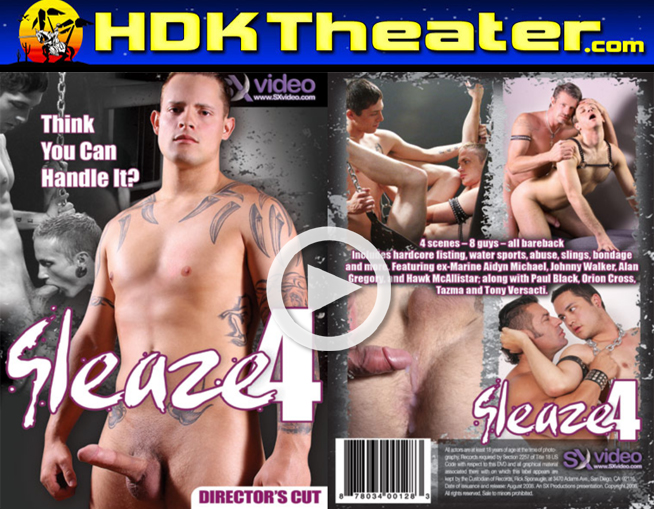 Watch the Full Length Movie at – www.HDKTheater.Com
Studio: SX Video
Series: Sleaze
Director: Ben Baird
Approximate Running Time: 01:51:35
Description:
SCENE ONE:
Scene 1 pairs ex-Marine Aidyn Michael, a fat-dicked, inked mother fucker, with pretty boy Johnny Walker. Aidyn has a lot of aggression to work out and Johnny gets it full on. Aidyn handcuffs Johnny before finger fucking him hard and shoving a dildo in hard and deep. Johnny is making too much noise so he gets a ball gag in that hole and cock in the other. Are his moans pain or pleasure?
SCENE TWO:
Paul Black uses Tony Versacti like a rented mule in Scene 2. Paul does not spare the paddle on Tony's little rump. The punker takes every swat and asks for more as he sways in the sling. He shows what a good boy he is by sucking Paul's wank, eating his ass and licking his feet. For his reward Tony gets a big dildo in his red ass and then doused in a river of piss. The two passionately fuck, Tony riding Paul's big dick.
SCENE THREE:
Scene 3 features porn pros Hawk McAllistar and Alan Gregory. Hawk takes charge of Alan, making him his boy for the session. And, as we know, every boy needs to be fisted now and then. Hawk expertly and slowly opens Alan up until he can bury his whole hand.
SCENE FOUR:
Tazma, a Latino muscle brute, wants to have his way with Orion Cross. Orion can only resist a little while before he has Tazma's fat, uncut cock first in his throat and then in his ass pie. It doesn't take long before Tazma is stretching Orion's pucker with a huge dildo and fist. Orion grunts and groans, but he loves every minute. He also enjoys a mouthful of his own cum.