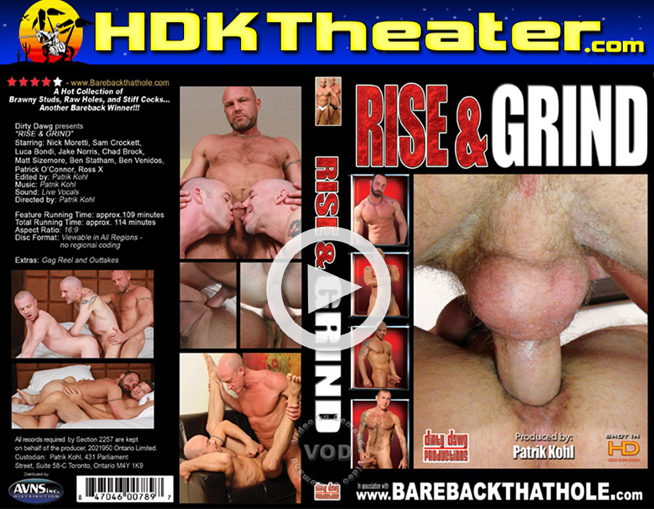 Watch the Full Length Movie at – www.HDKTheater.com
Studio: Dirty Dawg Productions
Director: Patrik Kohl
Approximate Running Time: 01:59:20
Description:
A collection of hot studs in hot, hard bareback action! Rise & Grind features five intensely sexy scenes of couples and three-ways. There really is nothing like these brawny guys as they screw raw and shoot loads of steaming spunk on each other! If you're searching for bareback action you do not want to miss Rise & Grind!
Nick and Matt are passionately kissing as the cameras pan in. Matt slithers down to Nick's crotch and vice versa as they both take turns sucking and swallowing one another. Nick spins Matt around and devours his firm puckered hole. Matt returns the favor and buries his face deep into Nick's furry man butt. Nick wastes no time as he bends Matt over on all fours and pokes his hole with his long probing cock. He nails his ass bareback in a variety of positions, first straddling him from behind, and then mounting him while on his back. Matt spread his crack and begs Nick for more and more. Matt shoots his load all over Nick's hard cock. Nick uses his cum as lube as he jerks off his load and shoots his cream all over Matt's face and tongue. Exhausted, Sweaty, and covered in cum they each lie back and smile at what great sex they just enjoyed.
Sam's face is buried between Luca's legs, devouring his thick uncut cock and sampling his meaty balls. He then fucks Luca's face as the bearded, greedy muscle hunk moans with pleasure. After a while, Sam spreads Luca's ass to reveal his pink twitching butt hole. Sam rims Luca's beefy bubble butt, tongue fucking his hole, then mounting Luca and fucking his puckered hole raw. With the entire length of Sam's big dick pile driving his hole, Luca proves what a greedy cock whore and dedicated bottom he truly is. After getting slammed, Luca rides Sam, bouncing up and down the meaty shaft. He shoots his nut all over Sam's chest and stomach and dismounts as Sam grabs his freshly shot cum and uses it as lube. Sam blasts all over Luca's bearded face and the two end with a sloppy cum-filled kiss, their bodies covered in sweat.
Ross and Patrick service each other as they suck and rim in a 69 position. Patrick takes his big fat cock deep in his mouth as Ross eats and rims his smooth pink hole, getting it ready for hard raw fucking. Patrick sits on his bare cock and rides him cowboy style. Ross pumps his ass from underneath as Patrick's hole sucks and swallows his cock. Patrick dismounts and tastes his own ass as he cleans off Ross's shaft then gets bent over and fucked from behind. Ross nails him hard and deep as he begs for it over and over again. Ross pulls him over to the leather chair and orders Patrick to sit back down on him again. Patrick's ass clamps down onto Ross's cock as he rides him like a bucking bronco. Ross breeds his load deep into Patrick as he is pumping him from below. Patrick strokes off his cock as he feels the warmth of the load inside him. He shoots his nut all over the floor and carpet, then leans back and shares a sweaty kiss with Ross as his cock falls out of his sloppy hole.
Ben Statham is on his knees before Jake Norris, servicing his thick swollen cock. After Ben's had a chance to worship the muscled daddy, his cock, and then his balls, Jake returns the favor, sucking Ben and playing with his loose foreskin. He exposes Ben's fat head as he swallows his hard cock. Jake then turns him around, bends him over and buries his face deep into Ben's ass crack. He rims the hole, teasing Ben's sphincter with a good tongue fucking and deep probing fingers. Once Ben is ready, Jake slips his cock deep into his puckering man hole and fucks him bareback. Jake straddles Ben, power fucking him relentlessly and making him beg for more, to go harder and deeper. Jake throws Ben on his back, on the floor, and spreads his legs wide open. Shoving his big dick inside the bareback bottom, Jake fucks rough and hard, shooting his load all over the muscled ass. Jake continues to breed Ben's hole, his cock back into the sloppy ass crack and Ben shoots his white gooey nut all over his chest and stomach. Jake plays with his cum, tasting and sampling before sharing a sloppy wet kiss, their bodies drenched in sweat as they embrace.