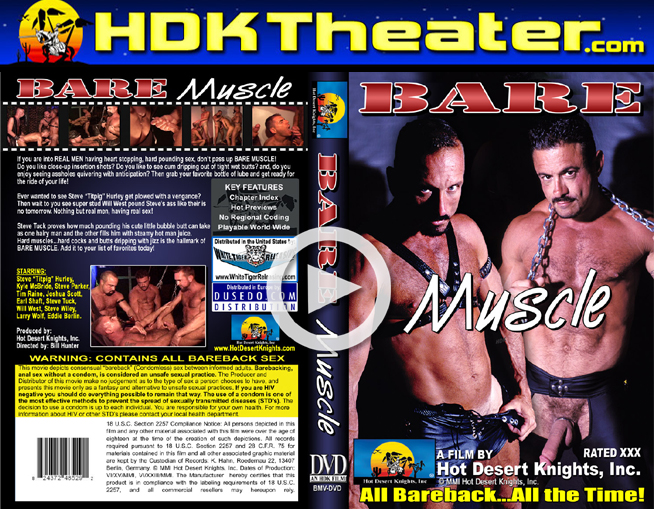 Watch the Full Length Movie at – www.HDKTheater.com
Studio: Hot Desert Knights
Director: Ray Butler
Approximate Running Time: 01:20:10
Description:
If you are into real men having heart stopping, hard pounding man-sex with no holds barred then Bare Muscle is going to be the next video to add to your collection. If you like our close up insertion shots…cum dripping out of tight, wet butts and like to see the tight ass holes quivering with anticipation then just grab your favorite bottle of lube and get ready for the ride of your life as you watch Bare Muscle.
Ever wanted to see Steve "Titpig" Hurley get plowed with reckless abandon? Wait till you see how will West of Dungeon fuck party and double dipping fame ravages Titpigs tight "virgin" hole. Steve Tuck, with his cute little bottom butt shows just how much hard muscle pounding his boy-butt can take.
Hairy men, hard muscles, hard cocks and butts dripping with man juice is the hallmark of Bare Muscle. Add it to your list of favorites today!
Watch the Full Length Movie at – www.HDKTheater.com