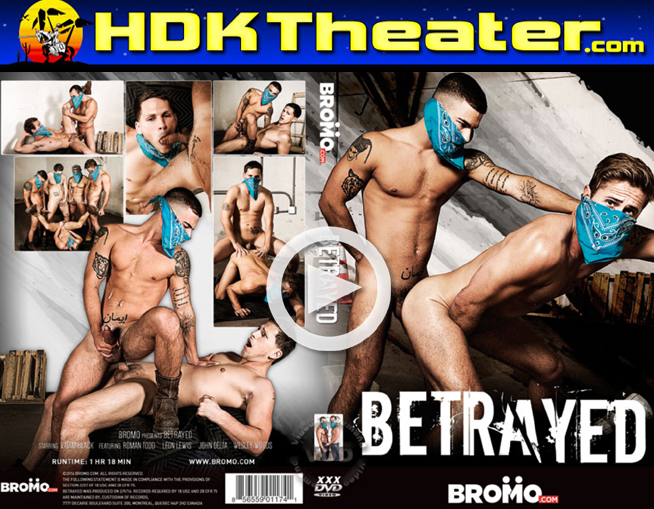 Watch the Full Length Movie at – www.HDKTheater.com
Studio: Bromo.com
Approximate Running Time: 01:18:07
Description
When John Delta finds out his boyfriend's been betrayed by his cheating, he is devastated. That is, until he decides to party his pain away. A handsome and mysterious young man hands him a card with a bandana at the club. With his interest peaked, and his ass hungry, John follows his instinct to check out the address on the card.Leon Lewis is there to greet him, face covered, shirtless, and a thick uncut and meaty treat for John to discover. The pair don't waste any time and start sucking dick and eating ass. When Leon rams his massive raw piece into John's beautiful hole, all the day's troubles seem like a distant memory.
Roman Todd finds a cryptic card in his jeans and decides to call the number. When he shows up to the address, he finds the young Adonis (Vadim Black) he'd almost hooked up with earlier. Still donning a bandana over his face, Vadim drops his pants and in no time Roman is on his knees deep-throating his big dick. What follows is an epic raw flip-flop session that these guys sure won't forget anytime soon.
Wesley Woods wakes up to a mysterious card and bandana on his pillow. With an inquisitive mind he shows up to the location where horny and forceful Vadim undresses him, then shoves his huge raw uncut cock deep inside Wesley's eager ass. Being the power bottom that he is, Wesley rides, moans, and revels in Vadim's raw power all the while screaming for more.
Just getting over his ex, John goes back for more fun. Only this time, three mysterious guys show up. When he finds out that his ex (Wesley) is one of them, he decides to show him just how much he's over him by taking on Roman, Vadim and Leon's raw cocks as Wesley watches in envy. John then motions to Wesley to come join the fun and these five guys proceed with one of the hottest, mouth-watering bareback orgies they'll ever have.