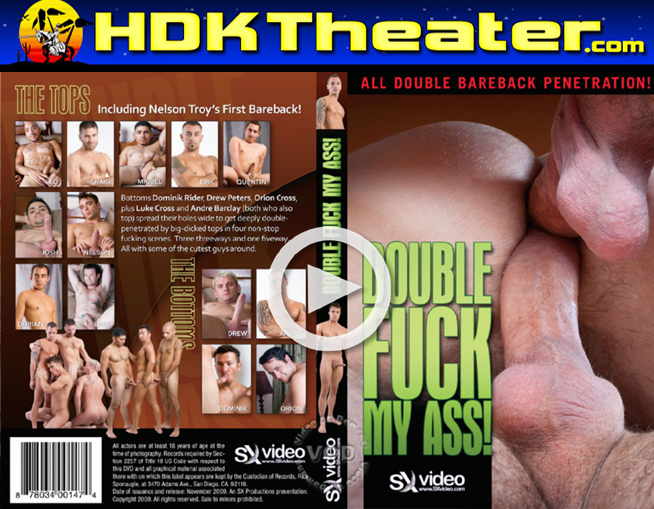 Watch the Full Length Movie at – www.HDKTheater.Com
Studio: SX Video
Series: Double Fuck My Ass!
Director: Ben Baird
Approximate Running Time: 01:46:40
Description:
To start things out, in Scene 1 Drew Peters, Andre Barclay, Nelson Troy, Erik and Craig get all into one another for this non-stop orgy. Drew and Andre both get deliciously double fucked.In Scene 2 partners Orion and Luke Cross are spending the afternoon in bed playing when Josh O'Heart comes by to join in. Orion needs both cocks up his steaming hole. He gets that and two loads.
Dominik Rider's ass never had it so good as it does in Scene 3. Buffed-out, hairy-assed Latino Miguel Temon and homeboy Leo Rivera take over Dominik's hole in every way they can until they double fuck it. After Leo drops a load, Miguel pumps in one of his own and pushes Leo's in deeper.
Luke Cross comes back for more in Scene 4. He is joined by Dorian Black and Quentin Silver. This time it is Luke getting the two-cocks-in-one-hole treatment. It hurts but he wants it.