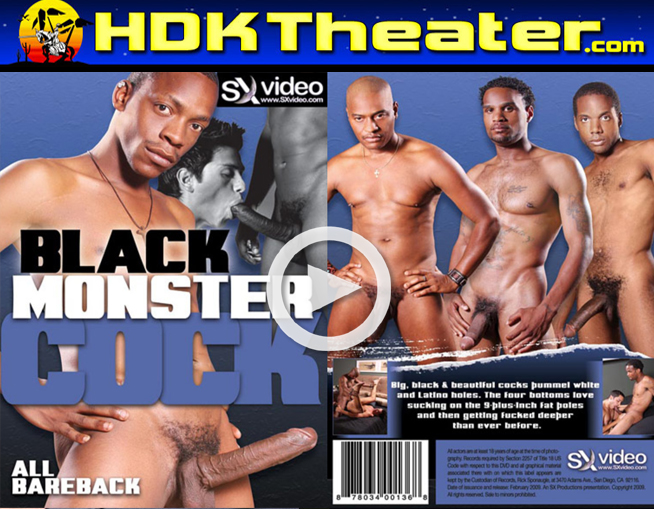 Watch the Full Length Movie at – www.HDKTheater.Com
Studio: SX Video
Series: Black Monster Cock
Approximate Running Time: 01:10:40
Description:
Four black tops who swing exceptionally big equipment between their legs take on four ready-to-please bottoms who love getting stretched and pumped by big black cock fat cock. So Sit back and lube your cocks and enjoy bareback sex with some of the most known names in gay film!!Scene 1 brings muscle bottom J.D. Lopez together with Jack Trade, an Eddie Murphy look-alike. Lopez deep throats Trade's 9-inch curver to get the party started. He then gets on all fours for the main event. Trade keeps it hard and Lopez rides and rides.
Young pup Orion Cross is proud at how much cock he can take. Mike Shawn is proud of his huge cock. It is a perfect match for Scene 2. Shawn licks Cross' hole for a nice long time until it is slick and ready for action. Cross starts moaning uncontrollably once he sits on that monster dick and brings it to climax.
With 10 inches, Rod Rockhard is the cock king in this video. Mark Mann (who is hung big himself) is happy in Scene 3 to worship that donkey dick and see if he can handle it up his ass. He can. And does. First he sucks it, almost chocking but never stopping. Then he takes it, Rockhard pulling in and out, in and out.
In Scene 4 Mickey Dee Jay tells Black Delight he only gets fucked by guys with 8 inches or more. Delight pulls out 9 and Dee Jay is on it, his pink hole swallowing up every inch until they both spurt!