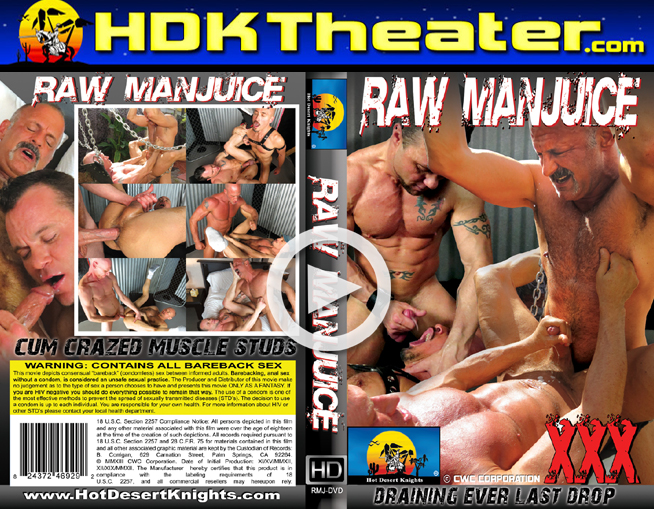 Watch the Full Length Movie at – www.HDKTheater.com
Studio: Hot Desert Knights
Director: David Adamson
Approximate Running Time: 01:30:56
Description:
Are you ready to come and join the party? "Raw Man Juice" is going to bring you one hell of a hardcore, raw, cum filled fuck-fest. Check out these horny studs and daddies as they ram, pound and fill greedy cum hungry bottoms. Taking it to the extreme is what these guys are gonna do.
From ripped hot muscular studs and hardcore silver daddies, to raw cum whores, one scene after the next will take you on a cum crazed journey from out-door spa's and slings, to backroom dungeons and cages, to resort bedrooms, as they plant there DNA into hot eager holes, leaving gobs of semen as there mark. And for those of you who believe Jayson Park is only a World Class Super-Bottom, wait to you see the expression on Drew Sumrok's face as Jayson Park flips him over and rams his hard, wet cock up Drew's hot, tight, quivering asshole! ….and once he started there was no holding him back! It was an historic moment as it was the first time Jayson Park has ever been a Top on camera.
Insatiable raw mansex is the great experience, and Raw Man Juice presents it in all its fucking glory. You'll find it all, power, muscle, insatiable punishing cocks, cum whore bottoms and pure raw lust. So get lubed up and hold on to your cock for one thrilling ride. Some call it an addiction, but gay men love man-juice and "cruising" resorts in search of a hot encounter and a hot steamy load, and in this HDK Porn Classic these 'fucking hot muscle studs' waste no time taking advantage of every rock hard piece of man-meat on offer to get it. If you've ever dreamed of spending an entire weekend at a gay resort taking load after load up your wide-open cum-craving hole, or if you've ever longed to breed the juicy hole of a hot muscular stud or porn star cruising for sex – then you'll love Raw Man Juice…and just wait and see Jayson Park top for the first time!
Watch the Full Length Movie at – www.HDKTheater.com