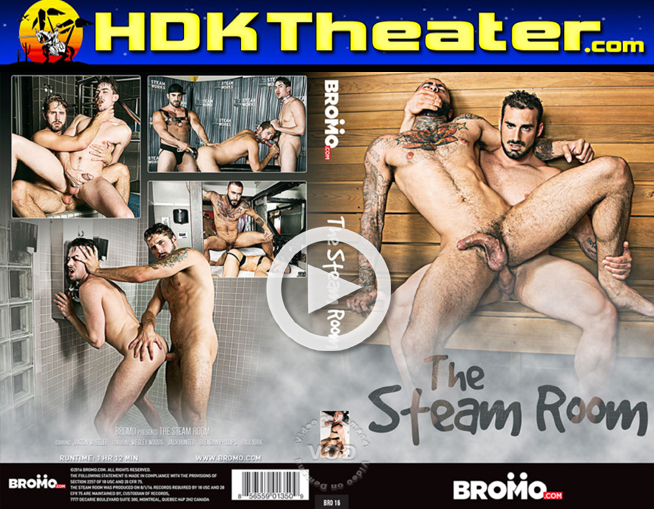 Watch the Full Length Movie at – www.HDKTheater.com
Studio: Bromo.com
Approximate Running Time: 01:12:30
Description:
Scene One: The world of steam rooms and bathhouses is revisited in this first installment of The Steam Room, with powerhouse Jaxton Wheeler luring Rikk York into the sauna with his massive cock peeking out from under his towel. Rikk doesn't waste any time and deep-throats Jaxton, right before sliding his incredible ass of his onto Jaxton's thick cock bareback. Jaxton then mercilessly fucks Rikk in what is definitely one of the best bareback scenes of the year.
Scene Two: We're treated to a kinkier side of steam rooms and bath houses, including leather-play, leashes and a very dominant Jaxton Wheeler. Jaxton plays master to cum-guzzlers Jack Hunter and Wesley Woods, and wields his power effectively. He controls everything, from edging Jack, to how deep Jack's huge cock goes down Wesley's throat, or how fast or slow Jack gets to fuck Wesley's hungry ass.
Scene Three: When Jack Hunter and Welsey Woods are left alone in the pool, things quickly heat up. Jack quickly makes good use of his pretty mouth by going down on Wesley's huge cock and balls, before flipping him around and burying his face in Wesley's eager ass. The two pound each other bareback in what is arguably one of the hottest flip-fuck scenes we've seen in a while.
Scene Four: Rikk York and Brendan Phillips bring us back the kink we were all missing in our lives. Rikk takes charge and uses Brendan like the plaything he is, shoving his massive cock all the way to the back of Brendan's head, then flipping him around, and ramming it raw and hard inside Brendan's hot ass.