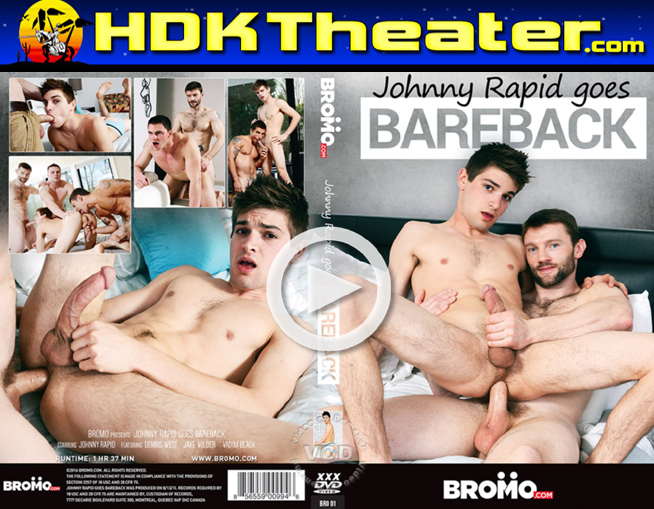 Watch the Full Length Movie at – www.HDKTheater.com
Studio: Bromo.com
Series: Johnny Rapid Goes Bareback
Approximate Running Time: 01:37:24
Description
Johnny Rapid invites his good friend Dennis West over to his Atlanta home for a little bareback fun. As soon as Dennis arrives, Johnny – being the gracious host that he is – welcomes Dennis to town with a nice warm mouth and even warmer hole. Dennis plows his enormous cock into Johnny's little ass before filling him up and breeding his hole.
Jake Wilder comes to town after Johnny invites him over for a little getaway. Johnny is out picking up his other model friends when Jake decides to go for a quick swim and is greeted by Dennis – who offers to help Jake warm up after his swim with a little body contact. Dennis slides his hung cock into Jake's muscle ass until he fucks a huge load out of him. Dennis uses Jake's cum as lube before he cream pies his delicious ass.
Johnny has some hot friends! Vadim Black is in town now, and is really ready to work Johnny's hole. Johnny rides Vadim's thick cock before Vadim explodes his cum shot and slides back into Johnny's ass. Soon Johnny busts his nut all over Vadim's hot body.
Finally the gang is all here and ready to stretch out Johnny's hole to the max. They all get to pound his butt… and he even gets double penetrated! Dennis and Jake DP his hole first and then Vadim and Dennis really stretch him out as Jake holds Johnny as he's bouncing on the guy's thick cocks. They all take their turn cumming on his hole until Dennis finally pushes it all in with his bare cock.