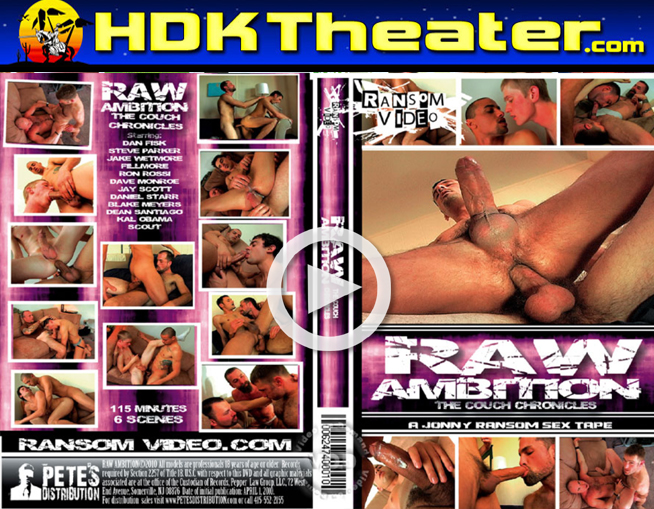 Watch the Full Length Movie at – www.HDKTheater.com
Studio: Ransom Video
Director: Jonny Ransom
Approximate Running Time: 01:49:30
Description
Scene 1 – Ron Rossi and Dave Monroe
One Handsome Hairy Man and One Handsome Smooth Guy with a beautiful uncut cock meet for a HOT fuck session in this scene. You can tell that these Handsome Men really enjoyed exploring each other's body too. Dave practically has a worship session with Ron's Big Beautiful Uncut piece to kick things off. After Ron sits on Dave's Big Cock and buries that bone balls deep and starts riding, Dave stretches his neck and mouth so he can suck on Ron's uncut cock while Ron rides his pole. After Dave blows his load, he carefully licks up his jizz and then gives Ron some Hot Cum filled Tongue Kisses.
Scene 2 – Daniel Starr and Blake Meyers
These Handsome Young Boyfriends were behind on their rent when they contacted me about doing a scene. I told them I thought that I could help them earn the money to get up to date on bills and if they came over together we could talk about scene work for each of them. When they arrived both of them were so cute that I couldn't pass up the opportunity to shoot these two cute young guys together. They seemed to know each other's bodies pretty well It seemed that they had their pre-assigned roles of top/bottom and I wanted to mix it up a bit by having them do a versatile flip flop fuck scene and capture that on camera. These Two Handsome Young Men don't disappoint and give us quite the show! It's fun to watch these Fresh Handsome Faces mix up sexual roles with their Big Young Virile Cocks, All just to pay the rent!
Scene 3 – Kal Obama and Scout
These Handsome Young Bi Guys had previously done an oral scene together for another studio and had fun, but they wanted to take it to the next level on screen and do some hot raw fucking. I told them I could definitely help them take care of that, as long as I could film it! They obliged and the results are pretty great. This young bottom guy really is into Big Uncut Cocks and ATM, even though he digs chicks too. In a way I really like doing Gay scenes with Bi Guys , because they bring their somewhat repressed Homosexual energy to the shoot and they really get uninhibited when I match them with a guy they're really into. See for yourself!
Scene 4 – Steve Parker and Jay Scott
When I reconnected with Sexy Jay from a couple years back and asked if he was ready to do a scene, he said "Hell Yeah!" I remembered his penchant for Hot Hairy Daddies and immediately thought of Steve Parker for his scene partner. The problem was that Steve had hung up his jock strap a year or two back and claimed he was in porn "retirement" Steve is a great guy that I've worked with for years, and I figured with as Hot Jay is, Steve could be and would enticed back into bareback porn. Jay's Handsome Face and Sweet Ass sure did the trick! Watch as Steve pummels Jay's Ass then as he cums gallons on Jay's Ass and keeps power fucking this Hot Bottom Man until he blows his load all over his blonde haired crotch. Both of these guys are some Seriously Sexy Hairy MEN!
Scene 5 – Dan Fisk and Dean Santiago
Dean looks Smoking Hot in this scene with his Smooth Muscular Body and Absolutely Beautiful Ass perfectly framed in a Black jock strap. I don't blame Dan for ripping off Dean's pants and eating that Hot Ass like a hungry Jackal. Dean gets the FULL Dan Fisk treatment too with Dan's Mouth all over his body and Dan's Huge Stiff Cock Throbbing in Anticipation of Creaming Dean's Hot Hole. Dean goes for it right away and cops a squat on Dan's Big Pole, then goes for a ride like a Sexy Cowboy trying to win the rodeo!
Scene 6 – Jake Wetmore, Fillmore and Jay Scott
If you've ever wanted to be used at both ends by two men purely for their sexual gratification, without them giving a fuck about you, then you should watch this scene to see how Jay gets it done. I swear I didn't hear much out of him the whole time we shot this scene. For starters, he was perfectly content to have his hot hairy hole used by Jake while Fillmore headed up the front end with his cock firmly planted all the way down Jay's throat. Jake and Fillmore trade off Jay's Hole and Mouth and make him clean their cocks off with his mouth with some Hot Nasty ATM action. While Fillmore pumps away, he and Jay both give Jake's cock and balls a good tongue bath getting it lubed and ready for more selfish ass fucking. Jake and Fillmore both use Jay's Hot Hole to their satisfaction. These Two Guys make a great Team when it comes to a Selfish Tag Team Fucking!