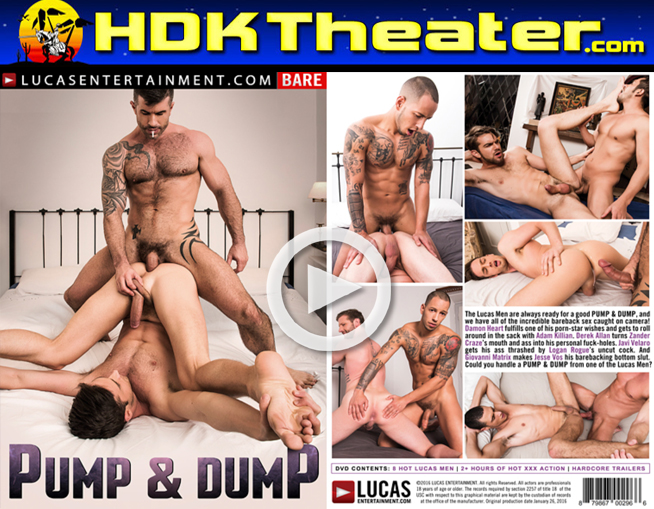 Watch the Full Length Movie at – www.HDKTheater.com
Studio: Lucas Entertainment
Director: Michael Lucas
Approximate Running Time: 02:27:45
Description
The Lucas Men are always ready for a good "Pump & Dump" and we have all of the incredible bareback sex caught on camera! Damon Heart fulfills one of his porn-star wishes and gets to roll around in the sack with Adam Killian. Derek Allan turns Zander Craze's mouth and ass into his personal fuck-holes. Javi Velaro gets his ass thrashed by Logan Rogue's uncut cock. And Giovanni Matrix makes Jesse Vos his barebacking bottom slut. Could you handle a "Pump & Dump" from one of the Lucas Men?
Adam Killian shows off his tender side: he wakes up with the handsome Damon Heart next to him, and Adam's morning wood is the greatest sign of affection Damon could have ever asked for. When Damon and Adam suck on each other 69-style, the position shows off their different — but very hot — body types. Adam's thick muscular ass makes Damon's mouth water, and if he wants a taste all he has to do is ask. Adam sits on Damon's face to some rimming action before Damon takes charge and drills his uncut cock deep inside Adam Killian's rectum. Damon would be remiss if he didn't get to see Adam's morning wood inside of his body though, so he eventually gives in and gives it up — see him arch his back here at 25:30.
Derek Allan might be good at getting on his back and taking dick, but don't let that fool you. When this guy is in the mood, he can flip any man around and take charge in the blink of an eye. Zander Craze experiences this first-hand: he too was in the mood to top, and he does after getting his dick sucked by Derek. But it doesn't take long for Derek's raging hard-on to start talking. Before he knows it, Zander is spun around while Derek makes Zander's mouth and ass his personal bareback fuck holes. And Zander loves it: check him out at 35:00. Talk about riding a raw dick!
Logan Rogue is turning into quite the top and Javi Velaro is turning into quite the bottom. It's clear to me there's some daddy/son roleplay going on privately between these two, because reading Javi will tell you he's all about giving in to the handsome Logan. He kisses him passionately, uses his mouth to service his uncut cock, and (best of all) gets on all fours and arches his back when Logan is ready to fuck him. Logan likes what he sees: he grabs ahold of Javi's waist, slides his dick inside, and thrusts away. There's a sample of it at 15:10 — don't miss it!
The last encounter in "Pump & Dump" is a bit of role reversal from the last scene. Javi Velaro gave himself up to Logan Rogue. Now Giovanni Matrix, the younger guy in the scene, is taking charge of the handsome daddy Jesse Vos, who takes the work of servicing Giovanni's cock to completion seriously. Giovanni's winning attribute on camera is his enjoyment of roughing up his bottoms and not taking it easy when he's fucking them — it's evident in all of his facial expressions. That's why Jesse is a great guy for him: he's willing to take whatever Giovanni dishes out. Check out 18:10 — need I say more?