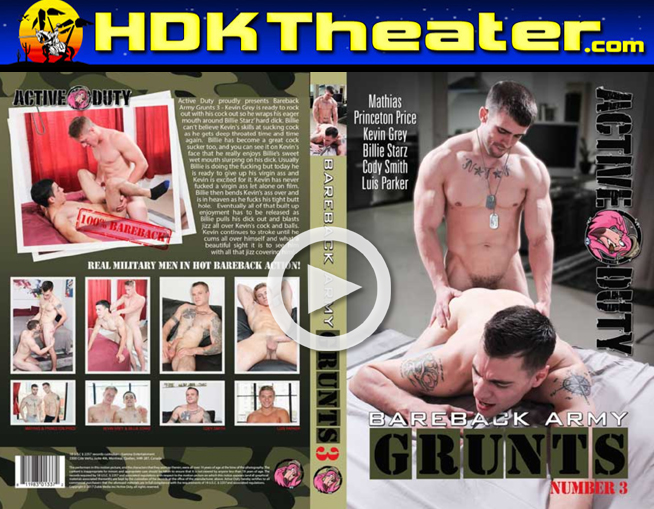 Watch the Full Length Movie at – www.HDKTheater.com
Studio: Active Duty Productions
Series: Bareback Army Grunts
Approximate Running Time: 02:17:29
Description:
Mathias loves to start off by sucking cock first as he just loves the feel of a man's dick swelling up in his eager mouth. Princeton can't believe the skills this guy has and doesn't want to let his load out into his mouth so he repays the favor by giving Mathias a great blow as well. Princeton loves to be ass up and legs spread as Mathias gets ready behind him to push his veiny throbbing cock into him. Once he's in there is no holding back the pleasure this well-built man will bring. Princeton can't keep his mouth closed as he moans with delight every time Mathias dick goes in and out of him. Mathias fucks him from a side position that just looks unbelievable and the look on Princeton's face is priceless. Finally the amazement has to come to an end as Mathias can't keep his nut in no longer and strokes his sexy dick until his cum oozes out of his cock onto Princeton's balls. Princeton loves the feel of that warm cum and beats his dick until he shoots a warm load all over his own chest.
Kevin is ready to rock out with his cock out and he is hungry for that cock so he wraps his eager mouth around Billie's hard dick. Billie can't believe Kevin's skills at sucking dick as he gets deep throated time and time again. Billie wants to repay the favor so they switch it up and his mouth is sucking on Kevin's big throbbing cock. Billie has become a great cock sucker and you can see it on Kevin's face as he enjoys the wet mouth slurping on his dick. Usually Billie is doing the fucking but today he is ready to give up his virgin ass and Kevin is excited for it. Kevin has never fucked a virgin ass let alone on film. Kevin bends Billie's little ass over and slowly pushes in deep inside him until his balls are resting upon him. Kevin is in heaven as he continues to fuck Billie's virgin hole. You can tell Billie likes it with his hard cock while he's being fucked. He finally gets his breathing right as Kevin fucks him hard and fast. Finally all the built up enjoyment has to be released in classic fashion as Billie pulls his dick out and beats his nut all over Kevin's cock and balls soaking him with every last drop of his cum. Kevin continues to stroke until he cums all over himself and what a beautiful sight it is to see with all the cum.
We have a bad boy entering the AD ranks today. He's fresh and ready to break in and see how far he can climb. Cody is 24 standing at 5 foot 10 and weighing in at a strong 160lbs. Cody is either at the gym working on his fit hairy body or he's hanging out at the local Tattoo shop acquiring more ink. He's got that bad boy look especially with those manly tattoos inked all over his body. His hairy chest and sexy muscles are lovely to look at as he strokes his hard cock. Cody doesn't shy away from trying out new adventures. Cody gets his cock nice and hard for us all to see as he shows off his hairy body and built chest. He loves to play with his hairy ass as he tugs away. You can see his hairy balls bounce up and down with each pull of his hard dick. The bad boy has finally built up his balls where they can no longer contain the load inside. He's laid out on the couch with his cock in hand stroking and then we see the cum shooting out onto his hairy chest.
We have a special soldier visiting us today from across the globe. Luis is from Europe and while he's on leave he decided to hang out with us before he heads back for more special operations. Luis is as mysterious as they come. Right now you are on a need to know basis and what you need to know is that his name is Luis, Luis Parker. Luis has a remarkable physique with amazing boyish looks. He's a Euro boy in the US showing off his lovely body and sexy cock. He licks his fingers from time to time for better traction as he strokes that fat thick cock of his. Finally Luis stands tall over our glass table and with a few last strokes his lets his nut loose and it splatters all over the table drip after drip showing us just how amazing this European soldier is.