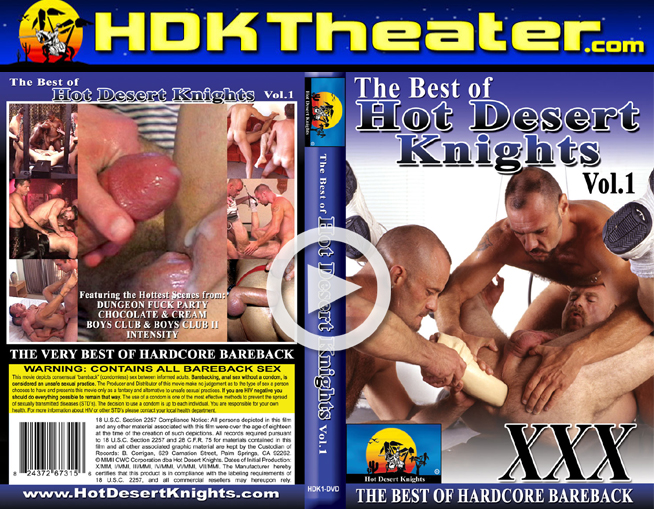 Watch the Full Length Movie at – www.HDKTheater.com
Studio: Hot Desert Knights
Series: Barebacking USA
Director: Bill and John
Approximate Running Time: 01:36:20
Description:
If this film doesn't get you UP and get you OFF call your doctor immediately! The HDK staff have been traveling the USA filming and fucking. This first volume of the Barebacking USA series features the hot men and boys of Phoenix, Las Vegas, Salt Lake City and Fort Worth showing you how they "DO IT" in their states.
Huge ass-pounding cocks and steamy, cum-dripping assholes in every scene. It's truly non-stop fucking action from the beginning to the end… no fluff… no fast forward moments… just hard, fast and frenzied man-to-man RAW fucking.
Four scenes with 11 studs. Hard Cocks and cum-filled assholes. Outdoor scenes in the Arizona Desert and by OUR pool. An UNBELIEVABLE four-way fuck with a "daisy chain" in Las Vegas. You've got to see this Daisy Chain to believe it! Watch the manly studs of Texas in a three-way with two studs pounding the third relentlessly. Do you like cocks AND dildos up the ass at the same time? The Texas boys show you how they do it.
If you like your men and boys HARD, HORNY and RAW… and fucking like the sex pigs they are… this is the video for you!