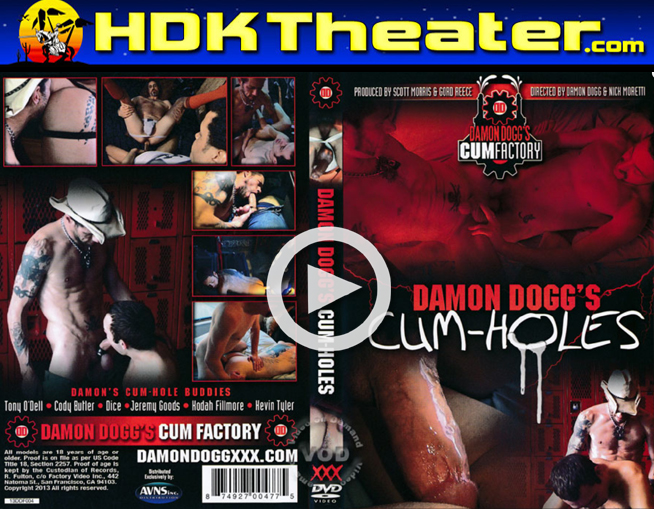 Watch the Full Length Movie at – www.HDKTheater.Com
Studio: Damon Dogg's Cum Factory
Director: Damon Dogg & Nick Moretti
Approximate Running Time: 01:36:21
Description:
Scene 1: Tony O'Dell is quite a fucker and sexy as fuck to boot. Same goes for Cody Butler, with the exception of the 'fucker' part. He'd be more of the 'fuckee'. Then Tony did the same to Cody's fuck-hole with his tongue shoved deep inside and getting the flavor of Cody's fuck .Then Tony began fucking Cody like a champ.
Scene 2: Damon recently met this HOT bottom boy sporting a TIM tattoo near his fuck hole named Dice. Of course, I told the kid, "This means that you gotta let me fuck you." I took him by the lockers bent his ass over the pool table then went to town fucking his ass.
Scene 3: Jeremy Goods is a San Francisco local and is now another notch in the Cum Factory Club. He came over to my cum castle in Frisco and began blowing my dick till it was throbbing hard and about to burst. So, I wasted no time getting that dick of mine up his TIGHT ass boy hole. The more he squirmed the more turned on I got. And oh how he squirmed.
Scene 4: Kodah Fillmore fucked Damon's bootyhole last week, breaking his back into being a bottom. It had been a while since he had a load or a cock up in me. I sucked him in the cab of his truck and then he fucked my ass in the bed of the truck. Damon has been wanting to have his buddy Kevin Tyler fuck his ass for a long while now. Surprisingly, it's never happened till just last week. Nick Moretti agreed to film us at his place. By the time we reached the stairs I was blowing Kevin. Nick must have been waiting outside for us cause next thing I knew he was there with a camera filming us. Unfortunately, the apartment manager was not too far behind him. Kevin Fucked real good and hard making me moan like a bitch