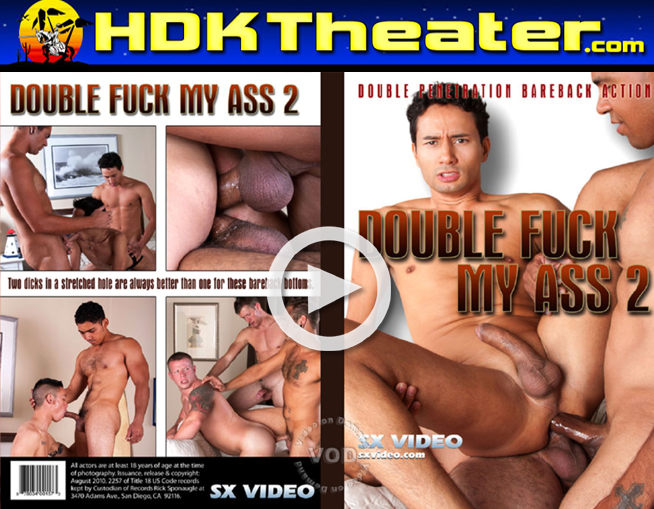 Watch the Full Length Movie at – www.HDKTheater.Com
Studio: SX Video
Series: Double Fuck My Ass!
Director: Ben Baird
Approximate Running Time: 01:50:44
Description:
Gabriel D'Allesandro had never been double fucked before and decided it's time his tight smooth ass should get filled by two big cocks. He was super excited when big dicked muscle men Juan Steel and Miguel Temon showed up and the chemistry was immediate. Gabriel barely had time to get his clothes off before he had Miguel's dick in his mouth and Juan's ten inch monster cock balls deep in his ass. After taking turns filling Gabriel's mouth and hole the guys roll him on his back and stretch him open with both fat cocks at once. He screamed with pleasure and let Miguel and Juan pound him hard and deep every which way they could. The cock on cock double penetration worked Juan up so much that he blew his load on Gabriel's hole with Miguel's dick still in there, then Gabriel cums all over himself with both of their dicks inside. Miguel finishes off by shooting into Gabriel's mouth (and all over his face). Not wanting to miss out Juan sticks his tongue down Gabriel's throat to share Miguel's load.
Asian power bottom Brian Peters gets his ass stretched to the limit by Miguel Temon and Gabriel D'Alessandro. First Brian gets face fucked hard by Gabriel before being flipped over and having his hole filled. Gabriel loosens him up really well and invites Miguel in to have a turn. Brian bounces on Miguel's thick cock cowboy style for a little bit and then Gabriel comes around from behind and shoves his dick in there along with it. Brian writhes in ecstasy getting pounded by both studs at the same time but he still wants more. Gabriel grabs a dildo and rams it right in there with both real cocks giving him a taste of triple penetration! Brian loves it and keeps going and going finally taking both guy's loads in his ass.
Horny newcomer Danny Rohm takes on favorites Christian Rock and Gabriel D'Alessandro at the same time. It only takes Christian a minute before he's plowing his nine inch beast into Danny's tight hole. The guys take turns fingercuffing Danny letting him have it good and hard from both ends to prepare him for what's to come. It doesn't look like it's possible to fit both guy's huge dicks in Danny's tight little ass but they make it happen over and over again. The looks of pain and pleasure in Danny's face makes the tops even hungrier and they keep pounding away holding Danny down. Once again it's that great sensation of your cock rubbing on another cock while inside another guy that sends Gabriel over the edge and he shoots a huge load all over Danny's ass with Christian still inside fucking away. Then they roll Danny up on his shoulders and Christian pile drives him before covering his throbbing hole with a thick layer of jizz.
Hot mainstream pornstar Justin Jameson continues his barebacking adventure by taking Kirby Thomas and Christian Rock on at the same time. Justin gets right to work slurping on Kirby's thick shaft and worshipping his ripped body. Christian pulls off Justin's pants from behind and Justin sticks his ass up begging to be filled. A dick in his mouth and a dick in his ass is just how he likes it. Kirby gets his chance to rock Justin's world and the two tops take turns punishing his ass. But this muscle stud isn't done yet, he rolls back on his shoulders and lets Christian pile drive his hole nice and hard taking it deep. Pretty soon he's ready to take both dicks at the same time and his manhole is stretched wider than it's ever been. The guys take turns cumming onto Justin's hole, then Kirby keeps fucking him until he squirts a giant load all over himself.