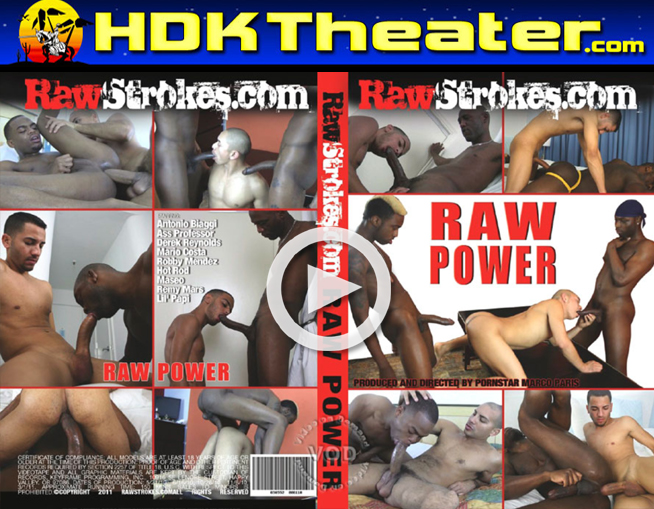 Watch the Full Length Movie at – www.HDKTheater.com
Studio: Raw Strokes Productions
Director: Marco Paris
Approximate Running Time: 02:29:22
Description:
Our movie called Raw Power has some real power in it. As you can alwaysexpect from Raw Strokes.
First scene starts with our popular bottom Lil' Papi getting pounded by "hisprofessor" Ass Professor. Both guys are freakingly into the sex they haveand you can feel real chemistry. Ass Professor busts his nut on Lil' Papi'sass and then shoves his huge dick inside him again to get some extra milkinside this bottom boy.
Second scene is all about our popular bottom Robby Mendez who getssatisfied with 24 inches of pure dicks. Yes, he did it again. Another sizzling3some where he takes Maseo's and Hot Rod's dicks and we are talking aboutsome extra big ones! Watch Hot Rod seeding his ass at the end and Maseoshoots his load in his mouth.
Next scene is between Derek Reynolds and our cubano hottie 11 inchesdicked Mario Costa. If this name sounds familiar, you are right. He performed for such big studio like Falcon and a few more. This is his first barebackvideo and the only one he's done for anyone! Watch this fucking hot boy withthick meat slamming it into beautiful bubble ass of Derek. Both mainstream porn models going raw for us.
Scene four is all about Remy Mars taking Antonio's Biaggi's uncut meat. This is another hot scene from Antonio for rawstrokes. And as Remy proves itagain, he's one of the best bottoms out there today and has no problem withAntonio's extra size. This scene is sizzling hot and you just can feel thatthose guys had really fun having sex in front of my camera.
Last scene is between Hot Rod and Lil' Papi. As you can expect, Hot Rod istaking care of his cute bottom boy and he does it well with his monster. Papigets Rod's creamy load right on his face and mouth at the end of scene, likenasty boy suppose to.this is another great hot sizzling powerful title from rawstrokes.com whichshouldn't be missed by you, who either adore monster dicks or watchingthose sexy hungry bottoms taking 'em all.