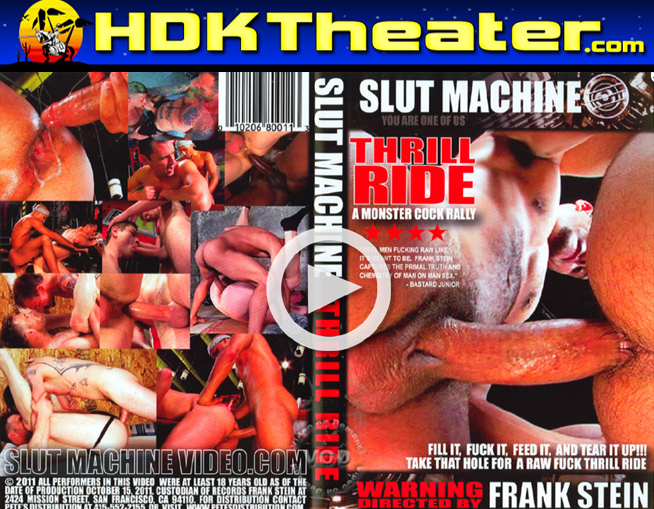 Watch the Full Length Movie at – www.HDKTheater.com
Studio: Slut Machine
Director: Frank Stein
Approximate Running Time: 01:20:05
Description
Feel the bottom's engine purring, cuz it's a monster cock rally! Fuck it, fill it, feed it, and tear it up! Take that hole for a raw fuck THRILL RIDE.
Over a few shots of tequila, Justin Jameson admitted he was jealous as fuck that all the bottoms in town have been cock slammed by Antonio Biaggi but him. So I called up the horse hung Latin cock master to come down and feed Justin's fuck socket. The sparks fly and the passion unleashed while the ass to mouth cock gagging, and raw hole fucking continued was pure primal man on man fury. A scene you can't watch without your asshole twinging and your cock stiffening.
Jacob Slader is one military daddy you want to get fucked by in the dirty bathroom of the local bar. I brought in Blue Bailey's tight ass to make this hot fantasy a reality. Jacob immediately slams Blue's head into the dirty urinal as he plows his tight cum sloppy boy hole. Blue always arrives with at least a few loads in his ass to lube up the experience.
Ace Geyser is a fucking man's man. He works on cars and likes to fuck tight ass. Ian Jay is a whore and a daddy chaser. He called and begged me to set up an impromptu fuck in the basement of my favorite fuck institution, the Folsom Gulch. He cums in his ass and then makes him clean his cock off. Now that's some hot fucking ass to mouth.
I love a hairy ass. I like to ride it and eat it out. Ron Rossi has one of the hottest hairy holes and I brought in the now legendary Antonio Biaggi to slam fuck it without mercy. Ron is in pain and ecstasy at the same time. It hurts so good. And it's a bone stiffener to watch. It's ass to mouth hole stretching at its finest. The connection between these two men is rare in life and even hotter on camera.
People have been begging for the hairy assed Jay Scott to come back in. This time he faces harsh ex-military grunt Jacob Slader's anal assault. It's D-day for Jay's hole when Jacob both makes love to it and man fucks it with passion. Blue waited around in the bathroom after Jacob pounded and shot his load for the next man to come in. It wasn't long before an anonymous black cock is stuffin' his hole. Blue takes it with pleasure.