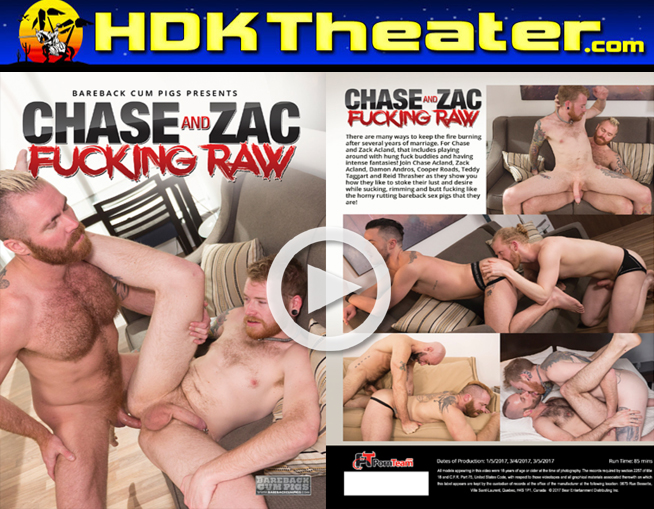 Watch the Full Length Movie at – www.HDKTheater.com
Studio: Bareback Cum Pigs
Approximate Running Time: 01:26:00
Description:
Married in real life, Chase and Zack Acland still have that burning fire. The only difference is that now, unlike when they first started dating, they like to take their sweet time. Nothing rushed or hurried for these two! And when it comes to no holds barred sex, the tattooed and pierced fuckers are perfectly matched. They like making out but what they really like is satisfying their oral fixations for cock and hairy ass. Bearded Chase slobbers all over Zack's pierced cock before burying his face in his husband's hairy ass, worshiping the way his man should be worshiped…tongue in hole. But Zack flips the tables on Chase and eats HIS ass before lubing up and sliding that pierced cock home. Zack bareback fucks his ginger hubby, taking him on all fours and on his back before blowing his seed inside Chase to mark his territory. Isn't he romantic?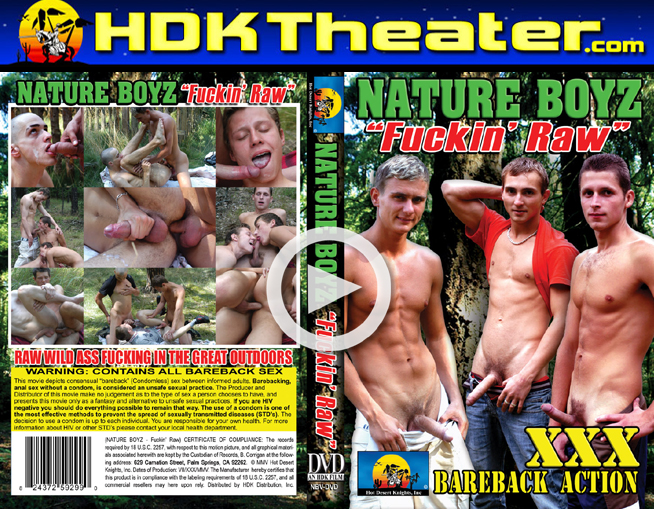 Watch the Full Length Movie at – www.HDKTheater.com
Studio: Hot Desert Knights
Approximate Running Time: 01:22:42
Description:
There is nothing quite like fucking in the woods. Just imagine your balls swaying gently back and forth as the cool, mountain breezes softly swirl around them while your cock is getting sucked by a cute young boy. And, there is nothing like the feel of a cock gently fucking a tight, smooth ass while surrounded by nothing but the beauty of nature. Nature Boyz "Fuckin'Raw" is all hardcore, raw, bareback fucking and sucking and cum squirting in the woods. Boys will be boys and nature Boyz "Fuckin' Raw", features ten young studs giving it all and taking it while romping in the woods.
Nearly 90 minutes of ass pounding, cum dripping, raw action as 10 young studs suck and duck furiously until the cum is being shot and swallowed with reckless abandon. Smooth, muscular and uncut, mo mercy is given until the cocks are spent and the cum is lapped up by the cock slut, bottom boys. If outdoor sex, and all raw "natural" sex, between gorgeous, young muscular boys is your thing, Nature Boyz "Fuckin'Raw" is four complete scenes, including two 3-ways that are guaranteed to get you up and get you off time and time again.
Watch the Full Length Movie at – www.HDKTheater.com