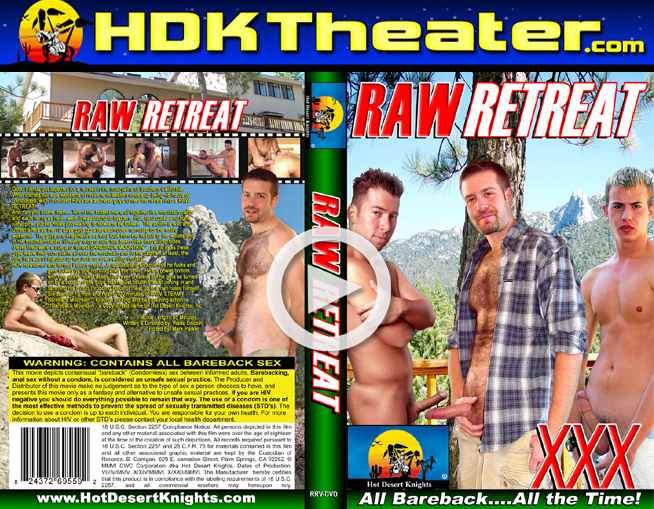 Watch the Full Length Movie at – www.HDKTheater.com
Studio: Hot Desert Knights
Director: Wade Lincoln
Approximate Running Time: 01:33:48
Description:
Good friends get together for a retreat in the mountains of Southern California. What started out as a weekend of rest and relaxation ended up being 48 hours of uninhibited, wild, unbridled raw sex as these guys turned the retreat into a "RAW RETREAT!"
And can you blame them? Ten of the hottest men, all together in a mountain cabin and each horny as hell…well, it was bound to happen. Hot, hard cocks and tight, juicy, pink, pucker holes just waiting to fuck and be fucked. The action is wild and unrestrained as the 10 guys go after each other non-stop for the entire weekend. The guys are imaginative as they fuck from the hot tub to the woods and in the mountain cabins till every drop of cum has been rifled into willing holes. If ever there were a true and honest "bareback mountain," this is it as these guys leave their cum stains all over the mountain and in the cabins–at least, the cum that wasn't injected up hot butts or down willing throats.
HDK newcomer and former Falcon model, Jarod Steele, is all action as he fucks and gets fucked by one hot stud after another. He's a power bottom with one of the nicest asses ever created, but he gets so turned on by a couple of the guys that he just couldn't resist joining in and ramming his 8-inch throbbing piece of meat up hot man holes himself. Six scenes, ten men and nearly 100 minutes of raw, steamy bareback mountain fucking, sucking and ball-draining action!