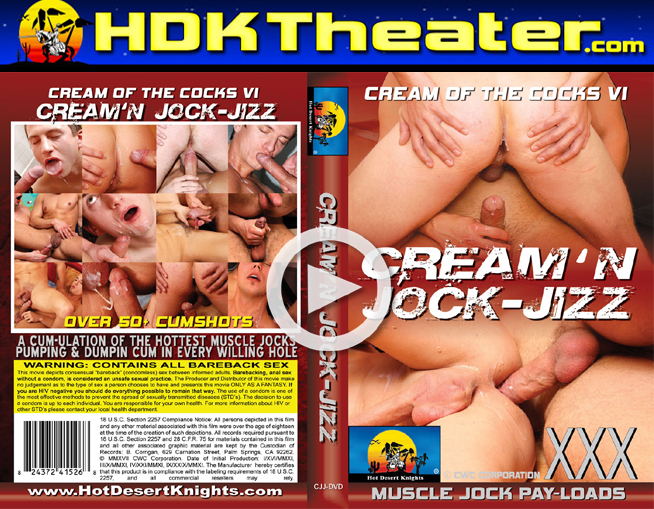 Watch the Full Length Movie at – www.HDKTheater.com
Studio: Hot Desert Knights
Series: Cream of the Cocks
Approximate Running Time: 01:54:45
Description:
The wettest, stickiest, ropiest collection of cum shots that HDK has to offer is ready to splash on your screen. The sixth installment of Hot Desert Knight's Cream Of the Cocks series! Your favorite cum-spattered bareback guys are stripped down to the raw; some soaked to the foreskin while others just keep spewing and spilling until their phallic faucets are drained.
Watch the Full Length Movie at – www.HDKTheater.com
Studio: Hot Desert Knights
Series: Cream of the Cocks
Director: William Hunter
Approximate Running Time: 03:19:56
Description:
If you are a cum lover. If you like hot, steamy man juice being pumped down your throat or pumped up your ass or shot over your body. If you like having a hot man feed you his load and wet you down with his hot, white, milky cum. If you like giving it or taking it raw and enjoy load after load, as it's pumped out of hot, throbbing pieces of man mean, then CREAM 'N ASS will have you on the edge for hours. A blockbuster extravaganza of CUM explodes on the screen as these guys pump it out and pump it in. Pace yourself and follow along as you watch one hot EXPLODING and SPLATTERING CUM SHOT after the other. Never before has so much splooge ever been seen before in one place. Whether you call it "cum", "man juice", "splooge", "tasty cream", "jizz" or "jism"…. Hot Desert Knights has put it all together, JUST FOR ALL YOU CUM LOVERS, the largest collection of CUM SHOTS ever.
HOLY SHIT BATMAN… WOW… CREAM 'N ASS has More Than 100 Cumshots from 12 of HDK's hottest, wettest and stickiest films. It's never been done before and may never be done again. Get it today, watch it alone, watch it with your friends or play it during your next orgy. It's guaranteed to Get You Up, Keep You UP and Keep You Cumming Back For More!
Watch the Full Length Movie at – www.HDKTheater.com